Book Review: Lonely Avenue: The Unlikely Life & Times of Doc Pomus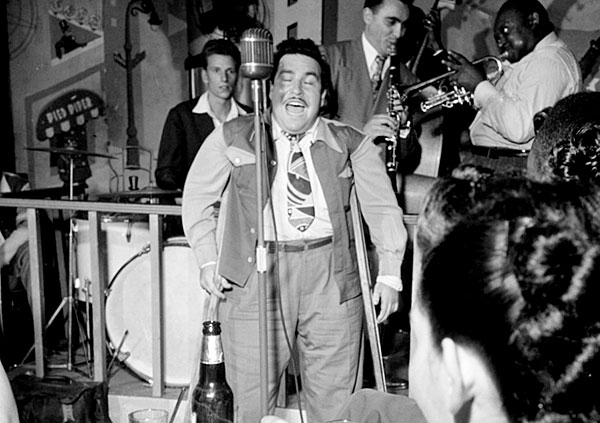 Lonely Avenue: The Unlikely Life & Times of Doc Pomus
by Alex Halberstadt. Da Capo Press, 2007. Paperback, 272 pp., $16. Available as eBook.
Many people, after seeing him repeatedly at Manhattan's Forrest Hotel in the early 1960s, might have described the lyricist and songwriter Doc Pomus as the narrator of a Damon Runyon short story depicts himself: as someone "who is just around." Pomus lived for years in lackluster hotels like the Forrest, which Runyon himself had once called home, and his cronies could be just as colorful as Runyon's creations, including the gamblers—for a time, Pomus gambled for a living.
Alex Halberstadt has provided us with a vivid, multidimensional, flesh-and-blood portrait of Pomus (1925–1991), nourished by journals in which the man—remembered for such rock'n'roll classics as "Hushabye," "This Magic Moment," "Why Must I Be a Teenager in Love," "Save the Last Dance for Me," and "Lonely Avenue"—documented his experiences and feelings. Though Lonely Avenue was published nearly a decade ago, it seems appropriate to revisit it in 2016, the 25th anniversary of Pomus's death.
Pomus grew up in Brooklyn, where he'd started life as Jerome Felder. He contracted polio the summer he turned seven, and spent the next two years in medical institutions. At that point he seemed like a character dreamed up by Theodore Dreiser, the novelist whose protagonists are pawns of fate. But Felder preferred to shape his own future.
In 1943, while still in his teens, he staged a metamorphosis. Emerging from his cocoon at a Greenwich Village bar, he declared himself a blues singer and performed a number he'd heard on a Big Joe Turner recording. A positive reception from the audience led to return engagements, and it wasn't long before the squat, heavyset kid with leg braces and crutches, who'd dubbed himself Doc Pomus, was appearing in lowdown Brooklyn clubs patronized by African-Americans. Maybe because he was as much an outsider in his way as they were in theirs, they cheered him on, and for years he sang blues in those spots, and on what were then called "race records."
It was Joe Turner himself who inspired Pomus to take songwriting seriously. They met in 1951, a decade after Turner's recording of "Piney Brown Blues" had turned young Jerome Felder into a staunch admirer, and Pomus wrote a few songs for Turner. But what made Pomus's career really fly was his association with Mort Shuman, a pianist and gifted melodist who was just 18 when he was introduced to his 30-year-old collaborator-to-be. "By the end of 1955, Mort had become Doc's shadow," notes Halberstadt, who tracks the pair's rise as they wrote for singers ranging from Italian-American Philadelphians with princely looks—fans knew Fabian Forte, James Ercolani, Francis Avallone, and Robert Ridarelli as, respectively, Fabian, Jimmy Darren, Frankie Avalon, and Bobby Rydell—to the Memphis monarch himself. During Elvis Presley's movie-making years, gold from the King's coffers spilled liberally on Pomus and Shuman.
For songwriters, though, cash flow is more erratic than it tends to be for those in such mainstream professions as law, which was Pomus's brother's calling. (When Mort Shuman divorced his first wife, an Israeli singer, Raoul Felder served as his attorney, the tabloids printed titillating details, and Felder was on his way to becoming America's leading divorce attorney.) Pomus's career slumped when the restless Shuman moved overseas, and his fortunes declined when his own wife, a Catholic-school alumna from the Midwest who'd come to New York to act, bailed out—and kept their two children. To make ends meet, Pomus began hosting poker games in his Manhattan apartment.
Shuman, in contrast, fared well, recording and translating the work of the Belgian songwriter Jacques Brel, and co-writing and performing in the long-running stage production Jacques Brel Is Alive and Well and Living in Paris.
Pomus remained engaged: He kept writing songs, and collaborated with Mac Rebennack, the New Orleans musician known as Dr. John; he reconnected with the exquisite singer Little Jimmy Scott, a close friend who'd moved back East after retreating to his native Cleveland and working at menial jobs; and he significantly helped Joe Turner by recovering for him some $25,000 in lost royalties. When Pomus saw how hard Turner was being worked during a gig at Barney Josephson's Cookery, he had a bomb threat phoned in, and Turner got a day off. Pomus even became a guru of sorts for younger musicians—Bob Dylan once approached him for advice during a dry spell.
Pomus sometimes had anxiety attacks, and expressed in a journal entry his fear of becoming "a street beggar hustling quarters." When gloom descended, he'd stay in bed, "sometimes for days and nights—sleepless and trembling," never knowing when, or if, it would end. Fortunately, "it always did."
Halberstadt apparently achieved one of his stated goals—"imbuing the [book's] major characters with as much inner detail as I could"—by simply assuming what they thought and felt at times, but that isn't bothersome. Nor is the fact that he presents just a single version of each event, even those about which his sources disagreed. Lonely Avenue is a lively chronicle of a singular musical figure who was as tough as he was tender. Notwithstanding storms of low notes, Doc Pomus kept pressing ahead.—David Lander