Pink Floyd in Surround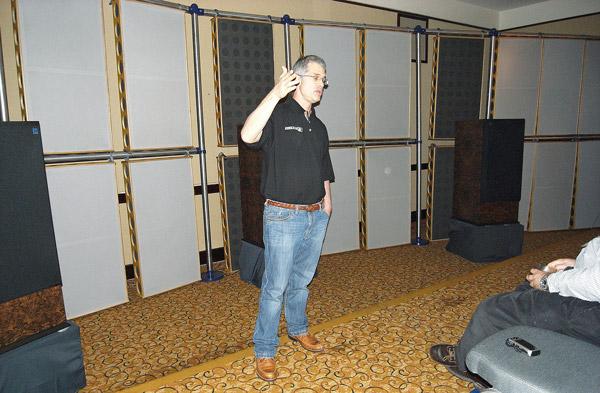 A highlight of the 2011 RMAF was the first public demonstrations of James Guthrie's 40th-anniversary surround mix of Pink Floyd's classic
Wish You Were Here
, hosted by Acoustic Sounds' Chad Kassem (shown in my photo) and James Guthrie. With a system comprising five ATC professional active monitors fed by a Playback Designs SACD player, Showgoers were treated to a complete playback of the album from the SACD, to be released next month.
From the opening sound effects that tracked from the rear to the front, to the final fade on "Shine On You Crazy Diamond Part 9", listeners were immersed in the re-creation of one of the finest rock albums of all time. I felt Guthrie's surround mix was true to the band's original two-channel intentions while expanding the soundfield to take full advantage of the multichannel medium. "Magnificent!" I scrawled in my notebook. The Studio Six SPL meter on my iPhone indicated that the sound pressure reached 106dB—the experience was like being at the highest fidelity rock concert ever!
But if I had to carp, the bass guitar and kick drum sounded a little disembodied compared with my memory of the Japanese import CD I purchased back in the 1980s. I need to hear the SACD on a more familiar system before I can pass final judgment, but provisionally, this listening session was the highlight of the 2011 RMAF for me.