The New York Audio & AV Show: That's a Wrap!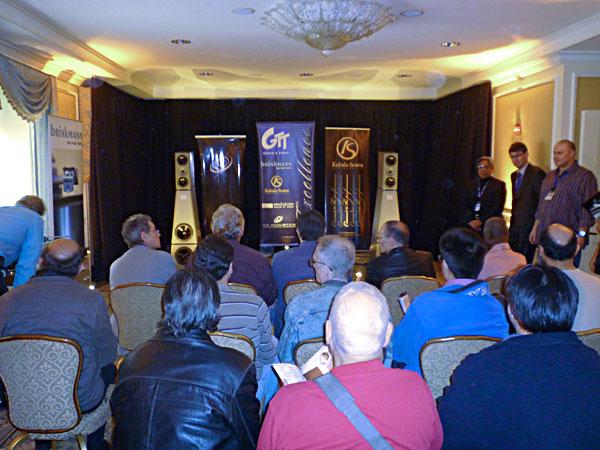 Prior to the onset of the Chester Group's New York Audio & AV Show, there had been some controversy in regards to big-time local dealers
Stereo Exchange
and
Lyric
hosting their own events the weekend of the show. These events brought in big brands such as Totem, McIntosh, B&W, and Audio Research, who would be presenting exclusively at their stores. Would these dealer events keep participants away from the New York Audio & AV Show? How would these coinciding events affect one another? Were these signs that the show organizers had not done the work necessary to motivate exhibitors to participate in the New York show?
All of these reservations quickly melted away as the Stereophile staff entered the Waldorf=Astoria at approximately 2:30pm on Friday, when a long line was already forming. Showgoers exiting the elevators to the registration desks did not have to move very far to reach the back of the queue that wrapped back around to the elevators. What these attendants had before them were two floors jam-packed with 70 exhibitors, live music performances, and educational and enlightening seminars, enough to keep anyone busy for three days.
Long lines persisted throughout the weekend, with many attendees having to wait to enter the more popular rooms, including MBL, Sound by Singer, and the Robyatt Audio room, SM's sexiest system at the show. So to answer the first question of whether people were drawn away from the show by the events at Lyric and Stereo Exchange: it did not even matter. People were at the Waldorf=Astoria, and they were having fun.
This was my first audio show, although I've been working closely with hi-fi gear for the past year at Stereophile shipping out amplifiers, gathering images, and editing copy, and for two summers prior as an intern, engrossed in the Stereophile Buyer's Guide as my primary responsibility. The world of hi-fi appeared to me as dry and scientific: lists of components and specifications accompanied by hyper-analytical descriptions of sound quality, but what the New York Audio & AV Show went to show me was what hi-fi is really all about: the music and the people we share it with.
Some key moments that established this for me include:
- Putting faces to the names that I had been emailing for the past three years including Walter Swanborn of Fidelis, Peter Ledermann at Soundsmith, Rober Stein at the Cable Company, and Vinnie Rossi of Red Wine Audio.
- Being chastised for my Phish CD by another audiophile who criticized it as a a poor reference.
- Introducing new music to fellow audiophiles and passing around the record sleeves to talk about the musicians, including Pablo Milanes, Syclops, Egberto Gismonti, and Teddy Pendergrass.
- Learning about new music from exhibitors such as David Cope at Audio Note, Jeff Catalano at High Water Sound, and Gideon Schwartz at AudioArts.
- Sharing smiles and making new friends through music.
Even upon brief acquaintance, nearly everyone attending the show was in good spirits and open-armed to new lessons, fresh tunes, or simply sitting next to each other in peace and listening. I guess the cozy nature of the New York City subway pays for when it comes to getting comfortable with sitting closely with one another.
More than anything, the hi-fi show reminded me of a music festival. Everyone is there for the same reason: to enjoy the event and what it has to offer so happiness abounds. And why not make friends while you are at it? Either by greeting a familiar face who's name you may not know or participating a in a brief conversation about the sound in the room, this is how audiophiles really get closer as a community, by joining together and enjoying the music, and this is what I experienced all weekend long.
As for the local NYC dealers who chose not to be a part of this event, there are obviously many costs in participating in audio shows: transportation fees, opportunity costs of time, dinners and airfare. Also room variables, such as bass control issues at the Waldorf=Astoria this past weekend, may not show your system in the best possible light. Despite these costs and setbacks, by negating their presence at the hi-fi show in their area local dealers are essentially removing themselves from legions of happy and ear-hungry audiophiles. Some New York and New Jersey dealers were present, including Ciamara, The Audio Doctor, High Water Sound, Sound by Singer, and Innovative Audio. Innovative also held an after-hours event for showgoers, a successful venture for the purpose of integrating the audiophile masses to their stores, rather than excluding them. To the audiophiles who did attend the show, what brands were showing off their products or the costs of getting there seemed to matter less than the act of listening together.
Anyone unsure about attending or exhibiting at the New York Audio & AV Show would feel encouraged by the many crowded rooms, the great music, and the overall excellent atmosphere. Hopefully, we'll see you next year.