The Springtime in New York Sale at Stereo Exchange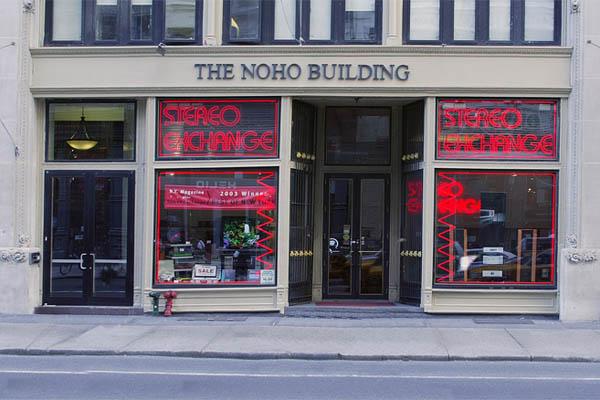 Friday–Sunday, April 13–15, 10am–8pm: Stereo Exchange (627 Broadway, New York, NY) will host a weekend-long series of demonstrations from key players in the hi-fi industry including but not limited to an Einstein-haired speaker designer, young gun salesman, and the king of kables. Stereo Exchange will reward attendees with sale prices on new, demo, and used gear.
Curiously, this event falls on the same weekend as the Chester Group's New York Audio & AV Show at the Waldorf=Astoria. Also occurring on those same days is the Show at Lyric, another series of demos held at an independent hi-fi dealer in the Manhattan area. David Wasserman at Stereo Exchange says attendees at his show will benefit from the calmer pace inside Stereo Exchange versus the frenetic show environment at the Waldorf=Astoria. Participants will also have the opportunity to ask questions to manufacturers and representatives.
Who exactly will be presenting:
Vince Bruzzese/Totem Acoustic, President: Bruzzese, a bit of an icon in the world of hi-fi with his shocked-top hairdo and signature speakers, works as the primary speaker designer and development supervisor for Totem Acoustic. Bruzzese started Totem in 1987 with the goal of creating a small footprint loudspeaker with high performance. Accordingly with their philosophy, Totem will make the public debut of the Ember mini monitor, part of their Element Series, at Stereo Exchange. Bob Deutsch unearthed the Embers ($4200/pair) at CES earlier this year.
Ray Kimber/Kimber Kable: The Kable King himself, Ray Kimber, will be in attendance with his trusty sidekick, Sales Manager Nate Mansfield. Kimber's trek to cable design is dotted with ventures in theater management, concert tours, and high-end audio sales, up to the point which he pondered, "If weaving a cable could alter the sound so significantly, I figured everything else about cables was on the table for discovery, rediscovery or reinvestigation." While Kimber will not be demoing any new products, Ray hopes event guests ask him, "Why do you not release new models every year?"
John Stronczer/Bel Canto, CEO and Chief Designer: John is the everything man and the top dog at Bel Canto, where his day-to-day responsibilities include supervising his team of software and mechanical engineers, maintaining Electrical Standards and Manufactures Declarations of Compliance (a job he says is "no joke"), and as CEO, also makes higher-level business decisions. At the event, Bel Canto will be introducing three new products: the REF Link USB to AES/SPDIF/ST Fiber Optic Converter, the uLink USB to SPDIF/ST Fiber Optic Converter, and the mLink REF USB to SPDIF Converter, which all feature asynchronous operation.
Chris Connaker/Computer Audiophile, Founder: Connaker will be taking time off his busy schedule of writing product reviews and moderating the forums on his very busy site, Computer Audiophile, to present at Stereo Exchange this weekend. Connaker's decade plus of experience in managing global IT networks and passion for high quality playback lead him to start ComputerAudiophile.com. At the event, Connaker will discuss how to get started in computer audio, Mac & PC, value proposition with computer audio, and music file storage.
Jonathan Derda/Peachtree Audio, Director of Training and Communication: Derda, a hi-fi wonderboy, started working at his dad' s shop Audio Exchange at 8 years old, and after spending way too much time self-conducting demos in the Peachtree Room at a Rocky Mountain Audio Show, David Solomon hired him. At Stereo Exchange, Peachtree will be showcasing their new Grand Series, which debuted in October, the DAC•iT (review forthcoming in our May 2012 issue), and new separates, a stand-alone Peachtree220 amplifier ($1399) and the NovaPre ($999).
Roger Gibboni/Rogers High Fidelity, President: As president of Rogers High Fidelity, Gibboni takes on the design engineering and manufacturing management responsibilities. Gibboni will be debuting his new EHG-200 Integrated Tube Amplifier. He's proud his products are totally American-made, and prepared to share the knowledge he's gained from years of experience with RCA, NASA, and the US Department of Defense.
Bill Peugh/Sonus Faber, Eastern Regional Manager: Responsible for sales, support and training in the eastern region for Sonus Faber, Peugh started working in hi-fi while in college in the 1970s. He will be demoing the Sonus Faber Aida. The shaky debut of the Aida at Stereo Exchange in December 2011 caused a bit of hubbub in the comments section of Stereophile's preliminary coverage. The Aidas return to Stereo Exchange with vengeance along with Audio Research amplification.
Michael Latvis/Harmonic Resolution Systems, Founder/Chief Engineer: Michael Latvis founded Harmonic Resoultion Systems over a decade ago after a twenty year engineering career specializing in vibration noise control and motion control systems. He wants to teach attendees that low mechanical noise floor is the foundation of great performance in an audio system and will demonstrate this with his HRS Isolation Base and chassis noise reduction products.
Phew… that's a lot of great presenters for just one store. Due to the fact that all of these presenters will be at Stereo Exchange all weekend, none will be in attendance at the New York hi-fi show at the Waldorf=Astoria. This is not to say that these manufacturers do not support the Chester Group's New York Audio & AV Show. In fact, Bel Canto's John Stronczer made it a point to emphasize Bel Canto's support for the New York Show, but his company opted to align with the dealer, the closest connection to their customers. Similar answers came from the other presenters as well: the dealer is the key link between the manufacturer and consumer.
Then what role does the show play if not to reach out to consumers who do not regularly have access to all these brands in one place? By having manufacturers in separate locations, it decreases the value of the show itself.
Stereo Exchange and Lyric are hosting these events to take advantage of the human traffic and media coverage that will be buzzing about the big apple as a result of the New York hi-fi show. With such heavy hitters like Totem, Sonus Faber, and Bel Canto not showing at the Waldorf=Astoria, people and press will have to come around and take a listen downtown. The independence from the show while riding on the coattails of its buzz at first seems like a dirty move, but Stereo Exchange does host other dealer events similar to these. Overall, it is just greater benefit to the dealers to bring customers into their store while so many audiophiles are in New York, rather than to pay to rent the hotel room and participate in the show away from their storefront and full product line-up.
What sort of benefits could the Chester Group offer Stereo Exchange to get them to participate in their show rather than creating their own event? I'm not really sure. Stephen Mejias, my cubicle-mate here at Stereophile and the other guy who has been thinking about the role of the hi-fi show, offered the suggestion that if NY show organizers can promise more people/"better people" then possibly NY dealers like Lyric and Stereo Exchange would consider hosting a room at the Waldorf=Astoria, but honestly, there is no reason to do this if you can bring the people to you through interest in your manufacturers and at a lesser cost.
In the end, we are left with a hi-fi show with fewer people, fewer participants, and fewer manufacturers because the crowd has split, a tough spot for the Chester Group, but it's just business, ya'know?
The Stereo Exchange event is free to attend. There will be refreshments and a raffle. You can find Stereophile staff and writers there throughout the weekend as well as at the New York Audio & AV Show.
********
Facebook event: Let people know you're going.