New for 2013 from Bryston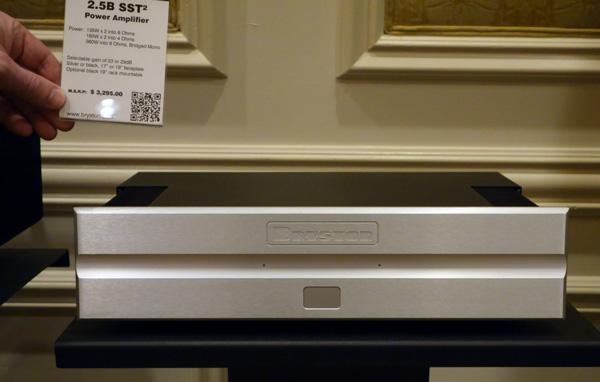 Bryston's new product line-up for 2013 includes a replacement for its venerable 2B stereo amplifier, the 2.5B amplifier ($2995). Similar to the new BP-17 preamplifier ($3550, see below), the 2.5B amplifier is derived from the amplifier portion of its B-135 SST
2
integrated amplifier (see
related story
). Bryston's James Tanner explained that the upgrade employs a much beefier power supply than its predecessor, allowing it to deliver 135Wpc into 8 ohm load impedances. Bryston's new BP-17 preamplifier ($3550) is derived from the preamplifier portion of its B-135 integrated amplifier, which features balanced outputs and advanced circuitry derived from the SP-3 surround processor. The B-17 closely resembles the B-135, differing externally only in not having heatsinks and speaker outputs on the rear panel. The BP17 utilizes a software controlled, motorized analog volume dial and integrated balance control.
Bryston Ltd's new BDP-2 media player ($2995) has evolved from the BDP-1 that I reviewed a couple of years ago, with 8 times more memory, three times more processing power, 6 USB inputs (instead of 4), eSATA input (twice as fast input from a outboard hard drive), and space to put an extremely fast 250GB SSD (Solid State Drive) inside the chassis. Also available, as shown here, is a new version of Bryston's stand-alone DAC, the BDA-2 ($2395), which now features asynchronous USB input, allowing for processing of faster 192kHz/24 bit digital input signal. These two new products were shown together, along with an iPod running the MPOD application to allow remote control of the owner's digital music storage.
Bryston had several live exhibits of their stereo gear playing music, including their BHA-1 balanced output headphone amplifier. Its amplifier section is powerful enough to drive earphones over a wide impedance range of 4 ohms to 32 ohms. The company's James Tanner revealed that all BHA-1's with serial numbers greater than 100 now offer an additional pair of balanced outputs on the unit's rear panel, allowing this slim unit to function as a line-level preamplifier. Micah Sheveloff, of WIRC Media (Bryston's public relations firm), demonstrated the headphone amplifier using the Grade PS1000 Pro Headphones, with the BDP-2 Media player and a BDA-2 DAC as a source. I heard the amplifier's wide dynamic range playing Rimsky-Korsakov's "Dance of the Tumblers."