Never Stop: a Musical Interview with Jon Anderson Page 3
All that spurred us on to produce
Fragile
, 'cause we were listening to all this music. We decided we needed help on the keyboards, because Tony Kaye was great at rock and roll, blues, and R&B, but we wanted a broader influence. And so we got Rick Wakeman with his classical background, and the chords became more open—we had never even tried these chords before! Rick and Steve Howe could now open it all up, and the album was big in America, with "Roundabout."
Strangest thing happened—we were on a tour of America with Fragile, and we were doing a lot of universities, and they had FM radio stations which could play "Roundabout" all the way through. We thought, wow, the world is opening up! And I started listening to Sibelius at that time, and I listened to this one piece of music, smoking joints, and when it finished, I thought that went by so fast. So I checked the timing and it was 27 minutes long! It felt like 5 minutes. So I said to Steve, I really feel we could do a 20-minute piece of music.
We started sketching it out, and it became the track "Close to the Edge." And it's that moment in time when I was thinking: FM will play this. But by the time we finished and got it released, FM started to become formatted because they weren't making any money from long, free-form records. In walks Lee Abrams and AOR radio!
But the fans loved it, and the tours were fantastic, so I thought it was the breakthrough to somewhere else. We were doing an event called the Crystal Palace Garden Party with Mahavishnu, and we went on to perform "Close to the Edge" for the first time. You could hear the crickets halfway through and people talking, and it really took the wind out of your sails. But we continued to tour with it and after two weeks started to get it worked out.
We hit America in front of 10,000 people who are quiet as a mouse, but this time the energy was overwhelming 'cause they knew we were intent on performing it well and at the end the audience erupted. Really different than the UK shows, which drove us to the next direction.
Tales from Topographic Oceans was next, but we can skip that [laughs]. The trials and tribulations of doing something so radically different. Years later, I realized it was good to do it, 'cause if we hadn't done that, we would never have done "Awaken." But it wasn't easy—I had started listening to gamelan and some ancient music and Wendy Carlos's Sonic Seasonings. But to perform it was a question of commitment, and at the time it wasn't there for all five of us. One loose wheel and the car doesn't drive right—later we got it right.
"Gates of Delirium" [from Relayer, the next album] was antiwar, the lyrics are very dark and I'd never really been there before. Vietnam was such a mess, I wanted to make a big statement about war and then at the end sing about the light. But we first had to go through this powerful piece of music on stage with laser beams and a three-headed monster above us, total chaos, before you get to the light at the end of the song.
Listening to "Soon"
After that, we went through an album, Tormato, where we didn't know what we were doing, and then Rick rejoined the band and all of a sudden, we found that energy like with Fragile. The punk thing had just happened, the disco thing happened, and we just carried on. Progressive rock was like a stone around your neck, though I don't like the term "progressive rock." I like adventurous music. By the time we got to "Awaken," it was an incredible feeling—we've lasted 12 years and could still do something really good.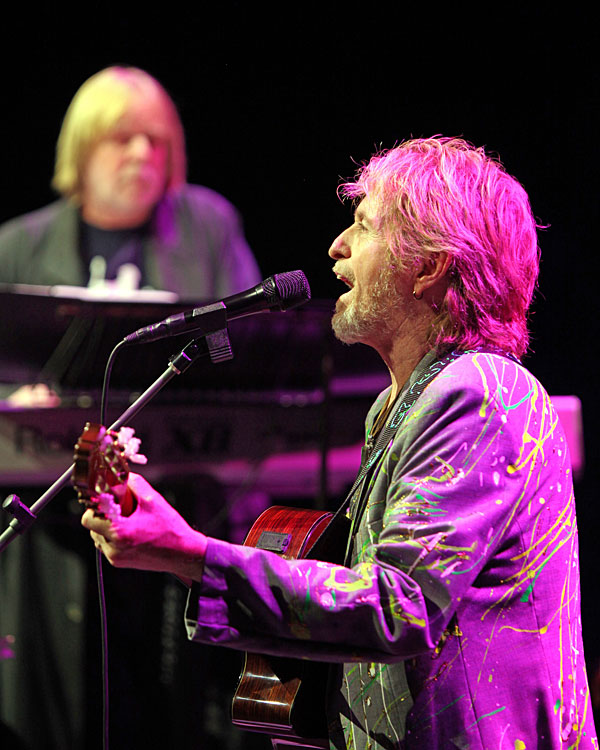 When Rick had left the band, I went looking for a keyboard player and found Vangelis. We used to play his "Creation du Monde" before Yes shows when people came in. I found him and then Mike Oldfield and started working with different people and still do. I hadn't lost any passion for Yes, but after making Going for the One we tried to make another album and it was just chaos. I didn't want to lead it anymore after it became a quagmire of late-night clubbing in Paris. I went to live in the south of France for a while, working on a musical about Marc Chagall, who I had met.
And then 90125 came along! I headed back to London and Chris played me the instrumental tracks and I went: Okay, I can sing on this and we can call it Yes! I'm an adventurous musician, so I loved the new sound and had heard some of the recordings that Trevor Horn had done. I really liked Duck Rock by Malcolm McLaren, so when I heard the tracks for the new album, I loved the idea of taking it out to the world with a new band. It worked and on MTV we were kings of the world for 10 minutes and it was good!
And the great thing was, I wanted to film the 90125 tour—a fly-on-the-wall perspective with a couple of the guys with cameras, since I knew it was going to be a big event. We got a camera guy called Steve and a guy with a boom mike and they followed us around for the first few weeks of rehearsals and a few gigs. They made up a 10-minute video cut that was great and also funny, but dangerous at the same time, so Chris and Trevor axed it. They let them film the concerts but that was it—not the boys being boys bits.
So I hung out with these video guys as we drove up to Boston for a show, stopping for gas next door to a cinema with a big sign saying Spinal Tap. I said, "I heard that's about rock and roll and it's only 2 in the afternoon, so let's go watch it." There's the three of us, and a lady in the back, and honestly, I had a joint and I couldn't stop laughing! It was every band—it was our band—up there on the screen. So for the rest of the tour I was in Spinal Tap and enjoyed it! And the guy who filmed us: Steve Soderbergh.
The new album
At the end of the '80s, I just wanted to get away from everything, so I went up to Big Bear in California with some recording equipment, writing songs with an old friend from the Warriors, Brian Chapman. I also had some friends come up from L.A., including Chris Squire and Alan White, and we recorded some things, but Brian was going off in a different direction musically, and I had a Yes tour coming up, so we put the tapes in the garage for 26 years.
Then two years ago, producer Michael Franklin got in touch and said, "Have you still got the tapes " and I said, "What tapes " He said, "The tapes from Big Bear!" and I said, "Oh yeah, they're in the back of the garage." Big whopping 24-track 2" tapes. So I sent them to him, and he baked them and transferred everything straight to the computer, and they sounded fantastic.
The new album, 1000 Hands, is about two-thirds songs started in Big Bear and one-third new songs, such as "Makes Me Happy" or when Michael created "WDMCF" (Where Does Music Come From) on a plane to China. I had sent him some vocalizing, which I do for fun, and he took off with it.
And on the tracks started in Big Bear, 26 years later, I'm singing harmonies to my younger voice, and it sounded the same! It's a miracle! I can sing exactly the same—I would do inserts with the old tracks and you can't tell. I know it's ridiculous. An example is the track "Come Up." We have Billy Cobham from Mahavishnu on that track, too—I've been wanting to get Billy on an album forever.
I played cowbell in the back during those old Mahavishnu shows! As soon as he started to play, the track took off like mad. When Franklin sent me the original mix, I said, "Turn Billy up cause he's driving it," and the whole track just opened up like a flower.
And then Chick Corea comes on and adds piano and of course Jean- Luc Ponty plays violin. It's like manna from heaven. Like most jazz players, Chick said, "Start the tape" and he just played—he did two takes and Franklin sorted it out. And finally, Steve Howe sings and plays on the last track, so I call it "Now and Again." I've sung with Steve for so many years! This new album is such a good place to be in my career—I'll never stop.