National Sawdust: An Artistic Incubator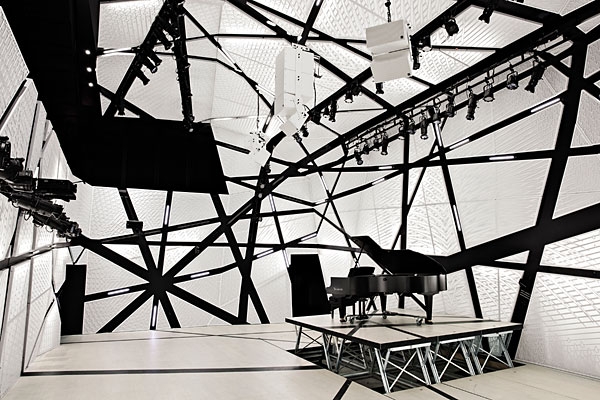 Saturday night in hipster Brooklyn . . . yet there
could
have been actual sawdust on the floor. Inside National Sawdust, a youngish crowd, many clearly ready to party, were shuffling, some were full-blown jitterbugging, while onstage the Lost Bayou Ramblers, a progressive young Cajun band who'd at first seemed a bit awed by their futuristic surroundings, were slugging beers, sawing a fiddle, squeezing an accordion, and generally finding their groove.
On another visit to the Sawdust, the inestimable Nels Cline, who uses more guitar effects than he's had birthdays, was teamed with Cibo Matto keyboardist Yuka Honda in a duo they call Cup. This was avant-garde, wildly experimental jamming, with Cline occasionally bellowing into a microphone. As a friend later remarked, it was music that really didn't need an audience.
During yet another visit to this relatively new restaurant, bar, and performing and recording venue, after a delicious meal of hot fried eggplant and grilled Arctic char with almond butter, sprouted lentils, garlic, and yuzu koshu, I witnessed a more restrained Cline playing edgy, spare jazz with tenor and sopranino saxophonist Larry Ochs and drummer Gerald Cleaver. According to a printed event calendar I picked up outside, upcoming shows would feature improvisational electronic musician Four Tet and multitalented avant-garde musician and composer Ryuichi Sakamoto.
The idea of a multipurpose art venue such as the National Sawdust is always alluring, but the actuality has often been less thrilling. No matter how sexy the lighting or how respectable the vin ordinaire, multipurpose rooms designed to be used as performing spaces and recording studios are often neither fish nor fowl—more likely, it's a recording studio with uncorrectable sound problems, or an awkward, uncomfortable concert space or both.
As the live-music game—never an easy way to make money, even in flush times—grows harder, thanks to YouTube and the oncoming wave of VR, and recording studios continue to disappear, thanks to Pro Tools and the ridiculous notion that the software makes any musician an eminent recording engineer, several rooms in New York City have begun trying to satisfy both needs. None is more ambitious or more successful than National Sawdust, at 80 North Sixth Street in Williamsburg, Brooklyn—that center of NYC hipsterism soon to be blighted by the yearlong closure of the L train, its only subway link with Manhattan. National Sawdust opened in October 2015, and only now is hitting its stride.
Conceived and initially bankrolled by Kevin Dolan, a New York attorney with a passion for new classical music, National Sawdust is a 501(c)(3) nonprofit corporation. It occupies a building that once housed a sawdust factory, and other than the restaurant and the bar, Rider, everything in it is run by the husband-and-wife team of label director Jeff Zeigler, a cellist best known for the eight years (2005–2013) he spent in the Kronos Quartet, and cofounder and artistic director Paola Prestini, who also runs the music-production company VisionIntoArt. With an advisory board that includes such heavy hitters as soprano Renée Fleming, composer Philip Glass—both have performed in the space—composer John Zorn, and singer-songwriter Suzanne Vega, they seem to have laid a solid foundation for success.
More recently, the board has formed a partnership with French high-end audio manufacturer Devialet: to use Devialet Phantom speakers in the lobby, and to facilitate the Sawdust's ambitious plan to begin live streaming. Asked about the sonic aspects of the building, Dolan, the project's original visionary, e-mailed me this bit of charming hyperbole:
"We wanted a performance space where our patrons could have the ultimate listening experience while at the same time our artists would not only have a performance platform, but also a place to develop and produce recordings so essential to their own career progression.
"Our financial muscle predominantly went towards the space's acoustics—we didn't want to cut corners. The primary objective was to create a space immune to any ambient noise that would distract from the music, like the rumbling of the subway or humming of air conditioning.
"We insulated the space from sound by building a concrete performance room inside the outer walls—a "box within a box." We controlled external vibrations by loading the walls, ceilings, and floors of that inner box with hundreds of springs. We took out buzzing, air flow, and electrical noise by using oversized and specialized HVAC equipment and dual grounded electrical systems."
All of these technical details result in a crystalline sound experienced in the space—there's an almost shocking purity to it, like for the first time you've heard music the way it's supposed to exist.
Prestini and Zeigler, who work out of a short-term rented office just down the block from National Sawdust, in what was once a brassworks, met Dolan a decade ago.
"Dolan wanted to do it alone, and he put all of his pennies into this project," Prestini said. "When he approached me, he had $8 million, and my job was not going to be to fundraise, but to be there to add vision. But we very quickly realized it was a $16 million project, and so I helped match that."
Prestini is still raising money—a given with most 501(c)(3)s. She told me that she, Zeigler, Dolan, and the rest of the board are still figuring out the business plan, and that a shortage of working capital made it "really hand-to-mouth for a long time. This space was founded on the idea that if artists help each other rise, we all rise. It's exciting now, because people are starting to understand it."
While the National Sawdust building itself is versatile enough to host the variety of music I saw, the sweet spot ranges somewhere between experimental jazz and new classical music and performance art. Prestini was quick to add that one of NS's most popular series is a showcase for young Brooklyn hip-hop artists. Opera, whether freshly composed or well established in the repertoire, also has a large presence in the calendar, as do LGBT programming and Saturday-afternoon jazz for children. NS has a slate of guest curators who each year present their musical and dramatic discoveries, and 12 residencies, for composers, groups, or performers.