Musicians As Audiophiles: Paul Wells
Starting with Musicians As Audiophiles subject #1, jazz drummer extraordinaire
Billy Drummond
, one thing soon became clear: New York City and its environs are a veritable smorgasbord of musicians who value high-end audio authenticity as much as any longtime reader of
Stereophile
. Billy Drummond led us to such like-minded audiophile/musicians as bassists
Chris Lightcap
and
John Hébert
, drummer
Dan Weiss
, guitarist
Adam Rogers
, and preeminent music scholar and jazz superstar
Ron Carter
.
"A fellow drummer and friend, Aaron Kimmel, got me into audio via Billy Drummond," notes MAA #7, drummer Paul Wells. "We call Billy 'the Pusherman.' He's got a lot of musicians in New York into high-end audio. Anyway, I went to Aaron's place to hear his Vandersteen 1C loudspeakers. He played a vinyl copy of Oscar Peterson's We Get Requests (LP, Verve V6-8606). That was the first time I experienced closing my eyes and imagining the musicians in the room. I'd never heard such realism from a stereo. It was extremely valuable to me as a musician to be able to hear music reproduced that realistically and to learn about what kind of sounds these musicians have and had. And how that could help me develop my own sound as a musician."
A regular on the bandstands of crooner Curtis Stigers, the Vanguard Jazz Orchestra, and the club and soundtrack performances of Vince Giordano & the Nighthawks (most recently, Boardwalk Empire and director Barry Levinson's Wizard of Lies), Wells is a deftly swinging drummer with an acute ear for music and hi-fi.
"I was always aware of high-end audio from when I began buying records as a kid," Wells says from his Brooklyn apartment. "There was a music store in Pittsburgh that sold CDs and high-end audio. I knew if I ever went down the rabbit hole I would be hooked. It wasn't until I was little more established with work that I could go there. I realized that you could get into high-end inexpensively if you did a lot of research and learned how to buy used equipment."
Paul eventually took the plunge into vintage hi-fi land, purchasing a Rega RP1 turntable, Yamaha CR-820 receiver and a pair of Wharfedale Diamond 9.2 stand-mount speakers.
"I found the Yamaha CR-820, which is 55Wpc (into 8 ohms) with a phono stage and headphone amplifier, for 60 bucks," Paul recalls. "It was in great condition. I plugged it in; it sounded fantastic with a pair of 20 year-old Vandersteen 2Cs, which I found used for $325. It was a cheap way to get into high-end gear. And I couldn't believe the sound. That was my basic system, with a Sansui G-3500 Receiver as a backup."
Wells eventually swapped his Vandersteen 2Cs for Vandersteen 1Cs, an odd move that may appear as de-evolution to the average upgrade-fanatical audiophile.
"When I moved into my current apartment," Paul explains, "I found that the 2Cs were too boomy, probably because of the suspended wood floor. Aaron still had his pair of 1Cs and was looking to upgrade, so we swapped and we're both happy."
So, how do the 2Cs compare to the 1Cs?
"The 2Cs are more full-range, and have more low-end," Well replies. "And they're less efficient. The 1Cs are quite efficient and would probably mate nicely with a lower power tube amp. I struggle with the 1Cs sometimes getting low-end and hearing all the bass notes evenly. They're limited in how low they will go. But I've experimented with placement in the room to avoid bass nodes. There is something very musical about them.
"I listen to everything in the recording, all the instruments, but as a drummer I will always be attracted to the way drums are reproduced," Wells adds. "The 1Cs reproduce drums beautifully. They work well with the different jazz records I listen to, and classical music as well; chamber music, solo piano and large orchestral works. Most of my rock listening is classic '60s and '70s, which they can also handle. The 1Cs have clarity but also warmth."
Wells has since upgraded to a Rega RP6 turntable and a Rogue Audio Sphinx integrated amplifier, while retaining his Vandersteen 1Cs. Like many a budding audiophile, Wells was interested in tube amplification, but was confused about the inherent power differences in tube watts vs solid-state watts.
"I wanted to dip my toes into the tube sound, but I didn't want to go full-on tube," Paul states. "I didn't know enough about it, and I didn't quite have the money. The Rogue was well reviewed, and I liked the idea of a hybrid tube and solid state integrated amplifier with a good built-in phono stage. The Rogue is 100Wpc (into 8 ohms), so it works well with the Vandersteen 1Cs, which are 91dB sensitivity. It was between the Rogue and a Rega Brio-R. It's very good too, but I wanted a little bit of a tube vibe. And I like the phono sound I get with the Sphinx. I'll upgrade down the road. Right now I like having everything in one unit, because I started with '80s receivers, an all-in-one box."
Wells is a serious and fastidious vinyl collector, witnessed by a handful of defective pressings he's returned to my place of weekend employment, New York City's Jazz Record Center. But more than a collector, Wells is a wise listener, his reasoned demeanor and discerning tastes perhaps proving that the listener is as important an element in the hi-fi reproduction chain as the electronics. Wells' Rega RP6 turntable enriched his hi-fi pursuit, and proved especially valuable in sorting out differences between recordings.
"I wanted to stick with the Rega family because I love the simple setup process," Paul says. "My RP1 sounded good, but the RP6 betters it in every way. The pitch stability is rock solid; low and high frequency detail is increased; there's a much lower noise floor. Another drummer friend, Chris Smith, recommended the Rega Exact cartridge. He told me he was particularly impressed with how realistically it reproduced ride cymbals and snare drums on '50s and '60s jazz recordings, and I agree with him."
Wells' recent purchase of a Lounge Audio LCR Mk.III phono preamplifier deepened his vinyl playback experience even more. "I'm getting a much fuller sound from LPs now, with much more presence in the low end. It's a fantastic phono pre, and a steal at $300 new!"
A Tascam 103 cassette deck, Onkyo C-7030 CD player (as transport), Blue Jeans digital cable, Morrow MA-1 interconnects, and 5T00UP Blue Jeans Cable speaker cables round out Wells' hi-fidelity accoutrements. The Schiit Magni 2 Uber headphone amplifier and Schiit Modi 2 Uber DAC are equally prized front-end pieces.
"The Rogue has a good headphone amp but my Audeze LCD?2 [planar-magnetic] Headphones need more power so the Schiit Magni 2 Uber is great," Wells explains, alluding to his other great audio fascination, headphones. Not being a headphone aficionado myself, I asked Wells, 'what's the fascination with these oval audio head-wraps, especially those of the open-back variety?'
"Soundstage," Wells replies. "The open back thing is all about the space that you're given through the headphones. You get a sense of space and placement and air. I grew up with headphones. I got a Sony Walkman in the fifth grade, and discovered the joys of personal listening. I did a lot of headphone listening and carried around boxes of cassettes. Then I got a Discman, then an iPod. Now I spend a couple hours a day on the subway. I also travel a lot and carry headphones and a small portable system. I've really gotten into making that as high-quality an experience as possible."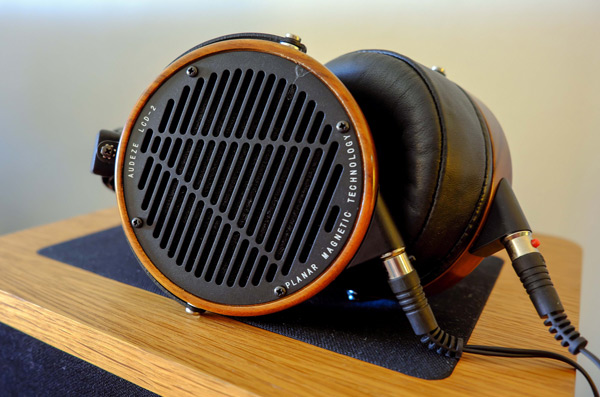 At home in Brooklyn, Paul enjoys the Audeze LCD-2 headphone via Schiit gear while playing lossless files on a MacBook Pro. I strapped on Paul's Audeze cans briefly and was immediately struck by their sense of air and glistening note enlightenment.
"When I use headphones at home, usually late at night, it's the Audeze LCD-2s with the Schiit Magni 2 Uber headphone amp," Wells says. "That's fed by the Rogue Sphinx's fixed output, so it gets whatever is selected by the amp. I also have an Audioquest Dragonfly Red DAC, which I use to play music from my MacBook Pro. The Dragonfly has a bit more of a sparkly and silvery tone than the Schiit DAC, which is a characteristic of the Dragonfly's ESS Sabre chip. The Schiit Modi DAC has an AKM [AK4490] chip, which is pretty neutral. I use the Modi DAC into the Onkyo CD Player. I also occasionally plug it directly into my MacBook, if I don't feel like using the Dragonfly.
And Wells' system for global touring jaunts and local NYC subway rides?
"On the go, it's either the FiiO X1 [Portable High Resolution Lossless Music Player] or the iBasso DX80 [High Resolution Audio Player], playing mostly 24/96 or 24/192 files," he replies. "The iBasso has a fuller and punchier sound, due to the built-in amp and dual Cirrus DAC chips. However, I still like the FiiO because it's much smaller and has a better UI. I also use my iPhone 7 Plus, sometimes with the Dragonfly Red, which is a big improvement over the phone's built in DAC. I notice the difference particularly in snare drums-- they sound fuller and punchier through the Dragonfly, almost like I'm sitting behind the drum kit."
And like any self-respecting headphone fan, Wells also has a proper set of in-ear monitors (IEMs).
"My IEMs are Westone W60s, which I believe are some of the finest multi-driver monitors you can buy," Wells proclaims. "The extension in the upper and lower extremes of the frequency range is staggering. I also find them very comfortable to wear in my ears for extended periods. I've tried a lot of other IEMs, and while some of them matched the W60's sound quality, none were as comfortable.
Wells, 43, grew up in Pittsburgh, PA, and studied drums with the great Roger Humphries, who played with many '60s era jazz stars including Horace Silver (recording Song for My Father, Cape Verdean Blues, and The Jody Grind), Ray Charles, Nancy Wilson, and Carmell Jones. Wells enrolled in New Jersey's William Paterson College in 1993, lived in Manhattan after school (studying with John Riley and Kenny Washington), ensconced briefly in Allentown, PA in the early 2000s, then landed in Brooklyn, NY in 2012. He performed rock with Debbie Harry, and jazz with Joe Williams and Mark Murphy before landing his semi-regular gig with the Vanguard Jazz Orchestra and the cherished drum chair with Vince Giordano & the Nighthawks.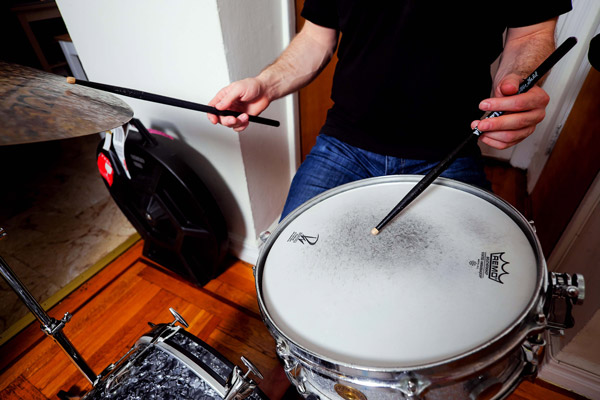 "Being a jazz player in New York City is exactly how I thought it would be yet completely different," Wells laughs. "I'm doing things I never thought' I'd be doing, but I'm working as a musician and that's all I ever wanted to do. I'm very happy and thankful that I get to do this for a living."
How has hi-fi changed Paul's world-view as a gigging musician? There's no simple answer.
"I've always been very drawn to sound musicians get on record," Paul says. "My dad had Art Blakey and Max Roach records--there's something special about they sound they got from the drums. Now it's something I strive for. Sound is probably as important as feel and musical taste and all the other elements that make a good musician. I'm starting to get my own sound on the drums. I didn't think about that as much before I got into audio. I probably played a lot of gigs without having a good sound, from just not putting enough attention into it as I should have. I'm very interested in it now. A great feeling cymbal beat is the most important thing for a jazz drummer, but right next to that is the sound of the stick hitting the cymbal and that blending with the band. I'm more aware now of that sound in the moment. That wasn't present before I got into audio."
As a musician-audiophile-sound perfectionist, what does Paul want to hear from a high-fidelity audio system?
"Excitement, realism, some warmth," Paul replies. "I don't want it to be too clinical or for the speakers to sound like studio monitors. I like a warmer sound, but with clarity. If it's jazz I want to hear clarity from the ride cymbal and what the drummer is doing with his left hand on the snare drum. I listen for low-end, for even bass sounds if the bassist is walking quarter notes. No single acoustic bass note should jump out; every quarter note of every bar should be even. I have a few reference recordings, including Holst's The Planets, with Charles Dutoit conducting the Montreal Symphony Orchestra (CD, Decca/London 417-533-2). It has amazing low organ notes in a couple movements. Something in those notes will hit me; it's physical and emotional."