Musicians As Audiophiles: Dan Weiss
Drummer/composer
Dan Weiss
has wide-ranging musical tastes, superb skills, and a rocking little Rega-based system in his cozy Brooklyn, New York apartment. Dan has drummed with many jazz greats, but it's his own projects that have generated the greatest interest. He's a thinking musician's musician, one who astutely assesses the pros and cons of every situation. Dan doesn't enter musical projects or hi-fi scenarios lightly.
When considering his first major stereo purchase Dan listened to many combinations of turntable/CD player/amplifier/speaker(s). When choosing headphones, he queried friends, reviewers and fellow musicians, but finally trusted his own ears, listening to dozens and dozens of pairs of headphones over a period of months.
Dan's driven, dedicated demeanor is evident in his multi-tiered musical directions. Perhaps as no other trap set drummer before him, Dan has applied the complex rhythms of Indian classical music—which he first mastered on tabla—to the contemporary jazz drum set. But Dan is no purist jazzbo boffin; he's as enamored of Meshuggah, Busta Rhymes and Slayer as Lennie Tristano and Bill Evans. Dan's former band, Bloody Panda, played ear-shredding doom-metal.
Dan's rigorous approach has led to a handful of releases including his solo recordings, Tintal Drum Set Solo and Jhaptal Drum Set Solo; the Dan Weiss Trio releases, Timshel and Now Yes When; a three-CD solo tabla recording with Dibyarka Chatterjee and Debu Nayak; the Dan Weiss/Matt Mitchell duo Fourth Floor; the Dan Weiss/Ari Hoenig duo; Dan's Large Ensemble recording, Fourteen; and his most impressive project to date, Sixteen: Drummers Suite.
"For Sixteen: Drummer Suite I took snippets of six drummers: Elvin Jones, Tony Williams, Max Roach, Philly Joe Jones, Kenny Clarke and Ed Blackwell," Dan explained. "I based the suite around specific phrases each drummer played. Each piece is named for a different drummer. Every phrase is the basis for a tune; there are interludes and some theme-atic overlap. It's 16 musicians [on drums, acoustic bass, guitar, piano, synthesizer, three saxophones, two trombones, tuba, flute, three voices, harp, glockenspiel, organ, vibraphone, tabla and percussion], playing music based around six drummers: Drummers Suite."
Dan appears to be a serious, studied musician—which he is. His acute gaze and bearded mug give him the mien of a Jesuit or a guru. But his humorous side surfaces in videos that have generated a large YouTube following. Transposing popular rap and jazz compositions to the drum set, Dan turned his interpretative talents loose on the music landscape at large. He unleashed a note-for-note machine-gun attack to Busta Rhymes' "Iz They Wildin Wit Us." His slam-dunk beat-down on Big Punisher's "Twinz" was slower in tempo, but no less raucous. A jazz brushes workout interpreting Al Pacino and Jack Lemmon's "Always Be Closing" dialog from Glengarry Glen Ross is pure magic. As is Dan's hipster dalliance with Lennie Tristano's "Line Up."
But these days Dan has no time for videos. He's too busy touring the globe and buying records. A recent Japanese tour provided a visit to Tokyo's storied jazz vinyl haunts.
"I played three gigs with pianist Fabian Almazan at the Cotton Club in Tokyo," Dan recalled. "In my spare time I ate sushi and went to record stores, every day. The Disc Unions, HMV, and Discland Jaro, which is one guy in a 10' x 10' space. He's got the primo shit. All original Blue Notes and tons, tons, tons of Impulse! and Prestige LPs. All the stores have listening stations, and the prices aren't bad. I was overwhelmed. I didn't make it to the 'jazz kissas,' the jazz cafes. I preferred to buy vinyl. I bought around 50 records."
Dan's Brooklyn Brooklyn high-end rig includes a Rega Apollo-R CD player, Rega RP3 turntable/Rega Elys 2 cartridge, Rega Brio-R Integrated Amplifier, Schiit Audio Valhalla 2 Headphone Amplifier, Spendor A5 floor-standing loudspeakers, Nordost White Lightning Speaker Cables, and three (or four or five) pairs of headphones. Dan prefers vinyl, but CDs also fill his listening space.
"I was doing a gig at Josh Roseman's place; his system sounded amazing," Dan recalled. "We listened to vinyl, CDs and MP3s of the same recording. I knew that somewhere down the line this was for me. The difference in the different formats was astounding. We A/Bed CDs, LPs and MP3s from Miles Davis, The Who, Pink Floyd. And the LP won every time. I do prefer CDs for electronic music and heavy metal, and some contemporary classical. Hip-hop splits down the middle. I like the transients of CD."
How did Dan approach the high-end buying process and audio salesmen, topics which merit multiple articles? He visited one of Manhattan's legendary hi-fi salesmen.
"I met Andy Singer, who came highly recommended," Dan explained. "I told him my price range. I listened to a few systems at his store, Sound by Singer. I made a few tweaks; changed out amps and speakers. I listened to a lot of gear. For my ear, these pieces worked very well together. So I bought everything at once. I like the warmth of these components, and their versatility. I like the detail, the nuance, the roundness of the sound. "Sometimes with this system, on certain recordings, the drums sound like they're alive, like they're a living being," Dan mused. "Especially with vinyl. It's as if it's in 3D. Like it's a living entity. CDs are cool. But they don't have that same 'living' quality for me that you hear on vinyl."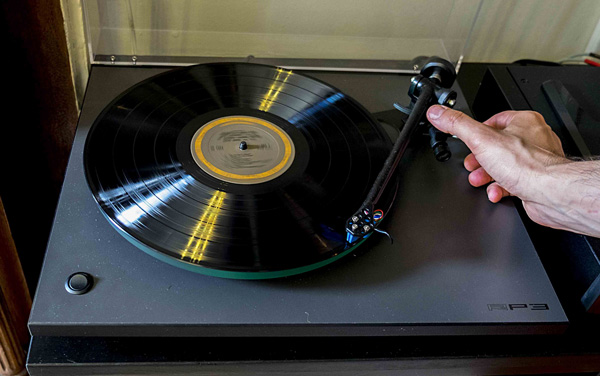 How did he allocate his hi-fi funds at Sound by Singer?
"Andy thought I should put the most money into speakers and amplifier," Dan said. "I didn't know how deep into vinyl I would get. Andy pushed me to get the better table. He saw my reaction when I listened to vinyl. He knew I would get into it. Andy and I hit it off. I like him. He's no bullshit."
Dan listened to a bunch of tube amps, but felt that they didn't cut it for metal muscle and rap beats.
"Jazz was a different story," Dan said. "It was ridiculous. But since my tastes are so eclectic I went with the Rega Brio. For jazz-only listening I would love a tube amp, but I listen to rock, metal, punk, and hip-hop as well. The transients didn't quite hit me with the tubes.
"One thing I've noticed about listening to records," Dan continued. "I grew up listening to my dad's vinyl: Zeppelin, Hendrix, Cream, The Who, Steely Dan. Returning to vinyl now, one of the big things is the amount of focus you need when listening to vinyl seriously. Being a musician, I want to hear the record over and over. I want to rewind and listen again. With a turntable, I am much more focused. Vinyl is bringing my focus to a new level as a musician."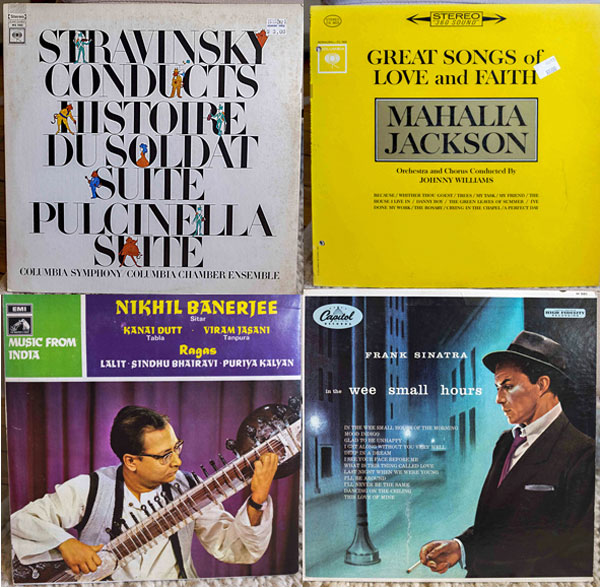 Beyond vinyl, Dan's obsesses over headphones. Some audiophiles love headphones, others (such as myself) don't get it. Why does Dan do headphones?
"Because I travel a lot," he replied. "And I'm moving around a lot. When I come home late at night I still want to listen to music, but I can't do so loudly because my wife is sleeping. I realized I wanted to listen to music with high-quality headphones."
Habitually methodical, Dan developed a headphones-evaluation plan and stuck to it. He carried his personal testing system from store to store, going back and forth, taking mental notes, using his sophisticated ears to nail down the perfect pair(s).
"I settled on three: the Sennheiser HD 600 [open-back professional] headphones, the AKG N60C [noise-cancelling] headphones, and the Audio Technica ATH-M40X [pro studio monitor] headphones," Dan stated. "During this journey, I listened to 70 pairs of headphones. I listened through an iPod and a portable headphone amplifier to get a better sense of the phones. I'd go back and forth. I had a playlist of 20 different songs of various genres to see how different phones worked with different genres of music. I listened to a lot of models, including the ones that everyone raves about: the Audeze, the Hifiman. But something about the Sennheiser 600s impressed me. The 600s were beautiful. They delivered a true representation of the music and they felt great around my head."
"I had the Bose noise-cancelling phones," Dan added. "The sound was really tainted. But they were really comfortable."
Why did Dan listen to 70 pairs of headphones to purchase only three?
"I'm a pretty obsessive person and I wanted to make sure the headphones were right," he explained. "I spent a lot of time at B&H Photo, borrowed friend's headphones, went to Stereo Exchange, Lyric HiFi—where I heard and liked a pair of Grados, but the treble frequencies were an issue. They're a little shrill for me, though I've heard they calm down over time. For $650 I didn't want to take that chance. The Audeze and HifiMan didn't kill me, either, I have to say. And the Audeze were as heavy as a motherfucker."
As someone with real world experience examining every facet of headphone build and sound quality, how does Dan compare the Audio Technica and AKG heapdhones?
"The Audio Technica headphones create a really nice representation of the sound and they're very balanced," Dan said. "They have a lot of precision. Comfortable. And they work over a lot of different genres of music. They feel good too. The AKGs have great mids, and great clarity for noise-cancelling headphones; they don't sound so colored. They don't cancel noise as well as the Bose, but they sound better."
Musicians as Audiophiles poses this question to every subject depending on his or her predilections and personality: Why are most musicians not audiophiles?
"Maybe musicians get more sustenance from listening on a whatever system than an average listener because of their innate musical abilities," Dan replied. "They're listening differently to begin with. They're listening with a different skill set. So musically, they can get a lot of it without using high-end equipment. Or perhaps since musicians have gone through such a rigorous amount of listening during their development, once you get bit by a certain bug it doesn't matter what you're listening on. You're listening to music for the sheer emotion and enjoyment and content."
Are you an audiophile, Dan?
"I know people who listen with astute ears, but they're not audiophiles," he replied, deflecting the query. "'Audiophile' is a hard term."
Listening to vinyl, composing new music, studying classical piano, and taking care of he and his wife's new baby fills most of Dan's current days. And he's working on a trio record featuring pianist Jakob Sachs and bassists Thomas Morgan and Eivind Opsvik.
Dan won't record more drumming videos anytime soon, but his firecracker take on a fast-talking FedEx businessman should hold you over until his trio record drops, spring 2017.