Musicians As Audiophiles: Adam Rogers
"For years, I had a terrible listening situation," guitarist Adam Rogers recalls. "I had a Vector Research amplifier that the guys at the hi-fi store called 'Victim Research.' I'd fallen into the contemporary trap of listening to music on computer speakers or headphones, all the while feeling that at some point I would like to invest in a great listening scenario."
Adam Rogers is one of most astute and industrious players in the world of jazz, a native New Yorker who has seen every era of the Big Apple music scene, and risen to become one of the best guitar players in the world, bar none. Rogers' stellar resume includes Norah Jones' platinum-selling Come Away With Me, Michael Brecker's Wide Angles, several releases with tenor saxophone titan Chris Potter,/ and his own albums, Art Of The Invisible, Allegory, Apparitions, Time And The Infinite, and Sight (Criss Cross Jazz). Rogers co-founded visionary New York funksters Lost Tribe, and has worked with world-class jazz actors Cassandra Wilson, Phillip Bailey, Joe Jackson, Ravi Coltrane, Regina Carter, Randy Brecker, Mingus Big Band, James Carter, John Patitucci, Dave Binney, Matthew Garrison, Scott Colley, and Dennis Chambers. Rogers' current project is the Hendrix/Steve Ray Vaughan-inspired, Cubist power trio Dice, with drummer Nate Smith and bassist Fima Ephron.
Rogers' lower Manhattan work space houses a small system that sounds bloody fantastic, his room a case of audiophile serendipity if ever I've heard one. The beneficial combination of wood floor, plaster and brick walls, a perfectly proportioned listening space, and Rogers' keen assemblage of a synergistic system results in a massive soundstage with wide frequency response and dazzling pinpoint imaging. Rogers' B&W CM 5 ($1599.98/pair) and Totem Rainmaker loudspeakers ($950/pair) powered by a Rogue Sphinx integrated amplifier ($1300) are a winning threesome, the B&Ws possessing great forward motion and the Totems delivering an organic, flowing presentation. But it's my bet that the magic begins with Rogers' beautifully refurbished 1960s AR-XA turntable ($269 on eBay) with an Audio Technica AT 440 MLB cartridge ($199).
How did Adam enter the realms of audiophilia?
"A dear friend and extraordinary bassist Tony Falanga turned me on to the audiophile world," Adam explains. "Tony has a great system (VPI Classic Mk.4 turntable, Mörch 12 tonearm, Benz Micro Glider cartridge, Audio Research CD-3 CD Player, Audio Research Reference 3 Line preamplifier, Audio Research VT100 Mk.III stereo amplifier, Vandersteen 5A loudspeakers). Records that I knew well from Miles Davis and John Coltrane—I experienced the sound of those recordings in a very different way on Tony's system. I could hear the room that the records were recorded in whether it was Columbia 30th Street or Rudy Van Gelder's Englewood Cliffs. I heard the dramatic effects of the soundstage. When I heard those records on lesser systems Trane was hard left and the drums hard right. But on Tony's great system I heard the placement and the musicians [signals] bleeding into each other. I could hear the room reverberations and perceive the musicians in a space."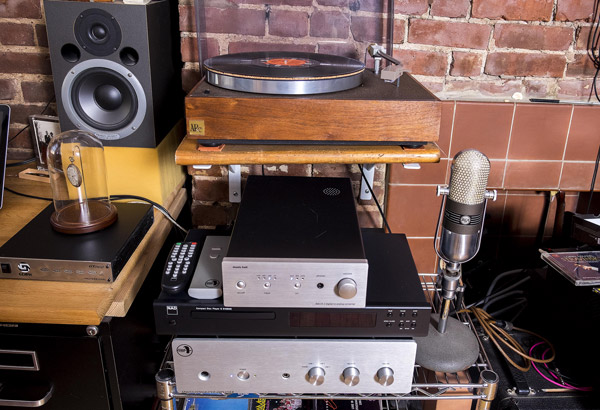 Rogers' work space is stuffed with audio gear including classic Neve microphone preamplifiers, a Music Hall DAC 25.2 ($599), Phonon SMB-02 Subtonic Monitor Basic Headphones 2 ($289), Sennheiser HD25-1 II Headphones ($199, Amazon), Sony MDR-V6 Studio Monitor Headphones ($78)—"they're like Yamaha NS10s—if you can make shit sound good on those you're doing good"—and vintage Sylvania and Philco tube radios.
"I also have a NAD C516BEE Compact Disc player ($299)," Adam says. "I don't speak too highly of that thing. I called NAD for tech support and they were none too helpful. I didn't buy an expensive CD player. I was wondering if I should buy an amazing DAC, because you can bypass the DAC in the NAD CD player, but I haven't tried it. The Music Hall DAC sounds remarkable on the computer, however."
Also in Rogers' cozy working den, a collection of well-played guitars that represent the storied history of American guitar manufacturing. Adam was kind enough to be photographed with a few of his gems, which include a 1965 Sunburst Fender Stratocaster (above), a 1950s Silvertone Sears Student Les Paul, 1950s Harmony Stratotone, Ronin Palus Mourn Les Paul, 2009 Gibson Traditional Les Paul, and his main instrument when recording, a 1999 Gibson ES 335 (below).
"The ES 335 is my thick clean jazz guitar. It barks like BB King."
Rogers' axe assortment also includes a 1956 Fender Telecaster (below).
"My luthier calls the Telecaster 'a broomstick with a toaster in it.' It's the Hamburg Steinway of electric guitars. It's so resonant."
Rogers' amplifiers are equally impressive, the tools of his trade cut from similar manufacturing cloth: 1946 Gibson BR-6, 1949 Gibson BR-9, 1966 Fender Princeton Reverb, 1964 Vox AC30, 1962 Fender Deluxe, 1966 Fender VibroLux Reverb, and a 1967 Fender Twin. A 1964 RCA 77DX microphone (purchased from a former Vietnam War Voice of America DJ) records Rogers' guitars.
Like bassist Ron Carter, who referred to himself as a 'scientist' in his Musicians As Audiophiles piece, Adam Rogers' probing mind searches for answers and researches every option.
"I finally decided I was doing to do this," Rogers says, when taking the audiophile plunge. "I started with an integrated amp. I discovered the Rogue Audio Sphinx hybrid integrated amplifier. For bang for the buck and pristine quality I couldn't do better than the Rogue. It has a tube preamplifier and solid-state, class-D power amplifier. I listened to it with a bunch of different speakers at Stereo Exchange, and compared it to other tube amps in the same price range. The Rogue seemed warmer than an all solid-state amp, and a little less harsh. It had a little of that warmer quality I associate with tubes, but a very strong representation of transient attacks. When I turn it up, the quality of how it represents transients doesn't change at all. It's never harsh. It doesn't sound clinical. It's very inviting."
When sited respectively on his B&W stands, Rogers' B&W CM 5 and Totem Acoustic Rainmaker loudspeakers create an immense soundstage, with surprising soundstage depth in his comfortable warren. He loves his Sphinx.
"I heard a huge upgrade to the overall system sound with the Sphinx," Rogers says. "Once I understood what the Sphinx sounded like I began auditioning speakers. I A/Bed the Totem Audio Rainmakers, Dynaudios, then the B&Ws. I was really taken with the B&Ws. I would go to the store with CDs I knew well and play them between all the speakers. I loved the Totems, they had a little more top end than the B&Ws. The Totems had beautiful imaging and soundstage representation. Great for classical but maybe a little strident when listening to jazz. The B&Ws don't seem as extended on the top end as the Totems. I bought the B&Ws, then the Totems. The B&Ws are not neutral monitor speakers; they sound a little less extended in each frequency. As much as the B&Ws have very full bass and low midrange response, the tweeters never reproduce that sharp high-end quality. I sometimes hear that quality with some bookshelf speakers when the tweeter material is designed to help with imaging. I love the sense of power with the B&Ws. When I play EDM it sounds like you're at a rave."
Rogers describes the Totems as "really beautiful sounding speakers with a tremendous amount of detail and clarity and quite a bit of bass response for speakers this size. Listening to well-recorded classical music on the Totems is truly rewarding. They are a great compliment to the Bowers & Wilkins CM 5s—and vice versa. They inspire me to want to listen to music!"
Rogers' AR XA turntable sits on a dedicated plywood shelf attached to an exposed brick wall. Its dark (cherry?) wood base and boxy looking tonearm make it look like a time traveler from The Day The Earth Stood Still.
"I thought about a turntable for a long time," Rogers says. "The turntable is the most interactive piece in the system. It's touching the record. I looked at Rega tables, and various others, then my friend (and bassist) Fima Ephron remembered his AR from when he was younger. It was great. I found this one on eBay in great shape. It has the original tonearm; a very well-engineered turntable. AR's Edgar Villchur developed the use of springs in the base that suspend the platter and tonearm in a way that are not affected by the reverberations of the motor. You can tell when you touch it, the platter bounces right back.
"I contacted Vinyl Nirvana," he continues, "who recommended Stefan Frosten in Edison Township, NJ. He works on many tables, but he specializes on ARs. He changed the bearing, cleaned everything, oiled the new belt, and set up the arm. He built a base and added feet. I built a shelf for the table. Now you can Lindy Hop in front of it. This turntable creates a beautiful representation of these records that I've been listening to for years. There's a lot of air in this system with the AR, when compared to my Thorens or a Technics turntables. There's more space around the notes."
Rogers' acute ears detect the limitations of the Audio Technica cartridge, as well as its simple aural charms.
"I love the AT cart," he says. "Sometimes it's a little bright but with that comes an openness on the top end. The extended top end opens up something, especially with classical music that is welcome, that extra air. But for jazz, with saxophones and trumpets, it can become strident and harsh. To whatever extent I understand all of this, I feel there is great synergy between these components. I love listening to music on them."
A veteran of club performances and studio recording sessions, Rogers has deep insight into the record tracking process. His theories regarding Rudy Van Gelder's working methods shed light to the layman.
"There's a thing that happens on the RVG records when there's a lot of horns," he explains. "I think the mics weren't muted when the horns weren't playing so you hear more of the room sound of the drums. Such as on John Coltrane's Africa/Brass (Impulse! A-6); those open mics in the Van Gelder studio allow you to hear more of the room in the recording. That makes me so happy. One of the many things that these fine components do is heighten my experience of hearing the room. And on a good system I don't notice that mono records are mono; I only know it's not hard panning left and right. It just sounds like music in front of me. Mono pulls you into the depth of the sound of the record. You don't hear this canned representation of the music so your ears focus on going into the recording."
Why are most musicians not audiophiles?
"It takes thought and time, and musicians typically spend a lot of their time writing music and practicing," Rogers replies. "And high-fidelity is an investment. That's a logical excuse. I was guilty of that ailment for most of my life. I didn't have a nice hi-fi rig. Part of it was thinking that if I wanted to get into this I had to spend a fortune. Every time I would do research I'd get overwhelmed at the choices. But when I decided to do it, I navigated my way through the many choices, and in 2015 I pulled the trigger.
Like most vinyl lovers with a new system, Rogers finds himself regularly pulling out familiar LPs and experiencing their joys anew.
"Since getting these components I listen to music constantly," Rogers says. "I wasn't listening to music as much before. I felt that lack in my life. When I got this system, I began listening to music all day long. It makes me want to listen to all my old CDs and LPs. I have hundreds of records from when I was a kid in my dad's basement. I come back from my dad's house with a pile.
"I don't want to sound dramatic," Rogers adds, "but getting into listening closely at home and sometimes for nerdy reasons you have to make sure you're not turning that internal mental microscope too high. Like when I mix a record. Things I notice when mixing a record six months later won't be as dramatic. And someone else won't hear them at all. Keep a little perspective."