Musicians As Audiophiles: John Hébert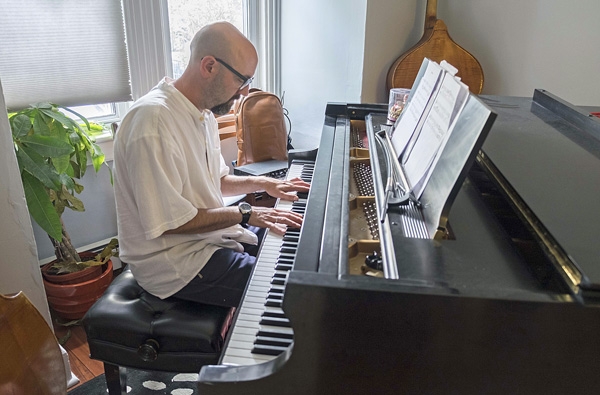 As a kid growing up in New Orleans, Louisiana, bassist John Hébert was familiar with old things. Hébert's mom enjoyed taking him and his three siblings to the city's ancient burial grounds, such as St. Greenwood Cemetery & Mausoleum (1852) or Louis Cemetery No.1 (1789). Once inside the graveyards' crumbling walls, the Hébert family often found things natural—and unnatural.
"Because New Orleans is below sea level the graves are in mausoleums or coffins that sit above-ground in concrete bathtubs," Hébert explains. "These cemeteries are very mysterious. Every time they bury someone the soil gets turned up. What's on the bottom eventually returns to the top. We would visit the graves of our deceased relatives, playing among the tombs. Being a registered nurse, body parts didn't bother my mom. And she liked to freak us out. One time mom said, 'Oh, look! What's this on top of the soil?' There was a sock laying in the dirt. It was all dry-rotted. She ripped open the sock and bones fell out. It wouldn't be uncommon to find dentures or teeth sitting on top of the dirt."
Hébert's experiences unearthing precious oddities have served him well as an adult musician, particularly when extracting deep bass sounds as one of New York City's most in-demand jazz bassists. From his 1990s-era Romanian and Hungarian upright basses and exotic stereo gear and LPs to the Baldwin grand piano that adorns the living room of his Jersey City, New Jersey home, Hébert is a perfect example of audiophile as musician.
John Hébert works regularly with pianist Fred Hersch with whom he has recorded three albums: Whirl, Alive at the Vanguard, and Floating (all Palmetto). Hébert's own group (which includes drummer and "pusher-man" Billy Drummond) has recorded four albums: Spiritual Lover (Clean Feed), Floodstage (Clean Feed), Byzantine Monkey (Firehouse 12), and his latest, Rambling Confessions (Sunnyside). Renku's Live in Greenwich Village (CleanFeed) was a jointly-led release featuring the bassist. Hébert's supple sound, huge tone and flexible skills have graced dozens of albums, including those by such jazz cognoscenti as pianists Andrew Hill and Kris Davis, guitarist Mary Halvorson, keyboardist Uri Caine, saxophonists Steve Lehman and Ingrid Laubrock, trumpeter Taylor Ho Bynum, and jointly-led Trio Friedrich-Hébert-Moreno.
A self-confessed newbie to the audiophile world, Hébert keeps his stereo rig in the basement of his 1901 brick home, its cozy confines offering a streamlined sweet spot.
"The way I perceive recorded music and my own music has changed a lot since becoming more of an audiophile," Hébert says. "I've always been attuned to production and getting a good sound out of the instrument. But when you listen to music on a high fidelity system you start to hear what is creating that sound in a more magnified way. I can visualize (bassists) Richard Davis or Charlie Haden. I can actually see them playing on a higher resolution system."
Being an audiophile has impacted how Hébert gauges the production qualities of his recordings and those of his fellow musicians. Now he's a serious listener, peering deep into the grooves.
"Joining the audiophile world has certainly changed my perception of what I want to achieve in sound," Hébert says. "For the typical jazz record there is not a lot of money to spread around, often a record is recorded in six hours or less; it's like a live gig. Those recordings sound good; the sonic qualities are there. But it wasn't until I started getting into this scene, listening on higher-end equipment and having a dedicated listening space that I started hearing all the nuances and details within the recording. You start noticing all the panning and the placement of the bass in the mix. I had never wondered when mixing my own projects, 'what if move the bass over here?' Everything has changed now."
Admitting to no preference between analog and digital ("I even like Tidal"), Hébert's rig is a mix of old and new technology. A pair of mid-1990s Vandersteen 2Ci floor-standing loudspeakers sits four 4" from the basement's sidewalls, 30" from its back-walls.
"I paid $500 for the Vandersteens, with the anchors," Hébert says proudly. "The April Music Aura Note V2 is a top-loading CD player," he continues, "with a class-D integrated amplifier, FM tuner and Bluetooth, though I don't often stream. The Aura Note has a coax out if you want to use it as a preamplifier to run a separate power amplifier. Next to that is a Musical Fidelity X-LPS v3 phono stage. And I really love this 1981 Sony PS -X75 [Computer Controlled Fully Automatic Stereo Turntable System Biotracer] turntable with the Ortofon 2M Red cartridge."
Soundstring GEN II Platinum Series Gamma SE bi-wire speaker cables and Morrow MA1 interconnects round out Hébert's rig. His Sony table sits atop an Ikea butcher block situated on a nondescript coffee table on the basement's concrete floor (on which also sat a pair of Grado SR125 headphones).
"This system has clarity and it images great," Hébert says. "There's no coloration with the Vandersteens. The [upper-frequency] drivers are suspended on a metal tree, but there is no box. They're entirely open."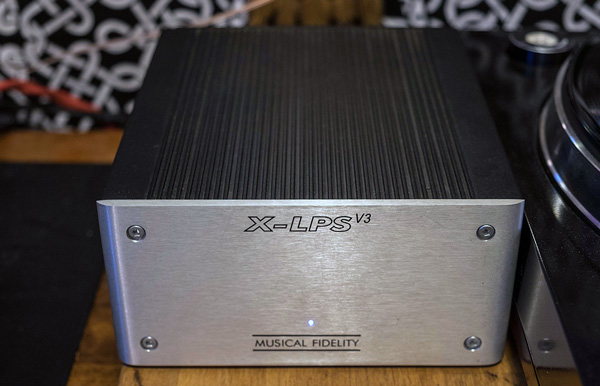 Not surprisingly, when evaluating new or potential equipment, Hébert uses LPs featuring some of the world's most badass bassists. Classics from Hébert's genre-crossing vinyl collection (half of which was given to him by Andrew Hill's widow) include Elvin Jones' Dear John C (Impulse!); "It's so present," Hébert says. Gary Peacock's Tales of Another (ECM); "stellar sound." And Niels-Henning Ørsted Pedersen & Sam Jones' Double Bass (Steeplechase); "That is badass!" One special jewel is a mint, mono Impulse! LP of John Coltrane's A Love Supreme, a former Andrew Hill possession (as is the Baldwin grand piano).
Hébert's Sony/Aura Note/Vannies rig imaged beautifully with an excellent sense of depth and a wall-to- wall soundstage. Supple transients and bass articulation were especially fine. Prior to his current setup, Hébert used B&W DM601 monitors, Rega Brio-R integrated amplifier, Rega P1 Turntable, and Micromega MyDAC out of a Denon SACD player.
"The Rega turntable had way more noise than this Sony," Hébert recalls, "especially in the background, even with no record playing. I can turn the volume way up and the Sony is dead-quiet. I got the Sony from [StereoTimes'] Clement Perry. The Vannies came from John Rutan at Audio Connection in Verona, New Jersey. Every dealer has a bottom line to cover, but I've been to the New York City stores and I always feel almost ashamed being there. 'Don't touch that. You don't know what that is? Let me help you.' That kind of vibe. But when I go to Audio Connection, John Rutan says 'You're a friend of Billy Drummond's? Sit down!' I sat there for two hours and he played tune after tune after tune. He never said 'You should buy this.' We were just enjoying music.
"In my limited experience in this audiophile world," Hébert continues, "I notice that people get so caught up in the gear and what everything costs. Rather than 'Why are we even doing this? Because we love music.' That's why I do it. Billy told me a story about going to some multi-millionaire audiophile's house. He had an incredible $100,000 system. And his entire music collection was seven CDs. His whole collection! Seven CDs! And they sounded terrible."
Upstairs, next to Andrew Hill's former piano, Hébert's two ¾-sized East European acoustic basses stand sentry in a corner of the family living room, looking over a 1990s Walter Woods amplifier, German-made TekAmp Puma 500 amplifier head, MAS (Mike Arnopol Soundworks) speaker cabinet, and boxes of Tomastik Spiracore bass strings.
What peaked Hébert 's interest to join the audiophile clan?
"Billy Drummond got me into this," Hébert says. "He invited me over to his place. He was so funny. I pointed to everything. 'What does that do?' I asked. 'You don't want to know,' he said. 'What is that?' 'Don't ask.' 'What is that sticking out of the outlet?' 'You really don't what to know what that is.' Billy was intimating 'You don't want to know, but you really should know.' Now we tease each other. He texts me saying 'You got the habit, Hébert. You're scratchin'. You're sniffin'.' I call him the pusher-man."
Speaking to one audiophile often uncovers another audiophile, usually living nearby. Hébert's Jersey City neighborhood includes fellow musician-as-audiophile drummers George Coleman, Jr. and Alvester Garnett, as well as former Stereophile deputy editor, Stephen Mejias.
"I think most musicians are audiophiles," Hébert says, answering the obvious question. "But they're in the closet or it's latent. Any good musician who is conscious of sound has the potential to be an audiophile. Perhaps they haven't heard a really well-resolved recording. Musicians come to my basement and they love the sound. But in New York everyone is in an apartment or sharing apartments. It's hard to have a dedicated space. Billy Drummond has three stereos in three rooms! When I come back from the road I am excited because I miss this. I miss listening to music on my stereo."
With Billy Drummond as guiding audiophile-friend and hi-fi "pusher-man," Hébert also indulges his hi-fi craving as he tours the world, often checking out used LP and hi-fi stores. A recent European trip further stoked his inner audio nerd.
"I remember the moment that switch fully flicked on," Hébert recalls. "I was in Norway checking out high-end stores and I walked into this place and told the owner I was playing nearby that night. He said 'Oh come in and listen.' He put me in a room with these new Tannoy Revolution DC10 TIs and Luxman L-550AX Integrated playing high-rez files. He played Kind of Blue's 'Flamenco Sketches.' My jaw dropped. I got goosebumps. Paul Chambers' bass had never sounded like that before. I could hear the glissando, the double-stops, really hearing and seeing his fingers. Amazing!"
So, John Hébert, audiophile newbie and bassist extraordinaire, here's the eternal, infernal question: how do we bring more musicians into this audiophile thing of ours?
"I don't try," Hébert responds. "I don't bother. Some [musicians] hear my rig and say 'It sounds good.' And they leave. I'm not going to try to convince them. As well as a love for the music, you have to have a bit of the gear bug. I have musician friends who are neurotic about changing strings and their instruments. But they hear this and they don't get it. They don't understand why I would spend money on this. They're using speakers their dad gave them and generic cables. Maybe their system does sound good, but what are they really listening for?"