Musicians As Audiophiles: Chris Lightcap
New York City upright bassist Chris Lightcap is an excellent musician with an eye towards vintage environments. He lives with his family in a gorgeous Art Deco building, covets his wife's collection of 1950s and '60s-era cameras, has his own amazing collection of classic electric basses and guitars, and his comfortable apartment was once home to a Mafia hit-man.
"The hit-man had a weird secret compartment cut into the floor," Chris laughs. "And what can I say? I like old things. I was obsessed with getting a 1950s Formica table for the kitchen. My wife wasn't into it. I don't know why I am attracted to old stuff. When I listen to my system I get nostalgic for hearing records on my parents' stereo, and when I play my Chet Atkins records it almost feels like listening to my grandma's RCA console in her living room. The way music is consumed today, I feel even more nostalgic for the old gear and the old ways of listening. My German upright bass is 100 years old. And I have vintage bass guitars and amps and a 1948 American Standard plywood bass. It's super crazy loud."
One of the busiest acoustic bassists in New York City, Lightcap has toured and recorded with Anthony Braxton, Anthony Coleman, Joshua Bell, Marc Ribot, Regina Carter, Craig Taborn, Tomasz Stanko, Mark Turner, Joe Morris, Chris Potter, Butch Morris, Matt Wilson, Ben Monder, and others. Lightcap's slinky, agile double-bass work can be heard on over 70 recordings. He's released a solid handful of his own recordings including Lay-Up and Bigmouth (Fresh Sound New Talent), followed by Deluxe and Epicenter (Clean Feed). A middle American from Latrobe, PA, Lightcap's Epicenter even included a cover of The Velvet Underground's "All Tomorrow's Parties."
Completing his vintage accoutrements, Lightcap's hi-fi consists of a Thorens TD-160 turntable, an early '60s era Fisher KX-100 Stereo Master Control Amplifier, Dynaco FM-3 Stereo Tuner, TCC TC-754 Black RIAA Phono Preamp, and KLH 17 loudspeakers. Chris recently graduated from a Rega RP1 to the Thorens. He's happier than a bass player in blue notes.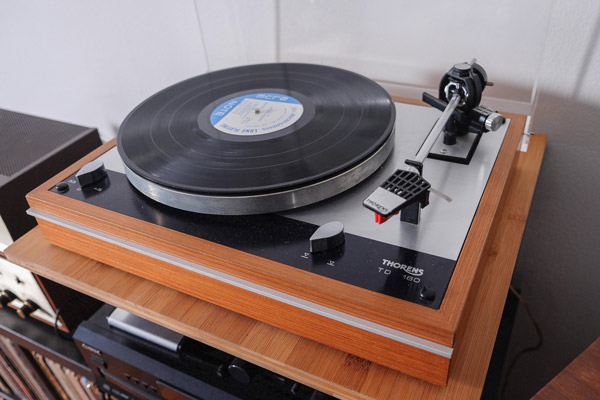 "I was content with the RP1 but when I found an old Thorens TD 160 for a few hundred bucks, I decided to try it," Chris says. "I compared the Thorens to the Rega and decided to keep whichever one sounded best. Right off the bat the Thorens was quieter. But it has a suspended subchassis and records skipped like crazy. So I built a wall shelf with an IKEA cutting board and attached some heavy wall brackets. Luckily, the stereo is setup in front of a load-bearing wall. I had my kids jump up and down right in front of it and nothing happened.
"The Thorens also had an issue with pitch stability so I bought a genuine Thorens belt from Dave at Vinyl Nirvana," Chris adds. "That made a massive difference. Dave gave me a lot of great advice about setup, including oiling the sub-platter bearing and finding the right cartridge for the TD-160. He's been restoring and selling Thorens and AR tables for years and is an incredible resource. I recommend anyone thinking about a vintage deck to check out his website (vinylnirvana.com)."
Chris's Thorens edged out the Rega, and his fondness for a Grado Prestige Series Green 1 Phono Cartridge over Rega Bias 2 and Audio Technica AT71E carts sealed the deal.
"When I installed the Grado Green, the separation, imaging and midrange opened up considerably compared to either the Bias 2 or the AT71E," Chris says. "The whole sonic picture widened and deepened pretty dramatically. The Grado is a lower-output cartridge than the other two and has a slight hum (only audible if I blast it between tracks), but overall, it's my favorite cartridge so far. The Rega RP1 is definitely more of a plug-and-play, user-friendly table that sounds great for the money. But since I like to nerd out and tweak old gear I decided to keep the TD-160."
Regarding the 24Wpc Fisher KX-100 Stereo Master Control Amplifier, Chris says "the headphone jack is wired backwards," confirming its kit origins. "All kits came with the wooden cabinet. But sometimes you had to order the cabinet separately. The price on Ebay was really reasonable. If I can change the capacitors, I think it will sound insane."
Chris purchased the Dynaco FM-3 Stereo Tuner after "I read about it online. I saw one on Ebay for $60 and bought it. New York City has several great independent stations and the tuner picks them up well and has a beautiful sound."
An avid researcher of all things musical, be they classic Blue Note and RCA Living Stereo LPs or hi-fi equipment, Lightcap read everything he could get his hands on when choosing a pair of vintage loudspeakers. He initially purchased not one but two pair of Henry Kloss's original KLH loudspeakers, the KLH 17s and KLH 23s.
"The 17s are from 1965, they're an early serial number," Chris notes. "The 23s were from the late '60s. The 17s were designed by Henry Kloss. I believe the 23s came out right before Kloss left the company. People said 'if you like the sound of Boston Acoustics (which Chris previously owned), part of the classic New England speaker sound, the KLHs are the best bargain in vintage speakers.' I ran both sets of speakers in parallel for a while, then took apart and re-capped the 23s, which opened up the high end on them quite a bit. But it was too much for the room, both visually and sonically, and I decided to keep just one pair. The 17s won out, even though they were supposed to be the low-end model compared to the 23s, which I later sold on Craigslist."
Growing up in Latrobe, Lightcap came by many things naturally. The home of Rolling Rock beer, golfer Arnold Palmer, and TV personality, Fred Rogers (aka Mr. Rogers), Lightcap felt at home amid Latrobe's well-lit middle classic streets in a family of music and hi-fi lovers. Gear and jazz--it's in his DNA, for sure.
"When I was a kid in Latrobe my parents always played tons of music around the house," Chris recalls. "I got into collecting records the same way I got into music in general, through my parents. My dad had a really big record collection, and he always had a good system. My parents have a photo of me at three-years-old wearing those giant green Koss Pro 4A headphones. My mom had Elton John's Greatest Hits and I knew exactly where to drop the needle on 'Rocket Man' and 'Saturday Night's Alright for Fighting.' I played those over and over again."
From father to son, the love of classic tunes and vintage hi-fi continues in the Lightcap house.
"My dad had a beautiful silver-faced Kenwood receiver, and these massive floor-standing Crysler speakers with 17" woofers," Chris says. "He had a Garrard turntable. My parents were classical music fanatics, they bought records all the time. My mom was an avid classical pianist. In 1980 dad bought a new Kenwood receiver and was interested in the [five-driver boasting] Dahlquist DQ-10s. Mom said 'those things are not coming in our house!' She thought they were hideous. They looked like Quads. He took her into the store to hear them, she agreed that they sounded incredible and they brought them home. He kept the Dahlquists, then eventually got a whole new Carver system."
Nostalgic and perhaps sentimental, Lightcap dove into the land of vintage hi-fi, headfirst.
"I love the sound of tubes from my experience as a musician," Chris relates. "I have an old Ampeg Portaflex B15. I always love the sound of tube stereo amplifiers when I hear them in friend's homes. I'm very happy with the sound of the Fisher.
"Buying used gear is also a practical concern," he continues. "I realized that if I bought a new, high-quality solid state amp I would have to spend several thousand dollars, which is not in my budget. I did a lot of research on the Fisher. I saw one on Ebay that was well cared for a few hundred bucks. I knew that AEA (Analog Engineering Associates, Inc.) rehabs these all the time; they think it's one of greatest tube amplifiers ever made. Not that it's as good as a McIntosh, but it's in the ballpark for a fraction of the price. And it has that beautiful tube sound. It's not neutral, it's very colored and flattering-sounding as are the KLHs. Compared to the 17s, the Boston Acoustics sounded scooped in the mids. The KLHs have nice midrange if not shimmering high-end. They don't go past 15k."
What are the singular strengths of Chris' 1960s era, Mad Men worthy rig?
"It has a very warm sound. But it doesn't just sound warm, I was surprised by the level of detail. It's not just dark and tubey. The Fisher is a lot more revealing than I thought it would be. And the KLH speakers are too. The Fisher's headphone amp is amazing; everyone seems to agree on that."
Lightcap includes among his go-to LPs, Herbie Hancock's Inventions and Dimensions (Blue Note), Chet Atkins' Guitar Genius and Teensville (RCA Living Stereo), and various Aretha Franklin LPs on Atlantic. All LPs sounded warm, rich and clean as a whistle on Chris' well-sorted hi-fi.
Completing his vintage obsession, Chris led me into his rehearsal space where beautiful-sounding instruments dazzled the eyes and ears. Chris ran down his voodoo gear like a proud papa: "That's the Ampeg B-15, an original Danelectro guitar amp, my 100-year-old German string bass, '68 Guild Starfire II Bass, 1970s Ovation Magnum bass, '64 Fender Precision Bass, '50s Kay Hollowbody Bass, '66 Fender Precision, a few Silvertones, my son's $80 Rondo bass, and a Swedish Hagstrom 8-string bass (the raunchy spaghetti western bass that appeared on select tracks of Jimi Hendrix's Axis Bold As Love and Electric Ladyland albums)."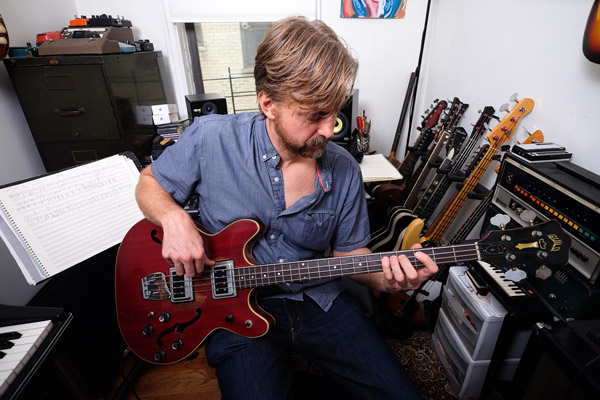 Vintage instruments and audio gear aside, how do Chris' audiophile ways affect his work as a musician?
"I always love to listen to music as a fan," he replies. "I don't need to listen with an eye to applying it to my craft, though I do from time to time. I try to be in the moment and just listen to it as music. I don't want the musician part to supersede the fan part. The fan part fuels my passion as a musician. My passion for listening to music made me want to be a musician.
"When I talk to younger musicians, they don't all listen to records," Chris adds. "I ask what they're into and they might mention five recent records by musicians who play their instrument. I think that's changing now, but when I was in college I was listening to Coltrane, Velvet Underground, Xenakis, West African music, Bach, The Who. My obsessions fed me as a musician, and most of the musicians I work with are the same way."
Chris' next project is Superette, an all electric band with guitarists Curtis Hasselbring and Jonathan Goldberger, drummer Dan Rieser and special guests Nels Cline (guitar) and John Medeski (organ). The record was recorded and mixed by Ron St. Germain and produced by David Breskin and Lightcap.
"I think you are your record collection," Chris notes. "And your personal tastes inform your identity as a musician. When I hear a classic Blue Note record on a good system it gives me a really good sense of what it felt like to be in the studio when they were making the record. I can really hear the relationship between Paul Chambers' quarter-note and Philly Joe Jones' ride cymbal. The reason their beat sounds like it does is because their sounds lock-in. It's not only because rhythmically they were doing this or that; you can hear how the incredible beat they shared came out of their sounds. With another bass player the beat feels completely different. I can really hear those differences on a good system."