MQA Advances and More Encountered at CES
Besides the appearance there of many new components capable of MQA decoding and rendering, CES provided an opportunity to unveil two important MQA developments. The first is that Tidal Masters (MQA playback) is now available on Android phones and tablets. While Tidal's potential rival, the French company Qobuz, is currently beta-testing its own hi-rez streaming platform for Android, iOS, Apple, and Windows devices, prior to its official launch in the US, Qobuz is limited to 24/192 resolution. MQA's folding and unfolding technology, as seen on the Android phone held by MQA's Ken Forsythe, enables Tidal to stream Masters titles of up to 24/352.8 or 384 unfolded resolution.
The second, which I discovered when Forsythe led me to the ESS Labs room on the 30th floor—a floor otherwise devoid of anything directly related to high-end audio—was ESS Labs' ES9281PRO USB DAC with HPA, featuring MQA. This DAC, which is designed to plug into USB Type C ports on phones that have eliminated headphone jacks, was framed as a "first step toward MQA decoding in headphones." Used in conjunction with the Tidal app, which already decodes MQA, it is said to provide full decoding and rendering without putting a serious drain on the phone's battery.
The ES9281PRO is a chip, not an end product. Since MQA is baked into the chip and preprogrammed, all that a manufacturer who purchases the ES9281PRO needs to do is house it as they see fit, and obtain a license from MQA. Hopefully, these devices will be designed to work with both USB Type C and Lightning ports.
In the photo, the ESS9281PRO is plugged into an Android phone, and transmitting Master Quality (MQA) sound from Tidal through headphones. The green light shows that the file is MQA-authenticated.
The one off-site exhibit I managed to visit was the elaborate, multi-area display that Harman International set up in the Hard Rock Café. With shuttle transportation provided by a special logistical team, the exhibit included a small area for two-channel audio (in passive display) amidst other sections devoted to automotive, lifestyle, and other products.
The big news was that the Levinson 5000 series of two integrated amplifiers, which was previewed at the 2018 Rocky Mountain Audio Fest, will ship in March. Shown in the photo are, left to right, the 5802 ($7000) and 5805 ($8500). Both have identical amplifier sections and power supplies, but the 5802 only has a digital input section, while the 5805 also has an analog section with MM and MC phono inputs whose settings can be adjusted via DIP switches. Both amps output 125Wpc into 8 ohms and 250 into 4, and are stable to 2 ohms. In addition, both can decode MQA, hi-rez PCM, and up to 2xDSD.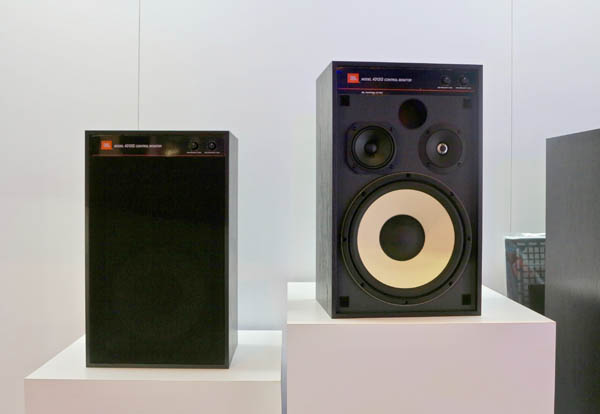 Let's end on a nostalgic note, with the JBL 4312G Control Monitor ($2500/pair). A reworking of the limited-edition 40th anniversary 4212SE, the 4312G incorporates an upgraded midrange driver and minor changes to the crossover.
Said to be built to today's loudspeaker standards, the 4312G Control Monitor's lineage dates back to late 1960s Model 4310."It's for people who remember JBL and have a liking for a retro-style speaker," I was told by a company spokesperson. Anyone who remembers hearing the Beatles, the Rolling Stones, Jefferson Starship, the Grateful Dead, Country Joe & The Fish, and the like through old JBL home, car, or studio speakers, including the 4310, please raise at least one of your hands now. Assuming you can do so without wincing in pain.