CES: Closer to Closure
A few surprises and delights still awaited on Wednesday afternoon, January 9. That was when I began to realize: save for Harman International's off-site exhibit at Hard Rock Café and two products I encountered on January 10, I would have plenty of time to write blogs and pack on my final day in Vegas.
One of the most eagerly greeted high-end unveilings at CES was Elac's new Carina Series BS243.4 Jet bookshelf loudspeaker ($1199/pair), part of a line including the CC241.4 Jet Center Channel ($849) and FS249.4 Jet floorstander ($1199/each). The BS243.4 has a new aluminum bass driver whose compound curvature makes for a better blend with Elac's Jet tweeter, and an angled base of cast aluminum that allows for a down-firing bass-reflex port. (You can kinda sorta see the angle in the left-channel speaker shown in the photo.) Frequency range is 46Hz–30kHz, sensitivity 85dB/2.83v/1m, nominal impedance 6 ohms dipping to 4.8 ohm, and peak power handling 120W.
Alas, music playing on a larger system that Jones was running behind a room divider prevented me from being able to evaluate this model's sound.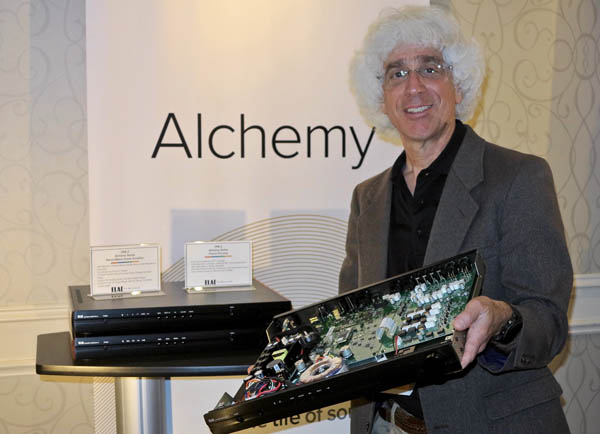 Elac's Alchemy electronics division, headed by Peter Madnick (above), is now shipping the DDP-2-BK DAC/preamplifier/streamer ($2500). This soon-to-be MQA-capable baby, which is also a Roon endpoint, decodes up to 384kHz PCM and 4xDSD. The DDP-2-BK includes a fully analog preamp with balanced and unbalanced inputs and outputs (including Ethernet, Bluetooth, and Wi-Fi), fully balanced topology, and a digitally controlled analog volume control. When I asked Madnick if his baby had portals for Tidal and Qobuz, he said that it had Spotify Connect and Apple AirPlay, and could stream "anything UPnP."
Madnick, who was the guiding light behind the original Audio Alchemy series and helped develop the Constellation Audio line, boasted of his 14-lb unit's clean I2S internal topology, and the fact that it uses its own clock for USB.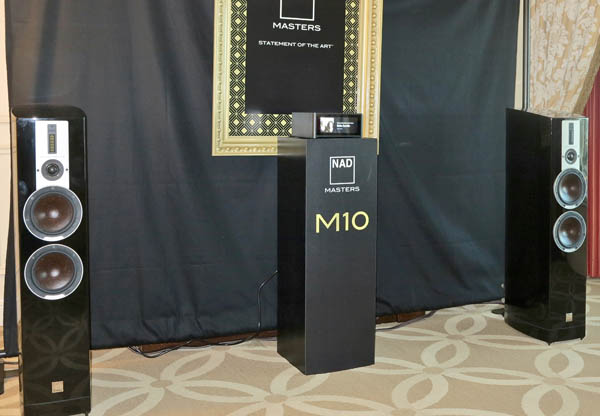 The new NAD one-box M10 Masters Series BluOS integrated streaming amplifier ($2500) offers Dirac room correction; wireless multi-room streaming that can be controlled from iOS and Android devices as well as Apple and Windows-based computers; Qualcomm aptX HD; and MQA. The unit supports over 15 free and paid streaming subscription services as well as locally stored music libraries. Its 100Wpc Hypex nCore class-D amplifier has touch control, two analog inputs, and various digital inputs, including HDMI. Paired with Dali Epicon 6 speakers ($14,000/pair), the M10 produced a nice midrange and strong, full-range sound.
PSB showed off three new speakers in their newly upgraded Alpha series—only the second upgrade that series has seen in 28 years—with prices of $199, $299, and $599.
As you'll see in the photo above, the tweeter in the two smaller models is situated below the woofer, which is claimed to offer better off-axis listening. Cabinets and drivers are new, and the crossover has been redesigned. The speakers, which are available in either black or walnut finish, are designed in Canada and manufactured in China. Once again, owing to competing sound from an adjacent system, an audition was not possible.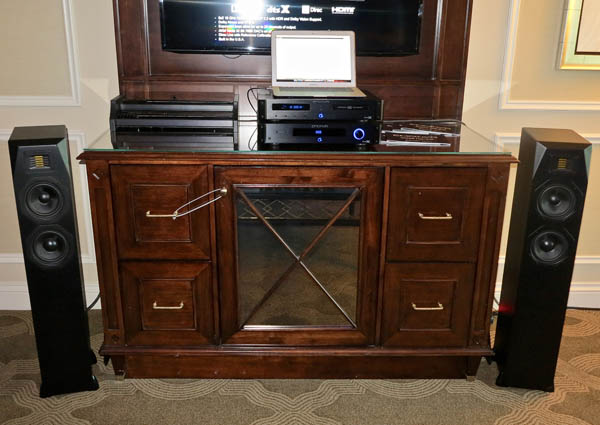 Among Emotiva's new products is the T0 loudspeaker ($499/pair), which sits below the T1 in the T-speaker line. With a cabinet constructed of 3/4" HDF, the speaker's 4" AMT tweeter and dual 5.75" woofers combine to offer a frequency response of 48Hz-28kHz, ±3dB.
I listened to the T0s driven by Emotiva CD-100 ($299) and TA-100 integrated ($299), with everything connected by (discontinued) Emotiva cabling. The midrange was really mellow, the top toned down, and the presentation conducive to non-fatiguing listening.
Also shown was the RMC-1 9.1.6 Atmos and DTS-X cinema processor ($4999). This baby is fully balanced and fully differential on all channels, and has a total of 16 AKM Verita 320-bit 768K DACs. With eight inputs and two outputs, it has expansion bays for up to 24 channels of output. It's also built in the USA.
Taking pride of place in the SVS room was the SB-3000 dual-ported subwoofer ($999), which company President and CEO Gary Yacoubian described as "the new jewel in the SVS crown." Seen on the left in the photo above, the SB-3000 has an all-new 13" driver with a split-wind voice-coil, housed in 15" cube. The SB-3000's 2500W (at peak) class-D amplification with fully discrete MOSFET output is the same amp platform that's used in the top-of-the-line SB-16Ultra, and enables the SB-3000 to descend to 17Hz, -3dB.
Set up on a mock kitchen table was SVS's new Prime two-way wireless speaker system ($599 for the active and passive units). Each of the Prime's drivers has its own 50W class-D amplifier. They use a digital electronic crossover, and have an output for an optional sub.
The SVS Prime offers Wi-Fi control via Android, iOS, and more, and promises uncompressed transfer with Spotify, Tidal, and Qobuz. Its built-in DAC can handle PCM up to 24/192.
"Our thing is bringing great sound to more people," Yacoubian said as he mated the Prime with an SB-3000 sub to play a bit of a Red Book stream of Heinrich Schiff playing Bach's Cello Suite 4. That the sound was lifelike, preserving all of the cello's inherent "celloness," suggested that the Prime/SB-3000 combo is a winner.
In a large suite on the 35th floor, Lamm Industries presented a familiar brand pairing. Because I didn't examine the list that was handed to me until after I had left Las Vegas, all I can say for certain is that the Lamm components in use included some combination of M1.2 Reference amplifiers ($32,490/pair) and M2.2 amplifiers ($32,190/pair), LL1.1 Signature line-level preamp (which consists of two mono preamps with two separate power supplies, and costs $51,990/set), and either the LP1 Signature phono preamp (which consists of a dual-mono preamp plus two power supplies, and costs $42,990/set) or the LP2/1 phono preamp deluxe ($10,990).
The rest of the system included Kharma Exquisite Classique speakers with F drivers ($130,000/pair), Döhmann Audio Helix One Vacuum turntable ($65,000) with Schröder CB-L tonearm ($4500), and either My Sonic Lab Ultra Eminent Ex cartridge ($6995) or Ortofon Windfeld Ti cartridge ($4390), and an unheard Aqua Formula xHD DAC ($17,000) with Aqua La Diva CD transport ($9000). Everything was connected and powered by Kubala-Sosna Elation and Realization series cables plus Kubala-Sosna Sensation phono interconnects ($129,250 total), and supported on Soul to Sole Stiletto ($16,000) and Sanus Euro Series racks ($840 total) and BDR amplifier stands ($6000). Total system cost was $559,625 plus tax. Don't forget that tax!
George Moraitis of Döhmann Audio spent a while showing me the Michael Fremer-reviewed Helix One turntable ($65,000), which is assembled in Australia. Its Swiss-manufactured motor takes advantage of advances in motor control to better adapt to the anomalies of the table's combination of two belts which stretch differently, and work together to create smoother belt-driven behavior. Döhmann claims that the platter is completely isolated from vibration, and uses a complex series of plates to channel noise away from it.
I was able to listen to several of the concluding sections of Mussorgsky's anything-but-shy Pictures at an Exhibition, on the Chesky LP, with Rene Leibowitz and the Royal Philharmonic Orchestra. Highs were excellent, with realistic bells and believable trumpets. Midrange and bass sounded rather mushy, however. While the soundstage was fairly large, precise placement of instruments was not in evidence.