The CES Challenge
After a few minutes in the VTL/Wilson/Nordost room on the 29th floor of the Venetian Hotel, the challenge I faced in covering CES 2019 was staring me in the face. The good news for me, and the bad news for exhibitors, was that visitor traffic was extremely light. To only two rooms did I need to backtrack because exhibitors were totally occupied with other visitors when I paid an initial visit. But, on the other hand, the sound in some rooms was so good, the musical selections so compelling, and the exhibitors so hungry for attention from
someone
that I had an extremely difficult time tearing myself away and moving on.
I kept consoling myself with the reality that, in three days, I could easily cover the maximum of 30 on- and off-site rooms I had committed to. Yet, as I write this blog at the end of Day 1, I have a sinking feeling in the pit of my stomach that Day 3 could be one of rushed madness.
Take this room, for example—my first listen to the forthcoming VTL TP-6.5 Series II Signature phono stage ($TBD, but under $15,000) and Wilson Audio Sasha DAW loudspeaker ($37,900/pair). I already knew the excellence of VTL/Wilson pairings, which I had come to miss at the last few shows I've covered, and also knew how both companies' products sound with Nordost cabling and power products. But when I'm given a chance to hear both digital and vinyl classical recordings, from familiar fare (my 24/96 files of Cecilia Bartoli singing Vivaldi—look for my print review next month, in the March issue) to excellent live recordings by Peter McGrath, sounding even better than before with MQA processing, and unfamiliar vinyl, how could I possibly say no?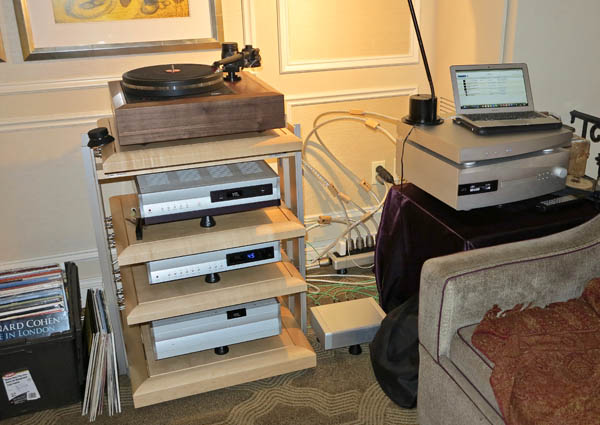 VTL's new TP-6.5 Series II (first VTL component on the left) takes advantage of all the innovations that first appeared in the lower-priced TP-2.5i. These include enhanced shunt regulation, multiple cascaded regulators, and many other enhancements that added more drive, presence, tonal depth, and soundstage depth to an already fine phono preamp.
The Sasha DAW three-way loudspeaker ($37,900/pair), named in memory of the late Dave Wilson, is basically an entirely new speaker. Changes include a new woofer—an evolution of the new woofer in the Alexia 2 speaker—that matches the midrange driver in size. That midrange, along with the tweeter, derives from the enormous limited-edition WAMM Master Chronosonic loudspeaker. The cabinet is an entirely new design, in both upper and lower modules, which are easier to adjust without the need for tools. There are also lots of new colors, the one shown being Lamborghini Giallo Tenerif.
Nordost was using an exclusive Odin 2 loom, two of the QKore passive grounding units I recently reviewed, Titanium and Bronze Sort Kones, and lots more. The sound, initially auditioned via Claudio Abbado's 2013 performance of the Scherzo from Bruckner's Symphony 9, was all of one piece in the most coherent way imaginable. Every instrument and pitch was totally in control, and the sound simply beautiful. Another LP, of Krystian Zimerman playing Schubert's heartrending final Piano Sonata, D.960, delivered gorgeous piano tones with appropriate ring on high notes, and music so heartbreakingly tender that I was tempted to break down and weep.
McGrath's live 1994 recording of the Tashi Quartet performing the third movement of Mozart's Oboe Quintet was simply heavenly. As for Cecilia Bartoli's Vivaldi, I could hardly breathe. Save for the last iota of transparency, the sound was ideal.
Also heard: VTL TL-7.5 Series III Reference line-level preamplifier ($25,000) & S-400 Series II Reference stereo amplifier ($33,500); Kuzma Stabi R turntable with 11" 4Point arm ($17,495) with Lyra Etna cartridge ($8995); dCS Rossini player & clock ($35,998 total); Nordost Odin 2 cabling starting with speaker cables ($56,999.99/1m pair), Valhalla 2 2.0 USB cable ($3499.99/1m), 10 amp QB8 II AC power distribution system ($1899.99), QKore 6 ($4999.99), Qkore 1 ($2499.99), Sort Kones ($88.99–$388.99); and Finite Elemente Pagode Reference racks.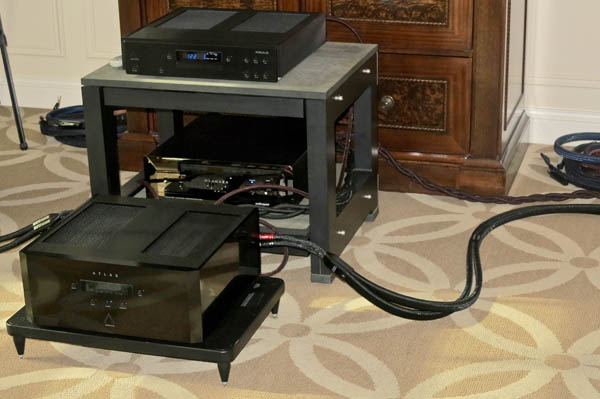 AudioQuest is coming out with more and more cables designed by Garth Powell and William Low. Among them is the Mythical Creatures speaker cable series: Dragon, FireBird, and ThunderBird speaker cables, with Dragon being the top-of-the-line. In a system I hope to hear later on in the show, when there's enough quiet in the room—I'll post a report in the comments section if I do—solid perfect-surface silver (PSS) Dragon Zero bi-wire speaker cables (see prices below) took their place between Bowers & Wilkins 802-series speakers and a front end that consisted of an Aesthetix Atlas amplifier, Aesthetix Romulus Signature CD/preamp/DAC, and AudioQuest Niagara 7000 power conditioner, all using AQ Dragon and Hurricane power cabling.
Reportedly, the goal when developing the Mythical Creatures series was to reduce distortion while maximizing resolution. Focusing on the new culprits—induced noise from Bluetooth, cellular, WiFi, etc—Powell and Low developed new shielding technology, which AQ calls "Zero Technology" for zero characteristic impedance with uncompressed current transfer. AudioQuest says that this technology aims to address impedance differences between the amplifier's source impedance and the speaker's load impedance. Using solid perfect-surface conductor technology, linear noise-dissipation technologies, a patented ground noise dissipation system in bass cables, and a 72V dielectric-bias system with carbon-level radio-frequency noise trap, Zero Technology is claimed to operate in a linear fashion over the entire length of the cable, lowering distortion while better revealing transients, dynamics, and microdynamics.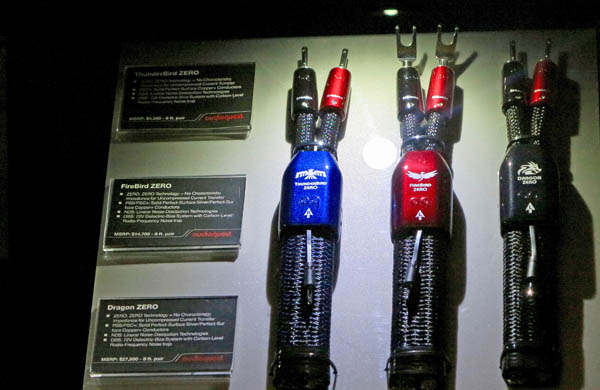 To quote from company literature, "Mythical Creatures Zero speaker cables may be used in one of two ways: either as ideal Full-Range cables, or, in combination with a dedicated BASS cable in a biwire cable assembly of unparalleled performance." Prices: Dragon Zero costs $27,100/8' pair, Dragon Bass is $20,700/8' pair, and the biwire combination of Dragon Zero with Dragon Bass is $47,800/8' pair. ThunderBird is considerably less expensive, with ThunderBird Zero selling for $4450/8' pair.
Out of Technics' current 25 models, five targeted for audiophiles are new for CES. Among them, the only thing I had time to listen to at CES was the Ottava S SC-C50 wireless stereo loudspeaker system ($799 each). Other products include EAH-F70H wireless noise-cancelling headphones (approx. $499), which are due this summer.
Shown in the photo above is the Grand Class SL-G700 Network/SACD player (target price $3500) which processes MQA, and has portals for Tidal, Spotify, and Chromecast as well as balanced outputs.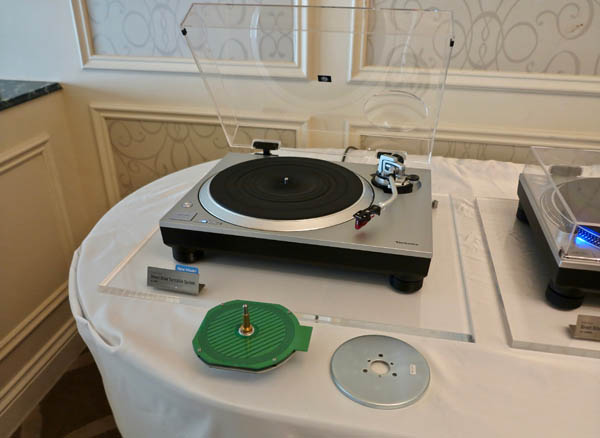 Of the two new turntables, the SL-1500C ($1399 target price) shown above is a coreless direct-drive system with a single rotor, built-in phono preamp with two outputs, and included Ortofon 2M red cartridge. Auto-lift at the end of a recording can be defeated if the owner wishes. The DJ-specific, extra sturdy SL-1200MK7 (target price $1199), which will appeal to some audiophiles, features the ability to play records backwards, and intentionally lacks a dust cover.