Monster's Miles Davis Trumpet in-ear headphone
Monster partnered with members of the Miles Davis family, Sony, and J&R Electronics to commemorate music icon Miles Davis' 85th birthday at J&R's downtown New York City location. Pictured (left to right): Rachelle Friedman, J&R Electronics co-founder; Erin Davis, Miles Davis Properties, LLC; Greg Pedersen, Monster Marketing & Brand Alliances; Anthony Ellis, Sony VP Urban Sales & Marketing; Noel Lee, "Head Monster"; Vince Wilburn, Miles Davis Properties, LLC. Photo: Dan Dion.
Last Thursday, May 26th, I attended an excellent dinner at the Tribeca Grill, hosted by the Miles Davis Family, Sony, J&R Electronics, and Monster, in celebration of Miles Davis' 85th birthday. During the event, which included a heartfelt remembrance from Miles' nephew, drummer Vince Wilburn, members of the press were given an introduction to Monster's Miles Davis Trumpet in-ear headphone. (We were also treated to birthday cake!)
Wilburn offered a simple yet charming sketch of his uncle: "Miles was the type of guy who would change his clothes six times a day just because he got bored. He was never satisfied, always on to the next thing," he said, with a chuckle and a sigh.
He then talked about the genesis of his family's relationship with Noel Lee, Monster's CEO, "The Head Monster": "Let me tell you something about Noel Lee…."
Wilburn explained that the two met a few years earlier, while backstage after a show. They got to talking about music and business, and Lee suggested, "Maybe we should create something together."
"Alright," said Wilburn. "Let me talk to the family about it."
Three weeks later, Lee had a prototype.
"Just like Miles," Wilburn commented, "Noel Lee is a forward thinker. He doesn't rest."
Noel Lee then addressed the eager audience, feeding us the most delicious lines: "You're not getting all the information in the music"; "Our mission is to educate consumers worldwide"; "Music is passion."
A convincing and powerful speaker with a very attractive message, Lee punctuated each of his statements with appeals for applause. Enthusiastically, eagerly, we clapped on command.
On each table, guests found a few samples of the Miles Davis Trumpet headphone and a gold iPod Nano, stocked with playlists created by Monster—demo tracks, test signals, pop songs. We took turns listening, and we were all impressed. Michael Fremer, sitting to my immediate left, took a turn and plugged the headphones into his own iPhone, listened to a recording of his own voice, and commented positively: "It sounds like me!" David Chesky, sitting to my immediate right, took a turn and plugged the headphones into his own mobile device and commented positively: "I like them better than my Turbines."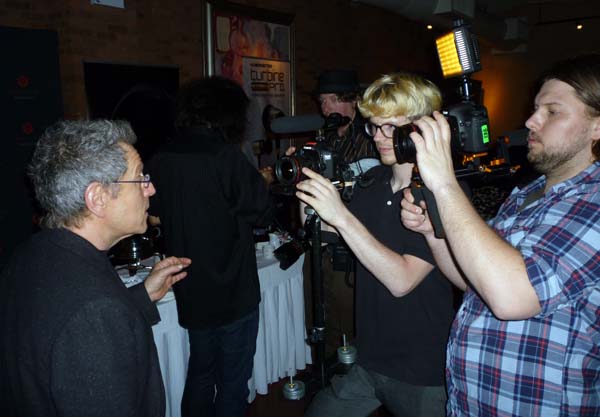 Mikey receives star treatment, expounds.
Scheduled to be available by August, at a retail price of $329, the Monster Miles Davis Trumpet in-ear headphone has a distinct, horn-like shape, is marked with the classic silhouette of Miles Davis in profile, and has volume controls made to resemble the keys of a trumpet. The complete package, housed in a lush carrying case, will include the newly remastered Sketches of Spain, in high-definition surround-sound.