Mark Levinson No.5105 turntable Page 2
I checked the vertical tracking force; it was on the money, at 2.3 grams. I checked the stylus rake angle, using a digital microscope. If whoever set SRA on the No.5105 did it the way most people do—by setting the arm parallel to the record surface, assuming that this will result in the proper stylus rake angle—well, it worked. Due to Ortofon's manufacturing excellence, the SRA was 93°; one degree beyond 92 compensates for stylus drag.
If you buy the No.5105 sans cartridge, you'll find the included cartridge setup instructions useful and nicely constructed, if basic. A single-point overhang alignment gauge is included, though M-L does not identify its alignment geometry.
The 'table and arm are so well-constructed and physically attractive and the arm has such a pleasing feel that using the No.5105 was consistently pleasant and no-fuss.
Speed accuracy and sonic performance
The 13lb platter takes its time reaching running speed, but unless you plan on using the No.5105 in a disco, that's not a problem. The 'table ran ever-so-slightly fast according to a traditional strobe disc and the no-longer-available PlatterSpeed app.
More troubling—at first—were the deviation measurements. Raw frequency maximum deviation (absolute) was –18.2Hz/+19.4Hz. That's poor, so I repeated the measurement and got the same results. I removed the belt and cleaned with alcohol both it and the platter periphery and reran the test.
Holy mackerel! Maximum deviation (absolute) dropped to –8.3/+6.1Hz and the low-pass filtered numbers showed an equally significant improvement. (See fig.1.) Clearly, some oily hands had handled the belt, and they weren't mine. (Was this 'table previously in use at a pizza parlor? An airport lounge?) So, clean your belt with alcohol before you install it, and always keep it clean and oil free!
An informal "tap test" indicated that the solid plinth was extremely well-damped and that the suspension isolated it well from floor-borne vibrations. A stethoscope applied to the plinth revealed zero motor noise leaking through from its enclosure. This is a supremely solid design!
First up using an $1100 Hagerman Trumpet hybrid phono preamp (FET front end/vacuum tube output, under review for Analog Planet) was Beethoven's Triple Concerto performed by Daniel Barenboim, Anne-Sophie Mutter, and Yo-Yo Ma and the West-Eastern Divan Orchestra (DGG 483 8246), a 2-LP set that also includes a performance of Beethoven's 7th Symphony. These are live recordings. The Triple Concerto was recorded in October 2019 at the Berliner Philharmonie. The 7th Symphony was recorded in Buenos Aires' Centro Cultural Kirchner in July 2019.
Barenboim formed this orchestra with Edward Said in 1999 in an effort to build bridges between Israelis and Arabs, and though it was originally a temporary arrangement, the orchestra has survived all these years, though the turnover is greater than in a more traditional orchestra. All the young players are Arabs and Israelis. The playing is big, joyous, and inspired. The three celebrity musicians play as if fused at the fingers.
This well-engineered record makes a very strong case for vinyl sourced from high-resolution digital files. I'd previously streamed the 24/48 MQA version on Tidal. It sounds very good played back through the dCS Vivaldi One, if somewhat austere. You might even say clinical.
Decoded by the No.5105 into the hybrid Hagerman, the vinyl version delivered timbral richness, particularly to the massed strings and Mutter's violin, and textural sophistication that might have some screaming "coloration!" Not I! To me it sounds more real and definitely more pleasurable than the streamed digital, especially the piano's presentation, both timbrally and in terms of transient attack. It helps that the Emil Berliner Studios did the mastering and that the Optimal pressing is outstanding. I could not hear any difference in dynamic range between the two versions. It's possible though that the file was dynamically compressed for streaming but allowed to express itself fully in the grooves.
I switched out phono preamps, trying a few solid state units including the "don't let the size fool you" iPhono 3 and the Triple Concerto recording. While not quite as lush sounding as it was through the tubed phono preamp, it still maintained a timbral warmth and textural presence the streamed file lacked.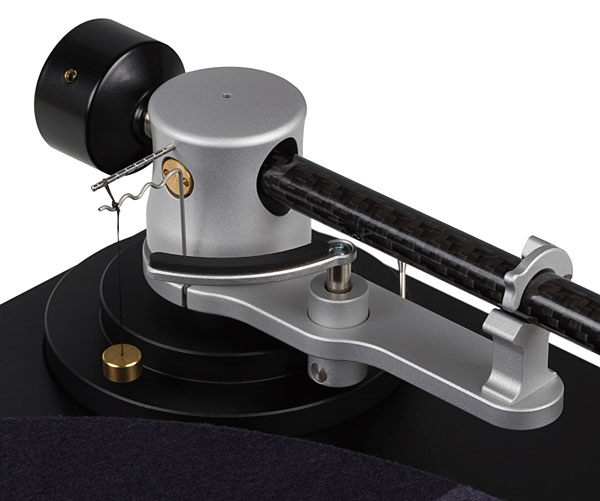 Craft Recordings recently released "progressive acoustic trio" Nickel Creek's 2005 release, Why Should the Fire Die? (Sugar Hill/Craft CR00335). Chris Thile plus the Watkins siblings Sara and Sean (adding bassist Mark Schatz for the first time) play here in the Alison Krauss style of modern Americana.
This is an all-analog recording, but this is its first release on vinyl. It was cut using the original tapes by Chris Bellman at Bernie Grundman Mastering and produced by Eric Valentine (Smashmouth) and Tony Berg (Beck, Michael Penn, Aimee Mann, etc.). Though recorded to tape using Telefunken microphones, Why Should the Fire Die? was not meant as an audiophile recording but rather as a fine-sounding commercial entity, so it features some obvious dynamic compression that thickens and flattens the still-attractive sonic picture.
The No.5105–Quintet Black combo produced an extra layer of thickness (and/or richness) and mild congestion compared to the far more costly analog front ends to which I compared it. I suspect that, had I a similarly priced Rega Planar 10 to compare it to, I'd hear the same difference.
Here, we get into design philosophies. Regas are now superlow mass, almost featherweight skeletal foam designs intended to dissipate rather than damp unwanted vibrations. This produces a "fast" (some would say "lean") sonic picture. The No.5105 designers were going for (and achieved) high-mass damping, which tends to produce a somewhat richer (some would say "slower") sonic picture.
Regardless of phono preamps used, whether tubed or solid state, the No.5105 produced—from a Shibata-tipped cartridge with a sapphire cantilever that generally produces fast, detailed performance—sound that was rich, relaxed, generous, and typical of higher mass, damped-style turntables.
I've not heard the Mark Levinson 5000 series phono preamp in either the company's preamplifier or integrated amplifier, but I speculate that it's fast, clean, and leaner than fat, probably similar to Boulder phono preamps in sonic character. The combination, especially with an appropriately fast, detailed cartridge like the Quintet Black, will probably make Mark Levinson electronics buyers happy visually, sonically, and ergonomically.
Conclusion
Mark Levinson's new No.5105 turntable is visually appealing and well-constructed. It performs well and is easy to use. That makes it a fine addition to the company's roster of well-regarded, luxury products.
It was intended for easy setup and use, and it meets those goals in every way, thanks to well-thought-out packaging, detailed instructions, and its simple, rugged, nonfinicky design. If my experience is typical, even inexperienced buyers can set it up with ease and hear what vinyl alone does so well. I can think of 100 great all-analog records that No.5105 buyers might enjoy.3
Adventurous buyers could later on upgrade the cartridge knowing that the No.5105's arm should accommodate well any more costly and sophisticated cartridge. I'd not be looking for one on the "warm and pleasant" side though; the 'table already has that well covered!