Listening #187: Shindo Mr. T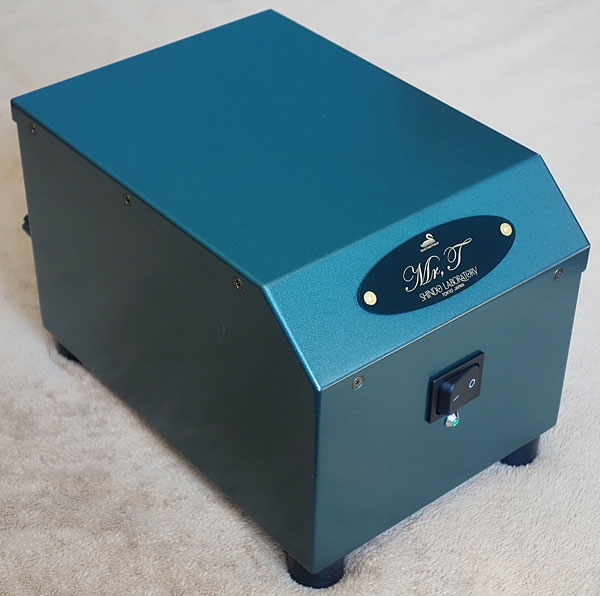 In the rural home in Cherry Valley, NY that my family and I inhabited from 2003 to 2017, we had dirty water but clean electricity. Evidence of the latter was seen in the results of tests performed by a technician from the local utility, National Grid—I told him I intended to do commercial sound recording on site, which was close enough to the truth that I considered my sin venal rather than mortal—and heard in the sound of my playback system, which rejected as superfluous or worse all of the AC-conditioning products I tried there. As for that, keep in mind that the purification of power, unlike the education of human beings, can be taken only so far before additional benefits cease to accrue—not that that has stifled the commercial efforts of those power conditioner manufacturers who promised perfect products yesterday and even perfecter ones today.
Now I live in New York's capital, Albany, a city of 100,000 surrounded by suburbs and comparably sized cities that, taken together, bring the region's population to 1.17 million. Here the water comes from a reservoir, and is pre-oxidized, disinfected, and filtered before it gets to my house. For the first time in 15 years, shirts and socks and towels that were white when purchased remain so after multiple washings. I don't ever want to go back to well water.
But my power here is not so clean—something that became apparent when I noticed that my system sounds better at some times of day than at others. (Obviously, if my system merely sounded better at some times of year than at others, the distinctions would be astrological in origin.) So I set about pre-oxidizing, disinfecting, and filtering my household AC.
Isolationism
I began with the Shindo Laboratory Mr. T ($2200)—a logical enough choice, given that my preamplifier and amplifier are also from Shindo. Like Naim Audio's Armageddon turntable power supply before it, Shindo's sole power-conditioning product is an isolation transformer, a category of product common in industrial settings and product-testing facilities. The simplest and arguably most common sort of isolation transformer is one in which incoming AC current is applied to a primary coil, with a secondary coil attached to one or more AC outlets; the turns ratio between the two coils is 1 to 1, thus ensuring that x number of volts in will result in the same number out. Of course that never quite happens, owing to various insertion losses; in particular, transformer windings can always be counted on to try to vibrate, thus turning at least a small portion of the electrical input into heat and/or mechanical noise. AC is sent from the primary to the secondary coil by means of electromagnetic induction—the operating principle of any sort of transformer.
The object for such a transformer would be complete electrical isolation of one or more AC-powered devices from a generator or public utility, typically in an effort to protect the former from possible ground faults in the latter—or, where such dangers exist, from DC. And though it's a matter of debate among engineers, it's reasonable to expect an isolation transformer to offer a degree of protection from some types of power surges caused by lightning, which is predominantly DC.
But with the addition of electrostatic screening, and by cannily optimizing the density and mass of the transformer's magnetic core to favor certain frequency ranges—all other things being equal, high frequencies will exert on a large core less magnetizing current than lower frequencies—an isolation transformer can be configured more or less exclusively as a blocker of AC noise. Fans of David Cronenberg's remake of The Fly will see a parallel to protagonist Seth Brundle's efforts, early in the film, to filter out impurities by means of teleportation.
Shindo Laboratory's Mr. T is an isolation transformer of the noise-reducing sort, as opposed to the sort designed solely for safety; indeed, unlike transformers built primarily for galvanic isolation, the ground tab on the Mr. T's AC inlet is wired to the ground tabs of its six AC outlets. (Then again, that's irrelevant in light of the fact that the power cords supplied with all Shindo products, including the Mr. T, have plugs with just two prongs: one for live, one for neutral, nothing for ground.)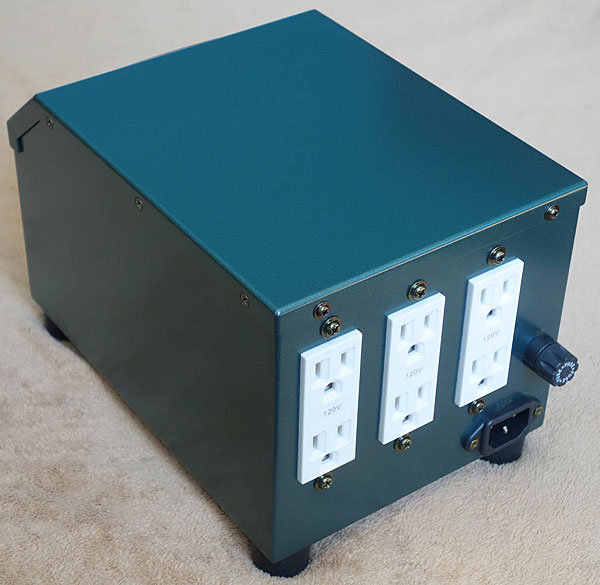 Inside the Mr. T is a massive Haruna Denki transformer. Its width and height barely fit inside Shindo's steel enclosure, which measures 6.25" wide by 6" high. The box's 9" depth leaves just enough room for the front panel's power switch and LED power indicator; the rear panel's chunky Meikosha AC outlets, plus nondescript IEC socket and fuse holder; and the necessary hookup wiring. The case is beautifully finished, inside and out, in Shindo's trademark shade of green, and it's solidly built—its removable top, damped with a rubber-like pad, is held in place with 10 machine screws, the holes for which line up perfectly with those on the main enclosure.
T for Tidy
The Mr. T arrived from Shindo's Tokyo workshop just days before I left for this year's Montreal Audio Fest—it would be days before I could try it in my system. That was just as well: At the show, I spoke with Luna Cables' Danny Labrecque, who also sells Shindo products through his retail operation, Phonographe. Labrecque described being especially impressed by the Mr. T's positive effects on the sounds of turntables, so I decided to start my listening tests by using the Shindo supply on just my Garrard 301 turntable (it has an AC motor) and, for the time being, leaving the rest of my system plugged into my AVOptions power strip.
The audible results of doing so were pronounced, and all in the Mr. T's favor. The first record I tried was the Jacques Loussier Trio's Play Bach Vol.4 (mono LP, London LL 3365): I gave it a quick listen without the Shindo supply, and noted that Pierre Michelot's double-bass lines were richly colored but appropriately taut, and the music had a fine sense of swing. Already, I was impressed.
But when I put the Mr. T between my household AC and my Garrard 301, tempos seemed quicker—although pitches were unchanged—and lines of notes had more momentum; for lack of a better word, the music became more sprightly. Drummer Christian Garros's brushed snare now had more snap, and Michelot's bass sounded deeper, and even more taut. More to the point: With my Garrard plugged into the Mr. T, the music was distinctly more engaging. I was now very impressed.
As long as my EMT OFD 15 mono pickup head was in the system, I tried my very clean copy of the Rolling Stones' eponymous UK debut (mono LP, Decca LK 4605)—and, because it was easy to do, I began once again by plugging the Garrard directly into my power strip. Again, the music sounded great—especially the young group's take on Slim Harpo's "I'm a King Bee," propelled by Brian Jones's steady acoustic rhythm guitar and Bill Wyman's deft bass line. The sound was clear and a little crisp, and the music was lots of fun.
Yet with the Mr. T back in play, it was Jones's and Wyman's instruments that benefited most: the guitar was even steadier and more propulsive, and the electric bass was fuller and, as my listening notes say, pound-ier. And in the Stones' no-less-fine performance of Rufus Thomas's wonderfully smutty "Walking the Dog"—something I didn't quite appreciate at age 10, when I first bought the US version of this album—the whistling near the end of each chorus was, I swear, clearer and stronger.