Listening #184: Zu DL-103 Mk.II phono cartridge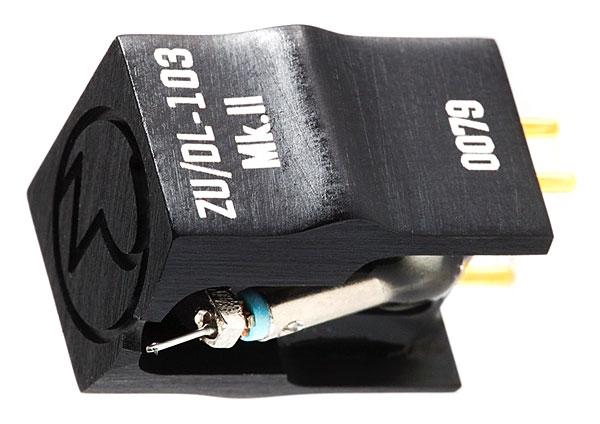 On at least one occasion that I can recall—in 1996, in the early days of
Listener
magazine—a US publicist for the Japanese manufacturing company Denon told me that they planned to discontinue their DL-103 moving-coil phono cartridge, an enduringly popular model that had been in production since 1962 (footnote 1). At the time, neither the DL-103 nor any of their other cartridge models appeared on Denon's US price lists, and neither English-language promotional materials nor even a basic spec sheet was available to American consumers or press. (All of this is charbroiled into my memory because the young woman in question was almost perversely unpleasant, a characteristic normally regarded as a disqualification for her line of work.) And near the end of this century's first decade, an audio-industry veteran who didn't work for Denon but was otherwise well connected assured me that production of the DL-103 was being phased out, and that, after a certain date, all units sold as "new" would actually be rebuilds of used units. Imagine!
Happily, neither of those awful things came true. Indeed, in contrast to the last time I looked—around 2011, I think—the DL-103 is now proudly featured on Denon's website, alongside three other cartridge models and the three Denon turntable models currently in production. (All three of the latter are belt-driven, which seems odd for a company that made its name designing and manufacturing direct-drive turntables. Then again, no one ever said these things have to make sense.)
Today, if only because it's one of the vanishingly few domestic-audio products that has been in continuous production for over half a century, the Denon DL-103 deserves to be considered a classic. But, as I observed in this space in the August 2017 Stereophile, the DL-103 has earned that status in another way: by being among those products around which has sprung an entire aftermarket industry. In particular, note the increasing number of companies making DL-103 replacement bodies intended to improve sound quality, sometimes by providing a more rigid cartridge-to-headshell mounting scheme than the stock cartridge offers, and just as often through a selection of materials intended to fine-tune the Denon's resonant behavior. This morning I counted five companies selling such things on eBay; a quick Google search turned up at least three others.
In the August 2017 Stereophile I wrote about one such company, Montreal-based MusiKraft, whose DL-103 replacement body is available in magnesium, aluminum, or an aluminum-lithium alloy; I reviewed a sample of the latter and came away impressed. (MusiKraft sells that body, with a new, preinstalled Denon DL-103, for $429.) In that same column I made reference to an earlier review of mine, of the Zu Audio DL-103: an aluminum-bodied version of the same great Denon cartridge, sold not as a kit but as a finished product. In 2007 the Zu Denon DL-103 sold for $399—and I thought it was one of the greatest bargains in all of audio (footnote 2).
Irony core
For those of you not yet acquainted with Denon's stock DL-103 cartridge, please allow me to quote from that December 2007 review: "It's a resolutely old-fashioned pickup in which a two-piece aluminum cantilever drives a cross-shaped armature wound with several turns of exceptionally fine-gauge copper magnet wire. The armature rests against a sky-blue rubber damper, under tension from a taut length of the sort of piano wire once used by spies to strangle each other. The magnet is oblong and apparently of no exotic composition, and its flux lines are channeled by a pole piece of the usual shape." Specs include a weight of 8.5gm, a spherical stylus tip, a recommended downforce of 2.5gm, an internal resistance of 40 ohms, and an output of 0.3mV. The last two, taken together, are a bit of an oddity: so high a coil resistance, suggestive of many turns of very fine wire, seldom goes hand in hand with so low an output.
If nothing else, that irony complicates the selection of a step-up transformer for use with the Denon—complicates but does not obviate. In my experience, the use of a transformer remains the only way to get the best sound out of this or any other MC cartridge. Fortunately, there remain some excellent choices for use with the DL-103, none better than the EMIA Phono transformer ($2400), in a version wound for higher-impedance MC cartridges, also reviewed in my August 2017 column.
The only other obstacle to enjoying life with a Denon DL-103 is the cartridge's need for what seems to me a longer-than-average break-in period, prior to which it sounds edgy, fussy, and too easily perturbed by dirt and damage in the groove. At least 100 hours of record play—for me, two or three weeks of daily use—are required to alleviate those flaws, after which the sound continues to appreciably jell, if more slowly (footnote 3).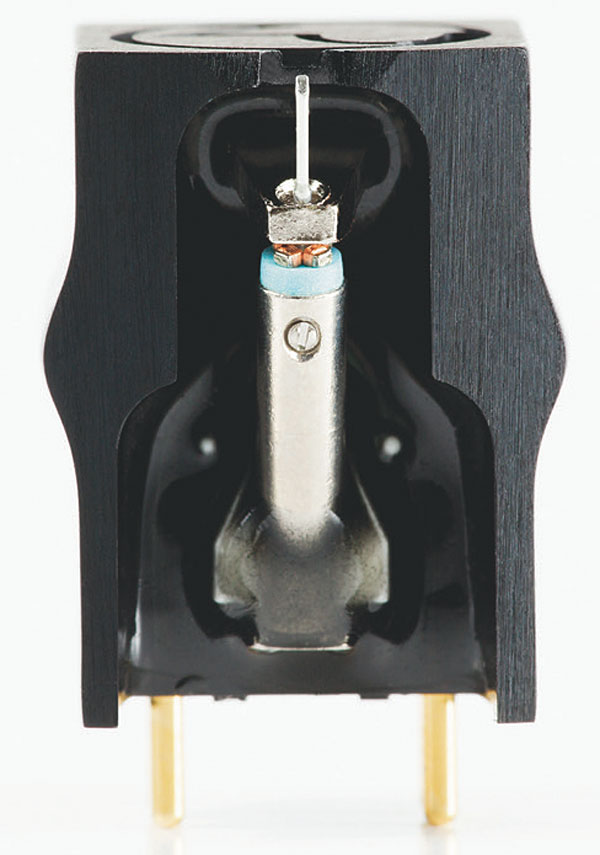 That last characteristic in particular has been on my mind in recent weeks, during which time I've put a great many hours on a sample of the latest Denon mod to cross my path: Zu Audio's Zu/DL-103 Mk.II ($459), which aims to enhance further still the performance of the original Denon and the first Zu mod. It does this in a couple of ways: For the new Zu, the company's precision-machined aircraft-aluminum body has been reshaped in a manner claimed to further prevent unwanted resonances, and at the same time to ensure even better contact with the motor within. (A side benefit of the new shape: the stylus guard supplied with the stock Denon cartridge fits it to a T, whereas Zu's previous cartridge body did not.) The Mk.II's body is also hard-anodized in a manner similar to many tonearm headshells in common use: Zu suggests that this can help avoid mechanical impedance reflections and mismatches between tonearm and cartridge. Finally, the high-metal-content epoxy used to bond Denon's motor to Zu's body is more advanced than that used for the first Zu/DL-103
Although all of Denon's original specs are preserved, for this new model, Zu Audio has devised a way to offer customers a significant improvement in one of them. A stock DL-103 is specified as having left- and right-channel coil impedances that are within 6% of each other, but Zu buys Denon cartridges in bulk and hand-selects them, which makes it possible for them to guarantee a lower tolerance for the Zu/DL-103 Mk.II: 2.5%. (Higher-tolerance samples are sold by Zu as stock Denon cartridges.) Zu then takes their culling three steps further, offering Grade 1 cartridges with a 1% tolerance ($559), Grade 2 cartridges with a 0.5% tolerance ($699), and Grade 2 Premium cartridges with a 0.1% tolerance ($999). On their website, Zu observes that those differences chiefly affect the cartridge's spatial performance.
New Zu review
Last November, Zu Audio's Sean Casey sent me a sample of the Zu/DL-103 Mk.II in its Grade 2 Premium incarnation, and I set about breaking it in. Before doing so, I spent an hour each with my own stock Denon DL-103 ($299, footnote 4) and my lingering sample of the aforementioned MusiKraft DL-103. It's always pleasant to be reminded how good that cheap little plastic-bodied Denon can sound, and how much music it delivers for a tiny fraction of the price of my other favorite cartridges: I could live the rest of my life with nothing fancier than a Denon DL-103, as long as I can have with it a transformer as good as the Auditorium 23 ($1550) or the EMIA. Not only is the idea of pairing a $299 cartridge with a $2400 transformer not absurd; to me, it makes sense to spend the smallest amount on the chain's most fragile link, which may want replacing from time to time.
---
Footnote 1: All of
Stereophile
's reviews of the Denon DL-103, from 1975 to 2017, can be found
here
.
Footnote 2: Zu Audio, 3350 S 1500 W, Ogden, UT 84401. Tel: (801) 627-1040. Fax: (800) 516-8925. Web: www.zuaudio.com
Footnote 3: Some readers may regard that with skepticism, and I don't suppose I blame them. Product break-in is the crazy aunt in perfectionist audio's attic—something we mention only furtively, while studiedly avoiding its technical backstory. Perhaps I should come back to this . . .
Footnote 4: This price represents a late-2017 increase. Before that, and for a commendably long time—well over a decade—it had been a crazy-low $229.