Listening #184: Zu DL-103 Mk.II phono cartridge Page 2
I re-auditioned the MusiKraft with the recording of Beethoven's Violin Concerto by David Oistrakh and the French National Radio Orchestra, under the direction of André Cluytens (EMI Centenary SAX 2315). The cartridge's strengths, well known to me now, were all there: the timpani taps that open the piece were temporally taut yet endowed with a realistically resonant tone and generous die-away. Oistrakh's entrance came across with a degree of nuance that seemed unlikely to be artifice: he
pulled back
, almost imperceptibly, against the tempo set by Cluytens, seemingly to let the listener know precisely who's in charge, then poured a sea of tone from his 1702 Stradivari violin and André Richaume bow. It was a
wow
moment and an
I could be happy with my present system forever
moment, all in one.
By the time the Zu/DL-103 Mk.II seemed more or less broken in—one day, it simply found its voice and its ability to shrug off surface noise and static pops—I revisited Oistrakh's Beethoven and heard a slightly different take on it. Those kettledrum taps weren't quite as taut, but the sea of tone was now an ocean of tone, with slightly richer colors and textures. Musical timing, evident in the ensemble playing and in the nuances of Oistrakh's soloing, were as sure as with the MusiKraft.
Soon after that, I used the Zu/DL-103 Mk.II to play an excellent reissue of Hans Knappertsbusch and the Munich Philharmonic performing Bruckner's Symphony 8 (Westminster/Speakers Corner WST 235). Apart from all of the individual sonic distinctions—pizzicato strings in the Scherzo were pleasantly tactile if not quite as plucky as with the MusiKraft, while string tone was again marginally more intoxicating—the thing that struck me was the manner in which the Zu made Bruckner sound more like Bruckner. Pauses were more certain, and the silences within them were darker, enhancing the music's episodic quality. Chords were wilder and more colorful, timpani rolls more like thunder out of a clear, sky blue sky.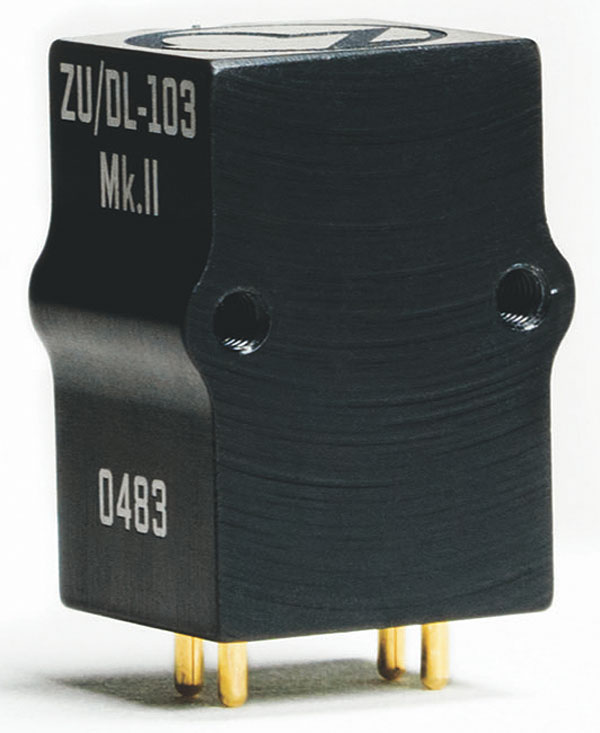 And darned if Neil Young didn't sound more like Neil Young, especially in songs such as "Out of My Mind" and "Sugar Mountain," from Sugar Mountain: Live at Canterbury House 1968 (Reprise 512563-1). The vulnerability in his voice seemed more pronounced, even during his often hilarious between-song spiels, and the sounds of his acoustic guitar and his characteristic strumming style also seemed more distinctive than usual, notwithstanding a somewhat dead set of strings. It was easy to hear that Young was using a thin pick, and was aiming at the strings from a bit of a distance—ie, his pick wasn't hovering just over the strings, as with some players—and I didn't need a pitch pipe to tell me that his strings were tuned down a full step.
At one point I again turned back to the MusiKraft Denon, and heard more rhythmic surety in Young's playing on those numbers—a better sense of attack, and clearer timing, especially in the bass notes in his upbeats. And going back to that Knappertsbusch Bruckner, with the MusiKraft Denon it was easier to discern pitch in the plucked bass notes at the beginning of the Adagio. Still, with the Zu, string tone—and harp tone!—were richer and more colorful. Indeed, as was made even more clear when I played "Coppin' the Haven," from Dexter Gordon's One Flight Up (Blue Note/Cisco Music 84176), and "Armadillo Breakdown," from Country Cooking's 14 Bluegrass Instrumentals (Rounder 0006), the Zu Denon II is quite the little tone monster.
As to whether the Zu/DL-103 Mk.II sounded more spatially accomplished than the MusiKraft version of the same cartridge—although I tried to keep an open mind, I was preconditioned to hear just such a thing—the answer is: not really. Did Sandy Denny's voice in "The Sea," from Fotheringay's eponymous debut album (Island ILPS 9125), sound bit more present? Could I say the same of tenor Peter Pears's voice in his recording of Benjamin Britten's Serenade, with hornist Barry Tuckwell and the composer conducting the London Symphony Orchestra (Decca SXL 6110)? I listened to those and other voices, and spent a little time listening for soundstage depth and accuracy of image placement in other recordings, and came away thinking that the two Denon mods sounded more alike than different in their presentations of space. In any event, stereo imaging is not among the Denon's trump cards: stock or modified, it's the sort of cartridge that encourages listening for tone and touch more than for location, location, location.
The distinctions I did hear between MusiKraft's and Zu's takes on the DL-103 formula were slight, and became apparent only after I made an effort to listen for such things—all the while, the very musical Denon, in both of its borrowed bodies, just wanted to hold my attention with momentum and clarity of line and touch and tone. And I pretty much went along with it. Yes, I do think the MusiKraft was more capable of sounding taut, the Zu of sounding colorful. From there, it was a bit of a toss-up: both were brilliantly well crafted and solidly recommendable.
Of course, the audio enthusiast on an even stricter budget simply can't go wrong buying a stock Denon DL-103. As for those dire predictions of 20 years ago . . . well, I guess there's nothing wrong with buying and putting away one or two spares, just in case. The only thing keeping me from doing so today is the fear that I'll forget having done so tomorrow.
You're paying too much for insurance
A month ago as I write this, I shipped a 43-lb power amplifier from one side of the US to the other. Because there's a UPS Store only six blocks from my new house, I decided to give them a try. I packed up the amp and took it there, and paid for the shipping and insurance fees with my credit card.
But when I returned home, it dawned on me that the total fee—approximately $250—was a good bit more than I'd paid, in previous dealings with UPS, to ship items of comparable weight and value over comparable distances. I called the amplifier's manufacturer to confirm this, and was told that, for $250, the amp could have been hand-delivered to a customer in Japan.
I returned to the UPS Store, receipt in hand, and asked to speak with the manager; I was told that he was out to lunch. (It was 4pm.) I explained the reason for my visit, left my number, and asked for him to call me back. Three days later, not having heard back, I tried calling him on the phone, and was told the manager wasn't in. The next day, I got lucky and reached him. (Actually, I got cagey and reached him: I called and asked the familiar-sounding person who answered the phone if he was the manager. After a longish pause, he said that he was.)
In the meantime, I'd scoured UPS's website and found their official schedule of insurance rates—online references to which studiedly avoid the word insurance, also cagily. It turns out that, although I'd paid only slightly more than expected for shipping my parcel, I had paid nearly three times the stated rate for insuring my parcel. I mentioned this to the manager, who observed without apology that the charge was not an error, and that he, like any retail merchant, was free to charge me whatever he felt like charging me.
Shocked to the core, I reminded him that, as a subsidiary of UPS, he could do so only by notifying his customers in advance that they would be charged higher prices than those stated on UPS's website. He replied by saying that that rule didn't apply, because the UPS Store is "a completely different company" from UPS—a defense that I would hear from at least one more UPS Store representative in the days to come, when I called their corporate offices in an effort to retrieve the more than $100 they owed me.
That proved to be a bigger waste of time than I could have imagined. In the American business environment of today, in which corporate-level employees regard consumers with a level of contempt once reserved for airline passengers traveling with goats and caged chickens, the UPS Store, Inc.—which, as it turns out, is indeed a subsidiary of UPS, Inc.—is perhaps the greatest offender. It took me about 90 minutes to reach a human being who was in a position to assist—and when I did, she was combative, not helpful. She, too, told me that UPS Stores are free to charge whatever they wish for insurance fees, up to a limit—yet when I asked her what the limit was, she refused to answer. When I tried to tell her that I wasn't informed ahead of time of the rates I was being charged, she interrupted me and said that I was. And when I asked her to supply proof in the form of a URL where their apparent predilection for padding insurance fees is posted, she sighed, said she was going to put me on hold for a moment—and disconnected me. (I realized this only after a minute or two, when I heard the dreaded If you'd like to make a call, please hang up and try again . . . ) I called back, ran the same gauntlet, asked for a supervisor, was put through to the voice mail of someone named Candace, and left a message. She never called back.
At a time when bricks-and-mortar hi-fi stores are less than abundant and online sales of some domestic-audio products appear to be on the rise, one's choice of shipping company is ever more critical. Given the premium they charge for value-added services, their reluctance to acknowledge what appears to be padding and/or make public their schedule of fees—and, most of all, the shoddy customer service I experienced from their corporate-level staff—I consider the UPS Store an extremely poor choice.