Listening #116 Page 3
Four versions in all were made: The LC-1a, LC-1b, and LC-1c are all distinguished from their progenitor by the addition to the bass cone of seven semi-ovoid "acoustic domes" that add a bit of desired mass to the cone, in addition to deflecting the output of the high-frequency driver—the latter effect enhanced by the addition of a stationary two-lobe deflector, referred to in vintage circles as the "butterfly."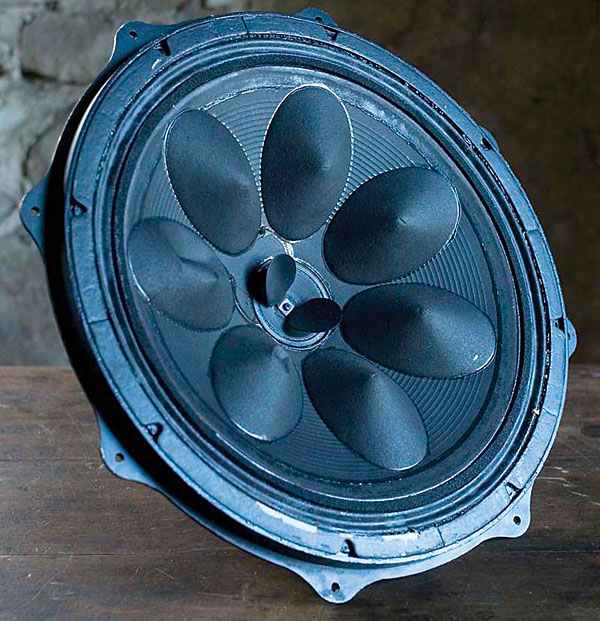 According to Early Bender, "This brainchild of RCA's brilliant and eccentric Dr. Harry Olson may be the midrange champ among 15" titans." He added that the LC-1 was perhaps the one speaker among his recommendations that received the greatest engineering effort. Jonathan Weiss agrees, adding that the LC-1 is, alongside the Åber-rare Eckmiller, the only time-correct coaxial driver. Asked to describe its sound in a single word, Weiss added, without hesitation, "It's right."
RCA produced their own enclosures for pro and domestic LC-1 applications, including the LS-1 wall-mount cabinet and the Olson-designed LS-11 floorstanding cabinet. Weiss says that a previously unpublished Olson design for an LC-1 corner horn has recently come to light; he expects to produce that enclosure before long.
Western Electric 753C loudspeaker
Availability: discouraging
Serviceability: discouraging
Price range: high to extortionate
The Western Electric 753C is a complete, two-way, permanent-magnet loudspeaker from 1946, supplied in a beautifully finished walnut cabinet standing about 30" high. (The quality of the latter seems incongruous, given that this "Loud Speaking Telephone," as Western Electric originally called it, wasn't intended for domestic use.) The drivers are a 15" Jensen woofer, and a Western Electric 32A right-angle horn whose compression driver—or "receiver," in the parlance of the day—was the Western Electric 713A, which featured an aluminum diaphragm. (Variations on the 713A used a phenolic diaphragm, resulting in a very different sound.) Western's engineers are said to have lavished considerable time and empirical effort on devising the 753C's onboard crossover, which features a pair of especially big Cornell-Dubellier oil capacitors.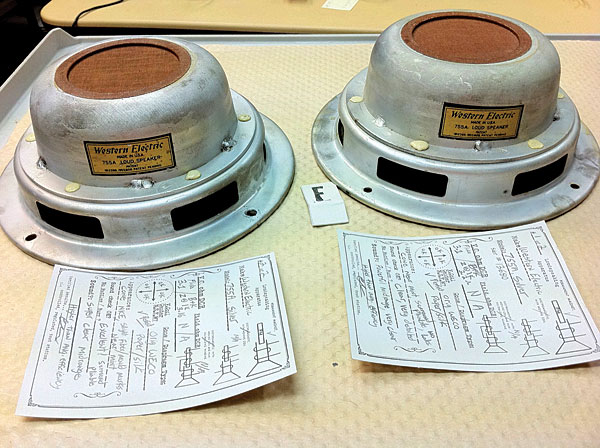 Although vanishingly rare and abominably expensive—clean pairs have fetched $50,000 and up—the Western Electric 753C sits atop the Want list of virtually every vintage enthusiast who's heard one. Its sound is described by Jonathan Halpern as "coherent, rich, and beautiful. If you were to set up a pair at an audio show, maybe 70 percent of the people wouldn't get it: 'Where's the bass, where's the treble, where's the imaging,' and so forth. But other people will hear them and say, 'I never knew a speaker this coherent, this good, was made in the 1940s.'"
Western Electric 755A drive-unit
Availability: poor to fair
Serviceability: reasonably good
Price range: high to very high
Early Bender describes the Western Electric 755A full-range drive-unit, introduced in 1947, as "a perennial favorite, now treasured all over the world," and that just about sums it up. Rediscovered in the early 1980s by Early's father, Walt Bender, this single-diaphragm 8" driver, specified as reaching from 70Hz to 13kHz, was designed and sold as a voice speaker of peerless clarity: 755As were most commonly found in railroad stations and broadcast studios, although office buildings and private schools were also known to have used them in their public-address systems. (As Jonathan Halpern observes, the 755A driver, like Western Electric's 753C loudspeaker, wasn't really intended as a domestic product; the difference is that the 755A was seized on by hi-fi do-it-yourselfers, even in the late 1940s.) Fish tales abound, some apparently true, of vintage-audio collectors showing up at building-demolition sites in order to salvage original WE 755s from the dumpsters.
As with other such things, the basic 755 was subject to various changes in design and materials specifications over the years. Following Western Electric's divestiture, in 1949, production was handed over to Altec, but it's the original WE version that is the most highly regarded, perhaps owing to its alnico magnet and its multilayer, vacuum-formed cone, which contains silk and cotton alongside the more plebeian pulp. Later versions, such as the Altec 755C drivers I owned for a while, also have their supporters—and are considerably more affordable.
Cabinet designs for the 755 family of drivers are all over the map, literally and figuratively. The violinist and audio enthusiast Joseph Esmilla, widely acknowledged as an expert on all things 755, recommends open baffles for this driver; Early Bender agrees wholeheartedly, going so far as to suggest avoiding Walt's "Bender Box" and all other sealed enclosures. Vu Hoang admires the open-baffle sound, too, but says that, "At the end of the day, it doesn't give me enough bass." He prefers bass-reflex cabinets of his own design, with interchangeable rear panels that allow the same basic enclosure to be adapted to different rooms. The most interesting 755 enclosure of all may be the floorstanding cabinet built in small quantities by Ken Shindo, with a vented, aperiodic enclosure for bass reinforcement and a shallower, straight-sided horn for the front wave, the latter of which can be augmented or occluded by a pair of hinged doors.
According to Early Bender, the 755A "does not reach extremely low, or [reach] unfathomable highs. Details and voicing are so perfect you will, in this order: cry; hear things you've never heard before; enter Nirvana; and finally throw out all those bad recordings you thought were good." Vu Hoang's take is simpler: "The 755A is a Quad ESL with dynamics!"
Runners-up?
Thinking back to when Rolling Stone published their first "100 Best" list of rock albums—a franchise that has, since then, begun to smell rather less than fresh—I remember being outraged that the magazine hadn't cited a single album by the Kinks. RS noted the oversight with apologies, suggesting that there were so many great Kinks records that their panel of experts had been unable to overlap enough votes to propel a single one onto the list. I thought at the time: Bullshit.
My self-righteousness came back to bite me on the ass. It appears there were so many great Tannoy drivers (and enclosures—including the Tannoy Ardens that Herb Reichert owns and loves) that no two panel members voted for the same one. Honest. So I'll exercise editorial privilege and name the Tannoy Silver 12" and 15" coaxial drivers to sixth place.
As with Tannoy, the three people who nominated Siemens coaxial drivers each named a different one. Thus, seventh place goes to the seldom-seen Siemens ELA 6S 3814, from Germany.
Another German product takes eighth place: the earliest (metal-horn) incarnation of the Klangfilm Eurodyn, a two-way system supplied in a metal rack, boltable to the wall or wooden baffle of one's choice.
Finally, in ninth place, we have a three-way drive-unit: the distinctive-looking Jensen G-610, with coaxial tweeter and off-center (!) midrange driver.
I'll eat it here
The preceding is, of course, a mere snapshot, not even a taste of a meal that's too big and varied and complex to describe in words, let alone so few words. While the temptation exists to think of idler-drive turntables and low-power tube amps as comprising a tiny neighborhood of an already small town, the world of vintage loudspeakers—encompassing the technological and artistic culture that brought it into being, as well as the attitudes that keep it going—is more like a parallel universe. I chafe at giving it such short shrift, but I have to start somewhere . . .
In next month's column I'll look at contemporary loudspeakers that strive to offer at least some of the same qualities as the vintage products that inspired them—and one crazily ancient technology that even some engineers in the mainstream audio community believe should never have been abandoned. I've also made arrangements to borrow at least one of our top five vintage speakers, for comparison's sake and, most of all, for my own edification and enjoyment. Do, please, stay turned.