Listening #116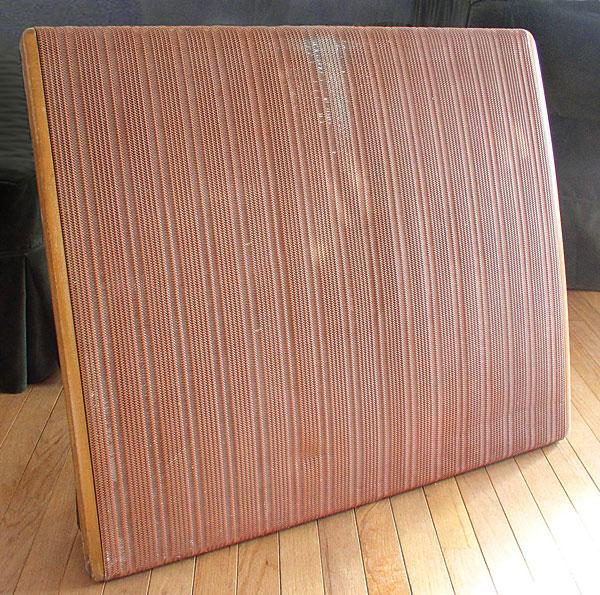 This month I am writing about five vintage loudspeakers you should hear before you die.
Why vintage? Because the best vintage gear offers an abundance of musically agreeable qualities that are missing from even the best contemporary gear.
Those qualities may or may not be crucial to your enjoyment of recorded music (the liberated male of the 21st century is free to prioritize for himself those aspects of playback fidelity that matter most, some of which aren't at all well served by antique equipment), and the difficulty and expense of going retro can prove too much for those with too little time, too little money, and too little background knowledge. Yet for some of us, the characteristics associated with vintage gear are precisely the things we seek.
Not that we go looking for abuse. Consider that there are contemporary phono products that offer at least some of the grunt and drive of their vintage counterparts. And it isn't hard to find amps and preamps that match or even exceed the electronics of yesteryear in terms of color, texture, impact, and scale. Yet when it comes to loudspeakers, there are precious few modern examples that approximate the characteristic strengths of their vintage counterparts—and none that meet or exceed them.
So for some of us, the question becomes: Why not vintage? Abandoning the coaxial drivers and the compression drivers and the horns of yesterday in an age of more advanced machines makes no more sense than abandoning oil paints in the age of acrylics: In a pursuit where technology is meant to serve art, it's never wise to limit one's choices. And for me, at least, that axiom gains certainty every time I'm told, by the sad, defensive gurus of yesterday, that these are choices we're not supposed to like.
Dork passage
The portion of my basement that I think of as my workshop, where I repair and pulverize things in more or less equal measure, has at its center a line of four steel floor jacks. I learned something about them last winter, while building a cabinet for my 78rpm records: If I use a hammer or a screwdriver to tap on one of those jacks with even an eyelash of force, the sound sends my sleeping dog into a barking fit of considerable frenzy. (I regret the impression that our two-year-old Jack Russell terrier behaves well the remainder of the time, her default conduct being that of a cognitively challenged demon with a severe personality disorder.) During the weeks and months since I made this discovery, visitors to our home have seldom failed to be entertained.
During the weeks and months since I made this discovery, I've also been struck by a parallel: As some readers have noted, I need only mention the names of certain classic hi-fi products in order to fill my in-box with hate mail from a dozen apparently retired or otherwise underoccupied ham-radio enthusiasts, the catalyst for their geek-seizures being my audacity in writing about certain things without first consulting The Experts: themselves.
Thus this column comes with a warning label: The 3000 words that follow are devoted to a handful of specific vintage loudspeakers. If, in reading this column, you're inspired to convivially share recommendations of other such products, we'll be delighted to hear from you. If, on the other hand, you're inspired to offer a self-flattering contrast between the thoughts that follow and the godlike rightness of your own audio knowledge and opinions, be advised that we will make fun of you, typically by imitating either Truman Capote or the comic-book guy from The Simpsons while reading your letter aloud to family and friends, who seldom fail to be entertained.
Trouble is, the field of vintage loudspeakers is one with which I have precious little experience, the choices being so many, so diverse, so rare (the best of America's vintage speakers have long been of interest to collectors, thus many are now overseas), so expensive, and, more often than not, so damn big. Consequently, for this column I turned to some real experts. I began by calling two vintage-loving friends to ask them to recommend colleagues of experience, circumspection, good taste, and, where vintage audio represents a commercial interest, a reputation for honest and honorable dealing. I ended up with a list of 12, comprising manufacturers, distributors, retailers, rebuilders, and one journalist, in the US and Europe. Of these, three declined to participate, and another two participated but declined to be named. That left the following seven names, offered in alphabetical order:
Keith Aschenbrenner, owner of the manufacturing, distribution, and retail company Auditorium 23.
Early Bender, proprietor of HiFiTown and son of the late Walt Bender, founder of Audiomart.
Jonathan Halpern, owner of the distribution company Tone Imports.
Vu Hoang, owner of the retail store Déjà vu Audio and manufacturer of his own vintage-inspired electronics and speakers.
Joe Levy, owner of the manufacturing company Tempo Electric and colleague of the late Dr. Arthur Loesch.
Herb Reichert, New York audio journalist and former Audio Note distributor.
Jonathan Weiss, owner of the audio manufacturing, distribution, and retail company Oswalds Mill Audio.