On The Left: PCM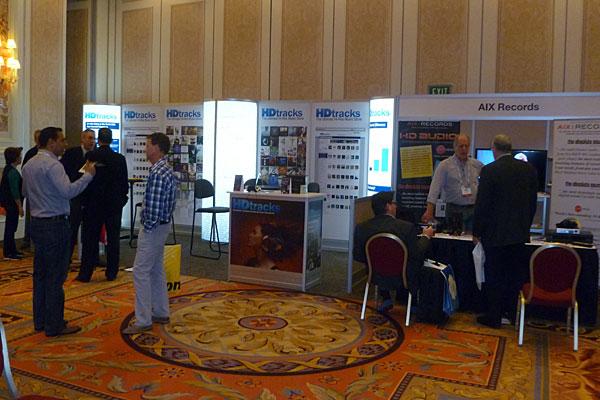 As I walked into "The Hi-Res Audio Experience" ballroom, I scanned the room and noted several high resolution audio vendors along the walls. Then I noticed an odd symmetry to the arrangement: the PCM distributors and labels were lined up on the left, while all of the DSD folks were lined up on the right.
I was wishing this wasn't symptomatic of greater divisions between the two HD audio worlds, but when someone in a DSD booth asked if I'd be back for the big PCM vs DSD battle the next day, with a gleeful glint in his eye, I realized this might be shaping up as a format war after all. I sure hope not.
PCM exhibitors included HDTracks.com and AIX Records. That morning several of us had attended an HDTracks sponsored breakfast at the Venetian and learned that David Chesky believes that some DSP technology being developed today will have big implications on the HD downloads of the future. One of the examples he gave was being able to make the walls around a room disappear at will with a little digital magic. In addition to HDTrackers, representatives from Warners Bros, Sony HD, and The Grammies were also in attendance to demonstrate the might behind HDTracks and their future intentions.