July 4 Weekend Special: John Williams at the Movies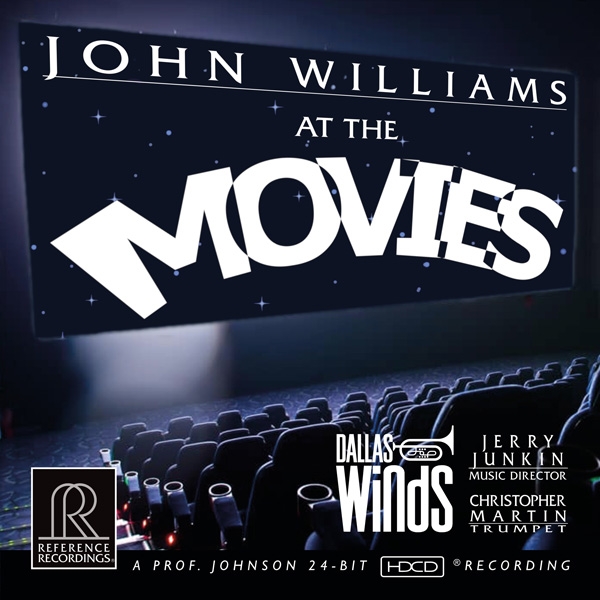 For a major, decidedly American change of pace from our usual fare of Prokofiev, Debussy, Xenakis, Berg, and Beethoven (for starters), let's lighten up with Reference Recordings' latest
hybrid SACD
,
John Williams at the Movies
? Also available as a
176.4/24 download
—the format in which it was recorded and which I auditioned for this review—the performances by the Dallas Wind Band under Jerry Junkin are so
vivid and color-saturated
that RR has chosen them for their first hybrid high-resolution wind-band SACD.
The first thing you'll hear is that the team of Keith O. Johnson and Sean Royce Martin has pulled no punches with this effort. Set down two years ago in the maximally wet acoustic of Myerson Symphony Center in Dallas, the recording makes no apologies for the brightness of brass, the clatter of 24" Sabian Artisan cymbals, or the pounding of timpani and even larger percussion. With three or four dozen wind players, nine percussionists, two bassists, two harpists, and others on piano/celesta and organ, this all-out effort needs a space larger than my 16' x 20' x 9' music room to do it full justice.
Once you catch your breath, you'll also discover that Williams has a few favorite tricks up his sleeve. When he's not dazzling you with his undeniably rousing array of catchy, action-narrating themes, he'll sometimes throw in otherworldly interludes that, amidst chords of wonderment, may even offer hints of reflection. We never go very deep into the emotional morass, however, let alone engage in Socratic dialog, because there's always another battle, and usually another victory, just 50 or so measures away.
The recording opens with the "Olympic Fanfare" that Williams wrote for the 1984 Olympic games in Los Angeles—the first Olympics the US participated in after boycotting the 1980 Moscow Summer Olympics in response to the Soviet invasion of Afghanistan—and closes with an arrangement the "The Star Spangled Banner" that Williams composed for the January 1, 2004 Rose Bowl in Pasadena, where he served as Grand Marshall of the 114th Rose Bowl Parade. The former actually resurfaced in the 2014 movie, Pawn Sacrifice, while the latter is so cinematic in its effects—think Tchaikovsky's 1812 Overture with bass drums and cymbals replacing cannons and carillon—that it earns its rightful place on the recording.
Besides, Williams, who has earned five Academy Awards, 22 GRAMMY(r)s, four Golden Globe, five Emmy , seven British Academy of Film and Television Arts awards, and a huge pile of cash, is as all-American as they come. From The Cowboys Overture, J.F.K., and "With Malice Toward None" from Lincoln to Star Wars, Superman: The Movie, and Close Encounters of the Third Kind, he has provided the backdrop to many of the major sci-fi and patriotic epics that are our era's successor to the Errol Flynn swashbucklers and John Wayne cowboy sagas of the old Hollywood. Move over, Snow White, your time has mostly passed, at least in the movies. (I'll leave it to others to supply some snarky zingers that might finish off this paragraph . . . not that a few of our most avid comments posters need any encouragement in this regard.)
Music from all of those films, their sequels, and more makes its way into this recording. The Star Wars arrangement is a total winner, and sounds far fuller and more elaborate than we've come to expect. In this post- Three Strip, Technicolor cinematic context, in fact, even the Olympic Fanfare begins to sound like "Star Wars Meets Ringling Bros. Barnum & Bailey's Three Rings." Low bass freaks will eat up the Superman March. Others will be thankful for the fun, eerie sounds and low grunts that, in the excerpt from Close Encounters of the Third Kind, provide a brief break from Williams' irrepressible onslaught of marches and mayhem.
There are certainly some lovely passages here, especially in The Jedi Steps and Finale from Star Wars: The Force Awakens. The simple Theme from JFK has its felicities, and even "Adventures on Earth" from E.T. (The Extra-Terrestrial) indulges in soft transitions before it gets bigger and then bigger still. Then again, what else but biggest and super biggest might one expect from the most deservedly feted American cinematic composer of the last 60 years?
There is no video per se. We have, instead, this YouTube photo collage of Williams' arrangement of "The Star-Spangled Banner":