Jenny Scheinman's Mischief & Mayhem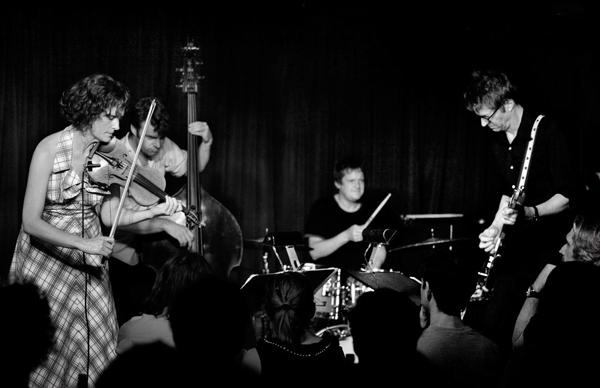 Photo: Michael Gross
Violinist Jenny Scheinman is back at Manhattan's Village Vanguard this week with the quartet she calls Mischief & Mayhem, and judging from the two times I've seen them (the first a year ago, the second last night), I'd say this is one of the great raucous jazz-fusion bands of our time. Go see them. A splendid time is guaranteed for all.
By "jazz-fusion," I mean not just jazz + rock (though there is plenty of that, thanks to the presence of Wilco's Nels Cline on electric guitar) but jazz + all manner of genres, styles, and moods. Scheinman (whom I've been following, and raving about, for a few years now) can invoke a deep Celtic melancholy, then segue into a sweet silky ballad, then a dirty Delta blues, then a Leroy Jenkins note-shredder, then a punkish rock, then straight-ahead bop—and more seamlessly than you might imagine (or, if she wants to be, more jarringly, in a good way).
All the while, her bandmates (besides Cline, the festive Jim Black on drums and the agile Todd Sickafoose on bass) head out on what seem to be their own tracks but they all crisscross paths at the right moments of resolution or stay somehow in synch.
The music is adventurous but never screechy or chaotic. The melody line stays clear (amazingly simple, given all that's going on around it). The beat is foot-tappingly solid (if head-spinningly polymorphous). There's a constant current of wit, sometimes whimsy, and the occasional whoosh of furtive romance.
Another reason for going to see the band at the Vanguard (they play through this Sunday, August 22): They're selling and signing advance copies of their new CD (Jenny Scheinman Presents Mischief & Mayhem), which won't be publicly released until early next year. I've heard it only once. The sound is very good; the music extremely satisfying, maybe her best album yet. (I still have a weak spot, though, for 12 Songs.)