HoloAudio Spring "Kitsuné Tuned Edition" Level 3 D/A processor Page 2
I began with CDs, decoded with the DAC set to NOS. The first to capture my attention was disc 2 of
Memphis Jug Band with Gus Cannon's Jug Stompers
(4 CDs, JSP 7745). These remasterings by John R.T. Davies of recordings from the early days of electrical recording and RCA ribbon mikes seemed less antique and more
just right
tonally than I remember ever hearing them. More open. More relaxed. The Spring let me feel rhythm changes with my head and rocking shoulders. The sounds of cheap guitars, clay jugs, washtub bass, and washboards played with spoons weren't just unusually vivid and realistically toned: they displayed a kind of stoned plucking and strumming life energy that characterized Memphis's Beale Street in the days before the Great Depression. "I Can Beat You Plenty" was strangely and radically lacking in digital oversheen. The guitar in "Stingy Woman Blues" seemed more authentically wooden than ever. Blown jugs took on the import of a great jazz solo on saxophone. And, like a tiny trumpet played by Miles Davis, Ben Ramey's kazoo was right there, 6' in front of me, sounding home-sewn real.
Michael Lavorgna, who reviewed the Spring for our sister site AudioStream.com in March 2017, said that it removed what he heard as a "glass wall" between listener and musicians. I noticed that too—it was obvious, and precisely what I mean when I say that the Spring in NOS mode lacked digital oversheen. I've played these discs countless times, and can say for certain that the Spring removed something that had previously kept me at sonic and psychic distances from these early recordings' primal verity.
Spring vs Yggdrasil
Schiit Audio's Yggdrasil has anchored my main (non–computer-sourced) system since 2016, when I reviewed it for the February 2017 issue. Since then, I've found it to be even more vibrant and musically satisfying than I then declared.
Now, after weeks of listening to the HoloAudio Spring in NOS mode, I begin to realize that the Yggy's unglaring palpability, unmolested continuity, and concise temporality might be the results not only of its substantial power supply and proprietary digital filter, but also its non–sigma-delta-ness.
The Yggdrasil and Spring delivered music with similar all-natural beauties: no glare bursts, no high-frequency mishegas, no electronic digitalism. Both sounds were strong and vivid, but never, ever in my face. Both had weighty bottom octaves, colorful midranges, and irreproachable top octaves.
I removed the Spring and returned to the Yggdrasil midway through Claudio Arrau's titanic 1976 recording of Liszt's Piano Sonata in b (CD, Music & Arts 1205), and right away heard obvious differences. The Schiit can be explosively dynamic when fed an impassioned signal like this live AAD recording of a performance at Long Island's C.W. Post College. I could immediately feel the muscle of the Schiit's power supply. The Schiit's flesh-and-blood vivo matched the 73-year-old Arrau's dynamic playing in the most riveting way, but strangely, the Yggdrasil focused my attention on the pianist's forceful keystrokes and the vibrations of his instrument's soundboard, while the Spring directed my attention almost completely toward such subtleties as the sounds of hammers hitting strings. The Yggy generated big, fierce rhythms; the Spring caused every note to seem unique and artful.
Thrilled by the Yggdrasil's Lisztian Sturm und Drang, I nonetheless missed the Spring's subtle textural and dynamic intricacies, the literalness of its transparency.
Spring vs Mytek
Comparing the HoloAudio Spring to Mytek HiFi's Manhattan II ($5995) and Brooklyn ($2195) DACs was a tricky business—the Manhattan II offers seven choices of PCM filter plus the default MQA filter, the Brooklyn three. All of the following observations were made using my preferred minimum-phase, slow-rolloff filters.
When I switched from the Spring to the more-than-twice-as-expensive Manhattan II, the first thing I noticed was that the HoloAudio sounded even more tactile and glass-is-gone transparent than the Mytek—which excels at just those traits. On the other hand, the Manhattan II had considerably more bass punch and midrange drive—it reproduced piano in a more exciting, more full-bodied way. But to my surprise, the Manhattan failed to display all those low-level rhythmic, atmospheric, and textural details the Spring had just revealed to me.
I was also surprised to hear how differently the Manhattan II and Spring reproduced silence and empty spaces. The Manhattan's version of emptiness sounded as if I'd muted the volume; the Spring's felt like a tangible aspect of a real recording space.
Imagine longhaired maestro David Chesky—jazz, classical, and hip-hop composer and performer, producer of recordings and films—playing a 9' Yamaha concert grand in a deconsecrated Brooklyn church, as you sit right behind the Brüel & Kjaer binaural microphone. I'm talking about Chesky's The New York Rags (24/192 AIFF, Chesky JD359/HDtracks). Each Rag is a swinging-stride, atonal, boogie-woogie fugal masterpiece. The piano sound is relaxed but vigorous, and luminous in tone. I play this recording often, and so far no DAC has exposed my friend David's staunch idealism and dreamy humanity—or made his piano sound as weighty or as true of tone—as the HoloAudio Spring.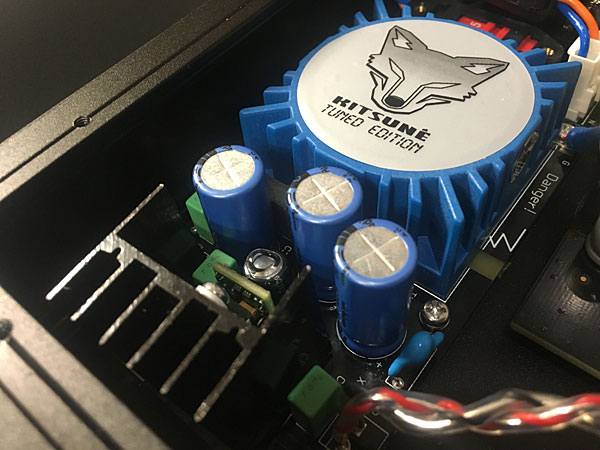 The Schiit, Mytek, and HoloAudio are all elite, music-friendly DACs. I enjoy each in its own way, but my comparisons suggest that staunch audio objectivists—those who already favor DACs with newfangled sigma-delta chips (like the ESS ES9028Pro will undoubtedly prefer the Mytek products. Meanwhile, old-school audio reactionaries—those who favor the purity of single-ended triode amps and the musicality of all those discontinued R-2R DACs—will find the chipless Spring a refreshingly clear and unusually natural-sounding alternative to both sigma-delta and all those discontinued and "obsolete" DAC chips.
What most separated the HoloAudio from the Schiit and Mytek DACs was the Spring's astonishing transparency, which seemed to reach deeper into the digital quiet—especially with DSD recordings.
DSD
As you may have guessed, I've done more LSD than DSD, but when I do do DSD, I do the purest shit I can find, the Owsley acid of DSD: a download of Puente Celeste's Nama, recorded by producer and engineer Todd Garfinkle at 5.6MHz using a Korg MR-2000 master recorder (DSDx2, M•A Recordings M084A). Nama is untouched by PCM.
Through the HoloAudio Spring in NOS mode, with the DSD data sourced from my Mac mini via USB, Nama had me grinning like Pigpen at Woodstock. The Spring showed me DSD playback that was not only hyperpure and almost grainless, as it is through the Manhattan II, but distinctly more touchy-feely barefoot and Dionysian nondigital than through the more cerebral-sounding Mytek. Nama is one of the most immediate and raw-sounding digital recordings I know (footnote 2); through the Spring, it was more colorfully whimsical and texturally intense than through the Manhattan II.
Nama's final track, "No Hay Después," begins with plaintive solo piano, followed by Marcelo Moguilevsky's soft singing and whistling, then Luciano Dyzenchauz's bowed double bass emphasizing the dark mood of this meditation on death and the hereafter. It was, unquestionably, the most deeply pleasurable digital experience I have ever had.
Speaking of darkness, all three of the Spring's oversampling modes thickened, blurred, or distorted whatever musical program I applied them to. Each tried its Mephistophelian best to negate the HoloAudio's divine subtlety, transparency, and realness. So I banished them.
Conclusions
To me, a DAC is just a DAC—until it wipes away digital glare and opens the listening door all the way, letting me enter the plain-truth wonderments of the recordings I collect. And the HoloAudio Spring DAC "Kitsuné Tuned Edition" (Green Label "99.99% Silver" O-Type transformer) aka Level3 did exactly that. Its sense of undamaged, I-am-there truthfulness let me relax and enjoy my CDs, and DSD and other hi-rez files, with renewed faith in digital sound.
While I'm reluctant to give too much credit to the Spring's R-2R architecture, I do suspect that the chief benefit of ladder DACs is that they don't require the aggressive noise-shaping and filtering of a delta-sigma DAC—which, in a general way, reminds me of those prescription drugs whose side effects are worse than the disease they're supposed to cure.
The Spring also reminded me how many audiophiles have pursued the latest tricks in hi-rez digital playback in the belief that there somewhere exists some form of recording-studio "master" that, could we get hold of it and our audio gear reproduce it, would allow us to experience what the artists and recording engineers and producers intended. Despite my above-mentioned LSD-DSD experience, I believe this view to be naãve.
According to legendary musician and record producer Don Was, now president of Blue Note Records, "what record producers and artists intend for the audience to hear is the first commercially released issue—not some hypothetical master tape or enhanced later version. By that sensible measure, every remastering, reissue, or change in format—whether from 78 to 331?3rpm, mono to stereo, LP to CD, CD to hi-rez, or hi-rez to MQA—is simply a lower-fidelity interpretation of the original. That's why I've never felt comfortable with remasterings. Now I wonder if the same might be said of delta-sigma's heavy processing. Such are the questions the HoloAudio Spring's unadorned naturalness reawoke in me.
The unaffected insightfulness of the HoloAudio Spring exposed more of what I imagine was originally aesthetically intended and encoded on my silver discs and invisible files. Consequently, it made me feel that my journey into digital audio may have only just begun.
Highly recommended.
---
Footnote 2: Read my review of
Nama
in the February 2017 edition of "
Records to Die For
."