HoloAudio Spring "Kitsuné Tuned Edition" Level 3 D/A processor

While covering CanMania at the 2017 Capital Audiofest, I was sitting at the table of HeadAmp Audio Electronics, listening first to John McEuen singing Warren Zevon's "Excitable Boy," from McEuen's
Made in Brooklyn
(24-bit/192kHz AIFF, Chesky JD388/HDtracks), then to Macy Gray's
Stripped
(24/96 AIFF, Chesky JD389/HDtracks). I was listening through HeadAmp's extraordinary GS-X Mk.2 headphone amplifier ($2999–$3199), but midway through Gray's "I Try," I stopped, pulled the
Audeze LCD-4
headphones off my head, and asked HeadAmp's head of sales and marketing, Peter James, what DAC he was using.
"Do you know the HoloAudio Spring DAC?"
I told him I didn't, but obviously should.
"It's a ladder DAC, and a lot of my customers use either it or the Schiit Yggdrasil."
I told James that an Yggdrasil anchored my reference CD-spinning system.
In my report on CAF 2017, I described what I'd heard: "the quality and texture of the reproduction were unusual. . . . The music felt different than any I could remember. Surprisingly un-mechanical and clear, but not industrial clear." There was something unusually sensuous and nondigital going on. I needed to know more about this DAC.
On my return to Brooklyn I contacted Tim Connor, whose company, KitsunéHiFi, imports the HoloAudio Spring DAC, which is made in China. Two weeks later, I removed the Schiit Yggdrasil ($2399) and installed the HoloAudio Spring DAC "Kitsuné Tuned Edition" Level 3 ($2499).
Description
The HoloAudio Spring is a member of an interesting but nearly extinct subfamily of D/A converters called R-2R or ladder DACs. Ladder DACs date back to the dawn of digital, and use cascaded voltage dividers consisting of resistors (valued R and 2R) to passively convert pulsing bitstreams to continuous analog voltages.
The original Philips/Magnavox CD players of the 1980s were multi-bit R-2R designs whose 14-bit Philips TDA1540 chips used oversampling and noiseshaping to get nominal 16-bit performance. That chip was replaced in 1986 by the TDA1541, a genuine 16-bit R-2R DAC. Around 1990, single-bit sigma-delta chips superseded these benignly musical multi-bit chips. Of course, just as when transistors superseded tubes, not every audiophile thought the new part was an improvement. Some fraternities of audio cognoscenti (most of whom were still using tubes) clung to the TDA1541A, which remained in production until 1995.
The last hope of those who clung to R-2R, Burr-Brown's venerated PCM1704 24-bit/96kHz chip, was discontinued in 2015. Since then has emerged processors using a new breed of meticulously executed chipless, discrete-resistor ladder DACs, obvious examples of which are the American-made MSB Technology Select DAC ($84,500–$119,985) and the French-made Totaldac d1-six (?13,500). Unfortunately, those DACs' massive linear power supplies and arrays of discrete, high-stability, low-tolerance resistors are expensive to make.
Enter the affordable HoloAudio Spring DAC, a discrete-resistor ladder DAC with an impressive power supply. At only $1499 for the Level 1 version, $1699 for the Rise Ji Edition Level 2, or $2499 for the all-out Kitsuné Tuned Edition Level 3, the Spring reopens the door to the ladder-DAC experience for only a proletarian entrance fee.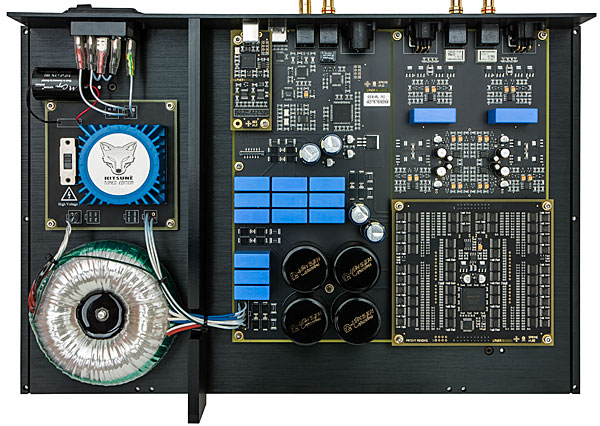 The HoloAudio Spring measures 16.9" wide by 2.2" high by 11.8" deep and weighs 18.75 lbs. Inside its solid case of copper and black-anodized aluminum are two entirely separate, fully balanced converters: a 24-bit, discrete R-2R for PCM, and a discrete resistor network to handle DSD up to DSD512. Both employ designer Jeff Zhu's patented "linear compensation," which is not clearly described on KitsunéHiFi's website but which I imagine is a second (parallel) resistor ladder. According to Zhu (footnote 1), this "will accurately compensate the resistor tolerance." Regarding the Spring's unique ability to handle native DSD with a discrete resistor-ladder DAC, "The DSD module of Spring does not use R2R architecture for the DSD, more specifically it uses a very specific architecture which is optimized to perform DSD to analog." Both modules employ a "paired transistor" op-amp input stage and an output stage employing direct-coupled bipolar junction transistors.
Besides two DAC modules, the Spring also has two completely separate operating modes: non-oversampling (NOS), which bypasses the AKM AK4137 sample rate converter chip used for oversampling, and a choice of three chip-based oversampling (OS) options, selected via a button on the front panel: OS, in which PCM and DSD are each "oversampled" to higher rates but remain PCM and DSD; OS PCM, in which data are "oversampled to PCM"; and OS DSD, in which data are "oversampled to DSD." The Spring's balanced output "uses the complete DAC circuit while single-ended uses only half."
On the Spring's front panel are an easily legible, dimmable display and four substantial copper buttons: NOS/OS, Standby, Display Intensity, and Source Inputs. There is no volume control or remote control. The rear panel provides these inputs: AES/EBU, coaxial RCA and BNC, I2S (HDMI), optical, and USB Type 2. The USB and I2S inputs accept PCM data up to 32/768 and DSD512, the S/PDIF inputs up to 24/192 and DSD64. The outputs are balanced (XLR) and single-ended (RCA). The Spring sits on impressive silicone-damped copper feet.
I listened to the top Spring model, the Kitsuné Tuned Edition Level 3, in which all copper wiring and circuit-board plugs are replaced with 1.5mm wires of pure silver soldered directly to the boards. The IEC inlet capacitor is replaced with a Mundorf silver-foil/oil cap, and the standard fuse with an Audio Horizon Platinum Reference. The Kitsuné Tuned Edition's "Green Label," "O-Type" power transformer is hand-wound with 99.99%-pure silver wire. Sitting in my equipment rack, the HoloAudio Spring gave the impression of costing a lot more than $2499.
Products sold by KitsunéHifi.com are protected by a 10-day customer-satisfaction policy and a limited 30-day dead-on-arrival (DOA) return policy. HoloAudio (in China) includes a three-year warranty on parts and labor that includes return shipping from HoloAudio to the customer.
Listening
My plan was to first assess the HoloAudio Spring's basic sound character over several weeks of relaxed listening, then return to my reference DAC, the Schiit Audio Yggdrasil ($2399), and see how that felt. Then I would insert Mytek HiFi's Brooklyn ($1995) and Manhattan II ($5995) DACs and make further comparisons. Finally, I would return to the HoloAudio and let new impressions and overall conclusions emerge in a natural manner.
I listened to all four DACs in balanced mode via AudioQuest Mackenzie XLR interconnects, connected to either the Rogue Audio RH-5 preamplifier driving the Pass Laboratories XA25 power amplifier or Schiit's Ragnarok integrated amplifier; both amps drove Harbeth's Monitor 30.2 40th Anniversary Edition loudspeakers. I verified what I heard through the Harbeths via four sets of headphones: Abyss AB-1266 Phi, Focal Utopia, HiFiMan Susvara, and Sony MDR-Z1R.
---
Footnote 1: All quotations in this and the next paragraph are from
https://kitsunehifi.com/product/springdacred/
.