Hi-Fi Lo-Fi: 20 Years of the Best-Sounding Indie Rock Page 2
High Violet
has Katis's signature sonic intensity paired with more emotionally accessible songs than on the previous albums
Alligator and Boxer
. Lead singer Matt Berninger has described in interviews how they tried to grow their audience by altering their poetic content, melodic style, and sound production. Listen for details like the focus on the trilling guitar woven into the tapestry of "Afraid of Everyone" as the vocals become more and more diffuse.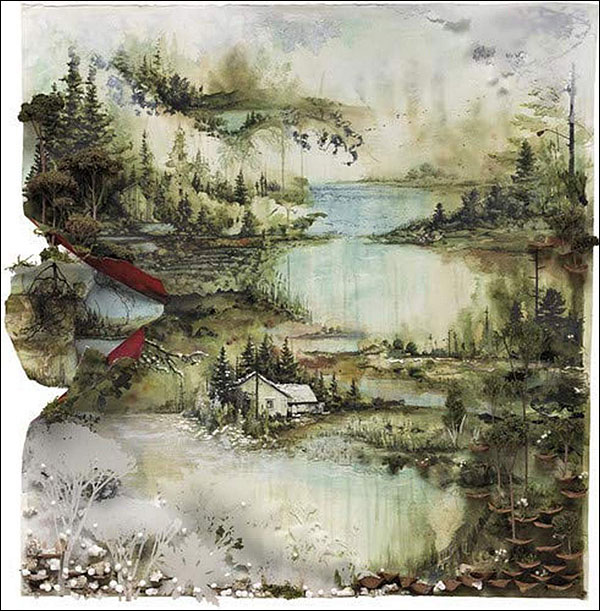 Speaking of making records in relative isolation, Bon Iver's second album, Bon Iver (2011, Jagjaguwar), recorded in a physically isolated spot in Wisconsin, centers on band founder Justin Vernon, who wrote, produced, engineered, and mixed the tracks. It's Vernon versus the world, with a controlled helping of guests such as CJ Camerieri's warm trumpet and French horn and Mike Lewis on three saxophones. As Vernon told Rolling Stone, "I allowed those people to come in and change the scene." Besides the opulence from all those horns, the delicately overdubbed vocal polyphony on tracks like "Michicant" offers a wealth of sonic satisfaction.
Pakistani-British singer, songwriter, and multi-instrumentalist Natasha Kahn makes records under the name Bat for Lashes. On her third release, The Haunted Man (2012, Parlophone), Kahn has a way of eliciting visceral responses from her sonic effects. The listener can get lost in the sumptuously interwoven synthesizer and acoustic string threads on tracks like "Marilyn," flecked with shiny electronic ticks and beats. Kahn's wailing layers of vocal counterpoint on "Horses of the Sun" provide a smooth, rolling backdrop for the drum programming and tinny autoharp. The complex sound production was a true team effort, with 16 people listed as technical staff, led by Kahn.
At first, Vampire Weekend came off as a sardonic, pretentious bunch of college guys, referencing their education in ska-influenced songs. But with their third album, 2013's Modern Vampires of the City (XL Recordings), they achieved higher artistry. One distinctive aspect of this album's sound is the drum miking: Large-diaphragm condenser mikes were hung over the drums with ribbon mikes between them. The drum sound was recorded onto a vintage Ampex analog tape machine before being manipulated with software; you can hear it on "Hudson." The band also used a varispeed tape deck for some instrumental tracks; "Everlasting Arms" alters timbres by changing the playback speed, an unsettling, fascinating sound.
A notable through-line connecting many albums on this list is how so many represent a moment of significant growth for the artist, coinciding with greater attention to the crafting of sound. Too Bright, the third album from Mike Hadreas's project Perfume Genius (2014, Matador), is an example. In contrast to the introspective, spare style of Hadreas's first two releases, Too Bright blossoms outward in lyrical content and sound-craft. Produced and engineered by indie veteran Ali Chant and Portishead's Adrian Utley, the album thunders and shakes on majestic tracks like "Queen," its spray of synths propelled by rhythmic, barklike grunts several octaves below.
As Veruca Salt demonstrates on their 2015 album Ghost Notes (El Camino), the "indie" rock'n'roll labels are not mutually exclusive. The two singer/ guitarists fronting the band, Nina Gordon and Louise Post, have been ex-ending and expanding the tradition of great female rockers since 1992. Their sound, produced by Brad Wood, is unabashedly historical, whether it's the strong, well-matched voices harmonizing against flange-distorted guitar chords on "Black and Blonde" or the rumbling, slightly twangy bass acting like glue as "Prince of Wales" builds power under its endlessly repeating melodic phrase.
In 2016, American band Pinegrove finally put out a full album, Cardinal (Run For Cover Records), after five years of singles and EPs. By that point, a synth-free band singing philosophical observations—the style formerly known as emo—was already seen as out of step with indie trends. But that didn't stop songwriter Evan Stephens Hall from following his own musical spirit. The self-produced Cardinal harkens back not only to earlier days of indie rock but also to the wider worlds of rock and folk rock as well. Four tracks use banjo, and several include percussive spoons. The simple intimacy and warmth of the sound on tracks like "Aphasia" is reminiscent of stopping by a friend's basement to hear their latest song and then being amazed how good it is.
The past five years have seen a happy coalescing of exceptional sonics and women's solo releases. Jay Som's Everybody Works (2017, Double Denim Records), a project by L.A.-based songwriter Melina Duterte, proves that bedroom pop can sound terrific. This is not just an experiment on her computer; Duterte plays several real instruments, from guitar and bass to trumpet and accordion. Nor does the bedroom designation mean techno. This album draws from a wide range of genres, from funky groove on "Baybee" to the fairylike orchestration of "Lipstick Stains."
At a point in her career when Japanese-American songwriter Mitski felt like her growing fandom was stifling her creativity, she wrote an album explicitly about playing fictionalized roles. Be the Cowboy (2018, Dead Oceans) is an exercise in imagination, and producer Patrick Hyland runs with that idea in his approach to sound. While "Come into the Water" recalls the heyday of psychedelia with sustained organ pitches, and "Washing Machine Heart" brings humor with 100 flavors of percussive perpetual motion, it is the depth and color of Mitski's voice that satisfies most. The wandering melody line of "Blue Light" recalls 1960s pop stars like Petula Clark.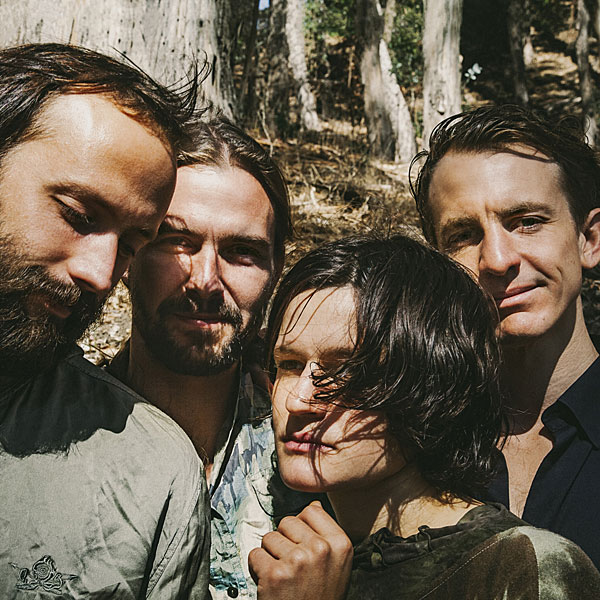 American band Big Thief had a big year in 2019, releasing two outstanding albums, U.F.O.F. and Two Hands. This band has engaged in wacky sonic experiments on past projects, such as suspending a guitar from a barn ceiling and hitting it with sticks, but the choice of Two Hands for this list is based purely on quality. One of Big Thief's best features is Adrianne Lenker's floating voice; producer Andrew Sarlo uses a naturalistic touch to let that asset shine, for example, in the way her melody line is buoyed by bright-timbred percussion on the title track. Sometimes described as grunge-folk, the band's sound has the grit and earthiness of those two genres.
One of the most acclaimed albums of 2020 was Fiona Apple's Fetch the Bolt Cutters, her first full-length release in eight years. Sound was clearly a priority; Apple was taking her first crack at self-production, but she wisely solicited support from expert engineers John Would and Tchad Blake. Apple has crafted an ecosystem of sounds, interacting symbiotically, from the many shades of her own voice to the use of every percussion texture imaginable, including dog bones. Among 13 outstanding tracks, the sonic standout is "Shameika"; the piano acts as a core from which other rhythmic sounds fly off with centrifugal force.
At this writing, 2021 is only halfway through, but Tash Sultana's album Terra Firma sounds so good that it will be a contender no matter what the rest of the year brings. It's the second album for this self-styled Australian "one-person band" who plays close to 20 instruments and produces a high-tech, dreamy outgrowth of soul. For the first time, Sultana has sought out collaborators such as Matt Corby and Dann Hume, who co-wrote and participated in several tracks. One, "Pretty Lady," swirls in a dizzying array of fingerpicking patterns on guitar, pulsing synth chords, and tight drumming figures before veering into a new meter and pizzicato violin for the last few seconds. While this list may seem long and wide-ranging, it barely scratches the surface of indie music that's worth listening to. Take these 20 albums as a starting point and spread out from there.
For more great-sounding indie, here are my runners-up for each year:
2001, White Stripes, White Blood Cells
2002, Broken Social Scene, You Forgot It in People
2003, Café Tacuba, Cuatro Caminos
2004, TV on the Radio, Desperate Youth, Blood Thirsty Babes
2005, My Morning Jacket, Z
2006, The Yeah Yeah Yeahs, Show Your Bones
2007, Jens Lekman, Night Falls Over Kortedala
2008. Fleet Foxes, Sun Giant
2009, Phoenix, Wolfgang Amadeus Phoenix
2010, LCD Soundsystem, This Is Happening
2011, PJ Harvey, Let England Shake
2012, Alabama Shakes, Boys & Girls
2013, Laura Marling, Once I Was an Eagle
2014, Mac DeMarco, Salad Days
2015, Beach House, Depression Cherry
2016, The 1975, I like it when you sleep, for you are so beautiful yet so unaware of it
2017, Alex G., Rocket
2018, Parquet Courts, Wide Awake!
2019, Angel Olsen, All Mirrors
2020, Porridge Radio, Every Bad
2021, Middle Kids, Today We're the Greatest.