The Great Rocky Mountain Audio Fest Starts Friday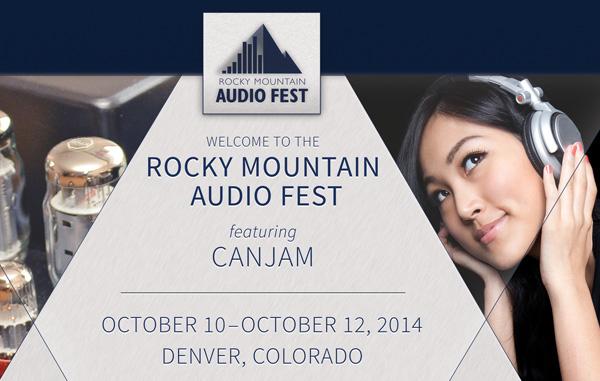 Could it only be the 11th time the annual
Rocky Mountain Audio Fest
has welcomed thousands of audiophiles to Denver? The three-day gathering, which takes place Friday, October 10–Sunday, October 12 at its comfortable location, the Marriott Denver Tech Center, has become such an essential part of the international audio scene that it feels like it's been here forever.
That's not to say that RMAF is in any way passé. T.H.E. Show Newport Beach may now claim to be larger, but RMAF 2014's 151 exhibit rooms, combined with a dedicated CanJam that is undoubtedly the largest high-performance headphone exhibit in the United States, are nothing to scoff at.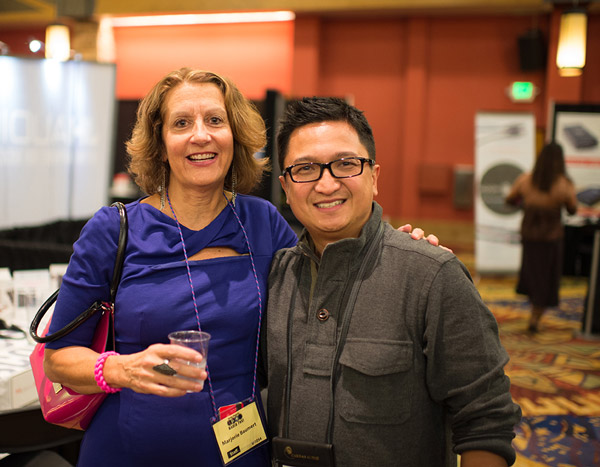 In fact, given that the alliance of RMAF show owner Marjorie Baumert (above left) with Jude Mansilla of Head-Fi (above right) promises 40 CanJam booths in the spacious main-floor conference area, plus another 8 overflow booths in the Atrium area (where entertainment holds forth in the evenings), users of headphones and portable players will be delighted. RMAF's CanJam is so special that even Bang & Olufsen is bringing its headphones and accessories over from Denmark.
In fact, the Marriott's exhibit space are virtually filled to capacity. The 36 Marketplace booth spaces on the ground floor are all spoken for, as are all large hotel rooms. (Supplemental large rooms at the Hyatt are not available this year due to a scheduling conflict, but should return in 2015.)
As for attendance, I've encountered so many inflated figures in promoters' post-show follow-ups that I no longer trust what I'm told. What I do know is that so many folks attend RMAF that I question if other shows actually succeed in attracting more. To emphasize how generous attendance is, I cite the moment when one of the Marriott's elevators was so filled beyond capacity that the poor thing refused to move.
This year, part of the big news, besides the overflowing CanJam and Marketplace, is the presence of international exhibitors from 25 countries and 42 US states.
"I was initially concerned that there would be exhibitor burnout, given that the New York show took place just two weekends before ours," Baumert told Stereophile shortly before the show. "But it doesn't seem to have impacted us.
"Last year, when I was walking around the Munich Show, I discovered that people from all over the world have heard of the Rocky Mountain Audio Fest. As a result, I have more new exhibitors from Europe than ever before, and a number from Japan. There's even a new exhibitor from New Zealand. It seems people really want to come to US shows, so some of them are trying out RMAF to see how it works. They've been a pleasure to deal with."
While the large number of international exhibitors suggests that US participation may be down, Baumert disagrees. Instead, she points to increased collaboration and cost sharing between multiple US manufacturers in rooms.
If all those exhibits were not enough, take a look at the seminar program. You have your choice of 7 on Friday, 10 on Saturday, and 7 on what is the traditionally slow Sunday. Special highlights are sure to be the "DSD Update," chaired by David Robinson of Positive Feedback Online, with some of the format's key exponents; "Totally Tubular"; "Experts Ask the Experts," moderated by Richard Schram of Parasound, with Siegfried Linkwitz, speaker designer, Linkwitz Labs; Cookie Marenco, producer/engineer, Blue Coast Records; Peter McGrath, recording engineer & Wilson Audio; Naotaka Tsunoda, headphone designer, Sony Electronics; and Jack Vad, San Francisco Symphony producer/engineer; Astell&Kern's special announcement, which could hit a very blue note; and Tyll Herstens of InnerFidelity.com's "High-End & Headphones: Translating High Fidelity Experience to Personal Audio Excellence." No Ask the Editors panels or Michael Fremer demos this time around, but plenty else to increase your knowledge of high-performance audio.
There will also be lots of demos in hotel rooms themselves. One of the most intriguing will surely be Brinkmann and Audio Alternative's comparison of early UK stereo pressings of Beatles LPs with the new Beatles mono box set.
Among the other important stops at RMAF is the Al Stiefel Legacy Room on the 9th floor. Named in honor of Baumert's late husband, who made RMAF a reality, this year's room features three up-and-coming, innovative Colorado manufacturers—3beez, MD Audio Design, LLC, and PranaFidelity—who are combining forces with the well-established Jeff Rowland Design Group.
While everyone loves the vibe at RMAF—it's the warmest, friendliest, and most communal audio show in the US, and the one that most manufacturers actually look forward to—there have been grumbles about the long lines for less than satisfying lunch fare. As a result, Baumert is bringing in four food trucks on Saturday. On that day alone, RMAF will offer Manna From Heaven (Vietnamese Inspired Cuisine), B&B Smokehouse BBQ, Freddy's Cuisine (Latin/Colombian Cuisine), and Little India meets Smokin' DSD, Hot Spinnin' Vinyl, and Bit(e)-Perfect Playback. Also in the parking lot: Elite Audio Salon's 2014 Jeep Wrangler Sahara and 2007 Audio S4 Avant.
RMAF, along with the Munich Show and trade show CES, has become a main venue for new product unveilings. Mother Serinus, having tired of trying to track down every single one of them, will name just a few: Brinkmann's new Spider turntable; Endeavor Audio's E-5 Flagship Model loudspeaker; Legacy Audio's V speaker system; Von Schweikert's VR-55 loudspeaker; VK Music's Model S303 CD player; Tweek Geek's BMF-1 loudspeaker; Fostex's TH500RP headphones; AcousticImagery's Jay-Sho balance preamplifier; TigerFox's Sound System; Tyler Acoustic's Taylo Dream Console; Angel City Audio's Seraphim loudspeaker; DSA's Pre 1 linestage preamplifier; Robyatt Audio's Madake stereo phono cartridge; upgrades to VPI's Classic 4 plus their new Prime turntable; a major upgrade to PS Audio's DirectStream DAC; ECM 2 network media player; EXOGAL's Comet digital processor; Synergistic Research's Atmosphere, PHOT phono transducer, HOT headphone optimized transducer, UEF non-active cables, and PowerCell 10 UEF with FEQ; three different products from Mojo Audio; Tub's Audio's M-Supreme loudspeaker; Vegas Image Audio's Ultime le turntable (complete with slot machine); Triangle Art Audio's new speaker; Nola's Studio Grand Reference Gold loudspeaker; LH Labs' Geek Pulse, Geek LPS, and new GeekPerfect music player for 64-bit Intel Macs; and, OMG, so much more.
All profits from sales of RMAF t-shirts go to either the Swallow Hill Music Scholarship Fund for Metropolitan area Denver students, or to the surviving spouse of a beloved industry member. What better reason than to wear an RMAF t-shirt with pride? Tell me how many other show promoters not only give some of their income away, but also arrange a spouse outing for wives of exhibitors and attendees?
Herb Reichert, Tom Norton, John Atkinson, and yours truly will be reporting on RMAF's exhibits and happenings, both during the show and for many days after we return home. Please stay tuned to this very website.