Gramophone Dreams #61: The Art of Cable: AudioQuest, Canare, Kondo & the HoloAudio Serene preamplifier Page 2
Then
Woo Audio's 3ES
preamp/electrostatic headphone amplifier arrived. Putting it in my system as a preamp radically changed my thinking about what a line-level preamplifier could be and should do. Its push-pull 6SN7 voltage-amplifier tube and push-pull 300B cathode-follower output put a shot of LSD-clarity and power-triode umph into every signal passing through it. After Jack Wu collected the 3ES, I sulked and sighed longingly for a month, wishing for a full-function linestage that would be at once vigorous and invisible.
Then, recently, when the Linn Audio LP12 Klimax record playing system arrived (see my review elsewhere in this issue), I found myself needing to connect two phono stages and two DACs to a single preamplifier. Prompted by need and curiosity, I unboxed the well-boxed HoloAudio Serene. I had intended to review the Serene later, in conjunction with a follow-up review of the HoloAudio May DAC, because Kitsuné HiFi's Tim Connor said it was designed by Jeff Zhu to "show off the May at its best."
Well, Tim was right, and I can swear in public now that the Serene gave the May a dose of sunlight and a shot of adrenalin. What Tim didn't tell me was that it would also add grace and liquidity to the sound of the Mola Mola Tambaqui and punch and bass authority to the Denafrips Terminator Plus. I was most impressed by how the KTE version of the Serene enhanced the spatial presentation of Sutherland Engineering's Little Loco phono stage, adding force and rhythmic nuance while peeling away a layer of shadow that had previously obscured the perimeters of the Loco's projected soundscape.
Much like HoloAudio's Spring 3 DAC, which I discussed in Gramophone Dreams #60, the KTE Serene brought greater clarity and widescreen illumination to recordings, enhancing my ability to observe the full soundfield and exposing more of the vibrancy of the signals passing through it. The Serene's not-subtle penchant for illumination and vibrancy distinguished it from the RP-7 in a way that made the Rogue (with stock tubes) seem dark, humid, and dynamically reserved. The Serene displayed the type of see-through, look-into transparency I'd been searching for, the kind that made me think I could see past it into the interconnect and into the guts of the dCS Bartók DAC behind it.
For the longest part of my life, I thought linestages needed only basic things, 0–10dB of gain and to be as silent and uncolored as possible. But the more preamps I audition, the more I realize that when they are designed just right, they expose more of the musical energy embedded in recordings. With the best linestages, music doesn't sound reproduced. It feels reanimated.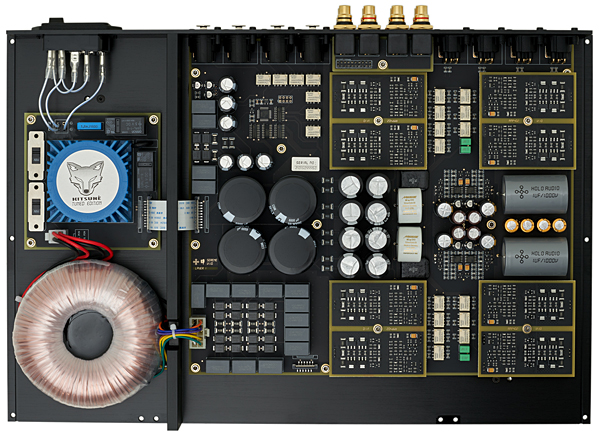 Unfortunately, most reasonably priced linestages employ op-amps smothered in global and nested feedback and energized by excessively regulated power supplies. These software-optimized designs make preamps measure remarkably well—but they oversharpen detail, overheighten contrast, reduce atmospherics, and flatten space. The worst budget preamps make natural recordings sound artificial and compressed and overprocessed recordings sound more annoying than they actually are.
My auditions of HoloAudio's KTE Serene preamp suggest that it will outmeasure its competition and still deliver all that beautiful, supple, music-enhancing energy that allows recordings to sound relaxed, natural, and unmolested. I believe the Serene does these things because designer Jeff Zhu has proven, with his pristine-measuring, organic-sounding DAC designs, that he knows what unmolested recordings sound like.
The Serene incorporates a fully balanced, discrete transistor topology with a buffered, relay-activated volume control and a selector switch that allows users to choose between two balanced (XLR) inputs and three single-ended (RCA) inputs. The Serene has one RCA and two XLR outputs, all volume-controlled. Build quality, parts quality, and circuit layout would be exceptional at 10 times the price.
The Serene pre comes in two versions. The standard version costs $2698 and includes the standard remote, Mundorf EVO Gold and HoloAudio capacitors, and HoloAudio's O-core power transformer.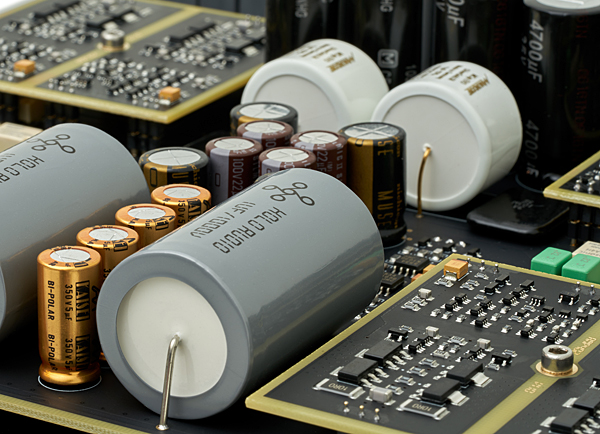 The KTE version reviewed here costs $3098. It includes HoloAudio's matching RMT-2 CNC-machined aluminum remote control and features upgrades including a flat-wire O-core transformer and Audio Note Kaisei, Elna Silmic II, Nichicon Muse, and HoloAudio house-brand capacitors. There is also an optional RMT-3 remote, which will control the Serene and any HoloAudio DAC.
Because the HoloAudio Serene preamp is so supertransparent—quiet, vivid, and flat-out exciting to use—I have already made it my one-and-only reference preamp. When coupled with Pass Labs' XA25 power amplifier, it is the most invisible audio amplification I've ever used.
What's the word? ThunderBird
Everyone knows I worship at the altars of transparency and hardcore explicitness—but I only kneel when those altars are inside the Temple of Dionysus. Resolution without blood and breath is not accuracy. Without those pulsing, life-animating forces I know are captured on my favorite recordings, the music is dead.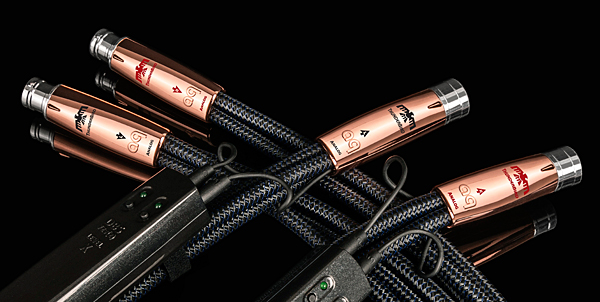 Those life-breaths of music can be killed off or diminished anywhere along the audio-signal pathway. But as my auditions are teaching me, preamps and interconnects—those simple things we expect to be the most electrically and sonically benign—can be rife with wave-smearing, force-mitigating, transient-dulling electromagnetic storms.
With that in mind, I removed AudioQuest's modest Red River balanced interconnect ($199 for a 1m pair) and installed their considerably less-modest ThunderBird balanced interconnects ($3900 for a 1m pair; $2900 for the RCA version) between the dCS Bartók DAC and the HoloAudio Serene preamplifier. I was curious to see how differently this more expensive wire—$800 more than the preamplifier—might perform.
For a few years, AudioQuest has had a top-of-the-line "Mythical Creatures" series of speaker cables, AC power cables, and HDMI cables; now they are adding "Mythical Creatures" interconnects. The series features the abovementioned ThunderBird cables and the even pricier FireBird ($5500 for a 1m RCA pair, $6900 for XLR), and the "yep-that's-pricey" Dragon ($9500 for a 1m RCA pair, $11,900 for XLR). These new cables employ the complete arsenal from AudioQuest's current thinking about the most effective small-signal conductor and dielectric configuration.
Every time I tried to transcribe some of the technology behind Mythical Creatures, my eyes glazed over, so I am going to save words. You can learn about AudioQuest's engineering strategies on their excellent website.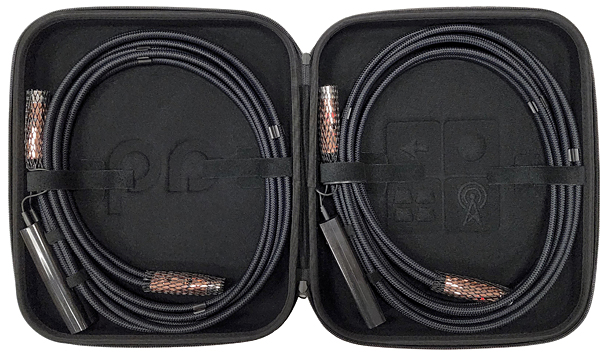 When I swapped AudioQuest's Red River interconnect for the balanced ThunderBird, my system's sound changed so dramatically that I immediately realized that my previous impressions of dCS's Bartók DAC had been skewed by the effects of the interconnect I had been using. What I had perceived as the Bartók's slight grain and grayness disappeared almost completely with the ThunderBird wires, replaced by a bright, waterlike clarity and a feeling that a dam had burst and the sun had emerged from behind a winter cloud. When we pay extra for better materials and more thorough and insightful engineering, we sometimes are rewarded not just with greater clarity but also with more intense, forceful, and naturally expressed sound. I had not fully grasped this before.
I repeated the above experiment, this time swapping the modest Red River wires for AudioQuest's ThunderBird cables between HoloAudio's $3698 Spring 3 DAC and $3098 Serene preamplifier. The improvements in tone and clarity were even more dramatic than with the Bartók. The improvements in transparency, force, and dynamics were similar in quantity and quality to what I experienced when I replaced a generic black power cord with AudioQuest's $1000 Thunder AC cable between my Parasound Halo A21+ amplifier and the wall socket. In both cases, my reaction was the same: "Damn! I ain't never taking this out." As of today, I hope I never have to use the Bartók and Spring 3 DACs—or any other DACs—with interconnects of lower quality than these ThunderBirds. Why would I? With these fancy AudioQuests, every time I push Play, I notice instantly how the music comes out of the speakers: big, strong, and vivid, to the max.
Ergo, QED, obviously
These experiences forced me to recognize how much my budget audio cables had been obscuring my view, not only of the components I've reviewed but also of the recordings I cherish. And yes, once again, I discovered that changing 3' of wire can be the difference between boring and thrilling, plain and beautiful, hard and supple, gray and colorful.
Finally, I am reminded that the importance of smartly engineered cables for good sound is not something audiophiles foolishly choose to believe in. It is something we experience directly.
---
Footnote 1: HoloAudio. US distributor: KitsunéHiFi 19410 Highway 99, Suite A #366 Lynnwood, WA 98036. Web:
kitsunehifi.com
Footnote 2: AudioQuest: 2621 White Rd. Irvine, CA 92614. Tel: (949) 790-6000 Web: audioquest.com