Garrard 301 turntable
The show wasn't open yet. The booths weren't finished being built. I was walking alone, and there were no audio people anywhere. But as soon as I saw it, I froze and pulled out my camera. It's not hammertone gray. It's not a grease-bearing. But it
was
here in front of me.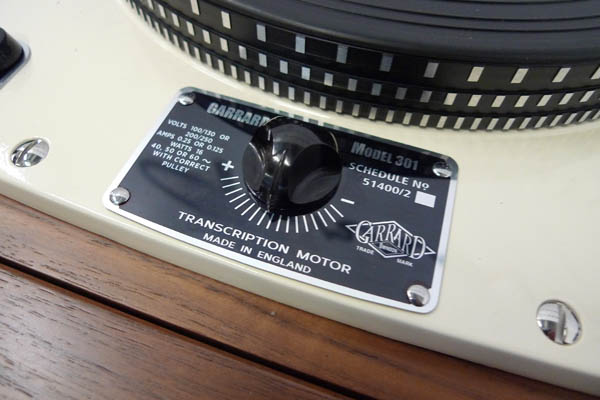 I'm pretty sure I got the first picture of the new SME-manufactured Garrard 301 turntable. Over the years I've owned a few of these classic British idler-drive turntables—but never one with shiny cream paint and pristine molded knobs like this. Years ago I bought several of them, straight out of broadcast studios, but those all came with sickly-brown nicotine patinas and dried-out rubber mats.
But this one practically glowed, sitting in its Loricraft plinth (made by Spendor). I pushed it to feel the air-filled decouplers. Yep—they're all there.
When I returned to my hotel, I consulted my crystal ball, wherein I saw deputy editor Art Dudley with a magnifier and a notepad, scrutinizing an upside-down turntable that looked an awful lot like a shiny cream Garrard 301 . . .
And then the image in the crystal ball changed . . . [Editor's note: This story originally reported a price, but Cadence, the parent company of SME, which is manufacturing the new Garrard 301, sent us a note insisting that no price has been set.]]