The Fifth Element #87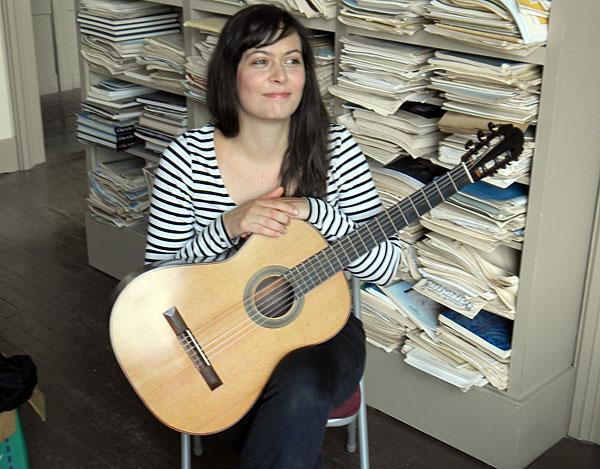 "The Guitars of Rachel Rosenkrantz" is perhaps not quite as evocative a title as
The Umbrellas of Cherbourg
. Nevertheless, there are parallels. I met the young, French luthier through mutual friends, and was pleasantly surprised to learn that she is very serious about her art, and rather obsessive about her craft. Rosenkrantz studied art, architecture, and industrial design, and worked for some years designing commercial lighting fixtures and furniture. However, she let go of that career to start over from scratch as an apprentice to Daniel Collins, a builder of classical guitars. She recently opened her own custom shop,
Atelier Rosenkrantz
, in Pawtucket, Rhode Island, sharing space with jazz-guitar builder Matt d'Ambrosio.
What distinguishes Rosenkrantz's instruments from many of the classical guitars on the market today is her dedication to traditional construction techniques, combined with her personal approach to design. She builds her classical guitars using what's called "Spanish heel" construction, in which there is no separate neck block at the top of the guitar's body, and therefore no neck joint—the guitar's construction is unitary. The extension of the neck through the top of the guitar's body bonds to the inside of the back of the guitar, while the sides of the guitar are inset into cuts made into the heel of the neck. The sides are then permanently affixed using hot hide glue.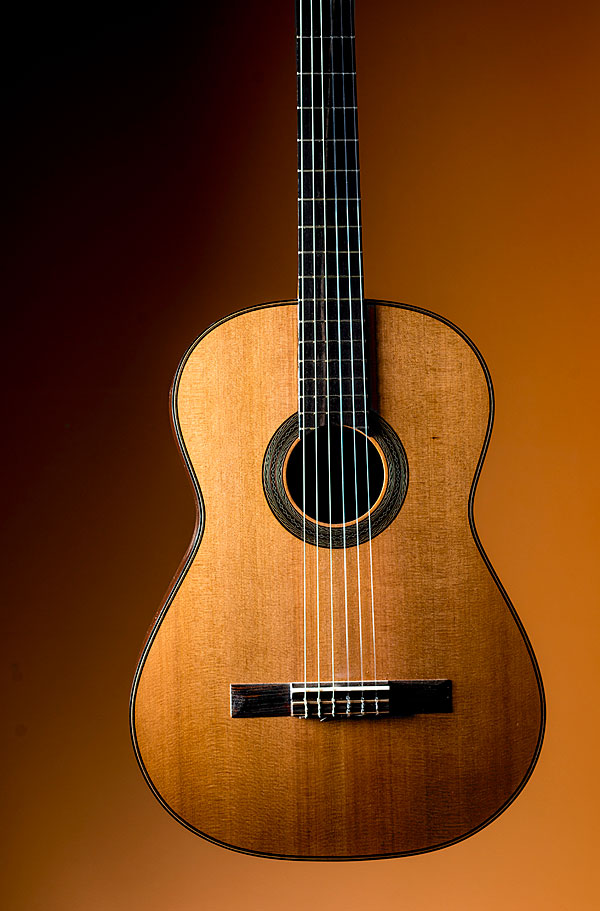 Rosenkrantz finishes not only the soundboard but the entire guitar with shellac and oil, in a time-honored but labor-intensive technique called French polishing. This results in a thinner finish, and a traditionally balanced sound.
Rosenkrantz's classical-guitar design is an homage to the instruments made in the 1920s and '30s by Hauser Guitars—the favorite guitar of Andrés Segovia. However, hers are not slavish copies. She has subtly varied the shape and proportions of the original, and applied an aesthetic of "less is more" to the ornamentation, especially in the rosette and the edge bindings. The top bracing, by the way, is a 1:1 copy of Hauser's bracing; Rosenkrantz is not interested, at this point, in going for double tops or radical bracing schemes in an effort to get stronger projection or a brighter sound. She sums up her entire approach as "New 'Old School'."
Because I'm always looking for interesting recording projects, and especially because I was unhappy with the results of my previous efforts to record classical guitar, I offered to set up a brief demo recording session. Steve Martorella, Minister of Music at the First Baptist Church in America, in Providence, allowed us to record there.
My old chum Dennis Costa, a USC alumnus who studied with classical guitarist Pepe Romero, was willing to do the playing honors (footnote 1). Dennis's time at USC overlapped with those of John Marks Records artists Nathaniel Rosen and Arturo Delmoni, though he didn't know them then. He did, however, once hold open a door for Jascha Heifetz. The guitar Dennis would play was one Rosenkrantz had built for herself. (She will build a similar guitar to a client's specifications for about $6000, the final price varying according to wood choices and ornamentation, footnote 2,)
Unsure whether I should use a pair of cardioid microphones in coincident X/Y array, I sought John Atkinson's advice. He thought I should stick with near-coincident ORTF cardioid miking, and that I was happy to do. Knowing that this demo recording would be intended more to showcase the sound of the guitar than to re-create the sense of a performance in a hall, I placed the mike stand about 4' from the guitar; after the first test, I moved it back about 9" more.
The microphones were Swedish: PML CC 22 cardioid condensers with rectangular diaphragms. The mike cables were Cardas Audio's Clear (balanced), and the recorder was a Sound Devices 702 running at 24-bits/96kHz and archiving to a Lexar Professional UDMA 300X-speed CompactFlash (CF) card.
I think the recording we made that best showcased the sound of Rosenkrantz's guitar was of Dennis playing Antônio Carlos Jobim's "A felicidade" ("Happiness"), which was used as the opening music for Marcel Camus's film Black Orpheus (1959). We have included in this website reprint, about 59 seconds of Dennis's performance of "A felicidade" (to stay within the spirit of "fair use" under copyright law).
A Feast of Classical-Guitar CDs
Spanish-born guitarist Roberto Moronn Pérez studied in Madrid, then did his postgraduate work at the Royal Academy of Music, in London, where he was awarded the Julian Bream Prize and a recital at Wigmore Hall. But even if you knew none of that, hearing him in concert or on disc makes it obvious that he is an exceptionally accomplished player with a keen musical intelligence, and nothing to fear from technical challenges.
This is Moronn Pérez's second recording of music from the archive of Andrés Segovia, which in 2001 were discovered to contain a treasure trove of compositions dedicated to Segovia (or, at least, sent to him), many of which had never been recorded. Moronn Pérez's first such recording was of Spanish works found in the archive; this one, Andrés Segovia Archive: French Composers (and one Belgian), comprises works by eight composers, six of them unfamiliar to me (CD, Fresh/Reference FR-709).
Of the three classical-guitar CDs featured in this column, this is my favorite in terms of sound. Had I not known better, I might have thought it was a Tony Faulkner production. In fact, UK engineer John Taylor made the recording in Holy Trinity Church, in Weston, Hertfordshire; Keith Johnson, of Reference Recordings, mastered. The sound benefits from a middle-distance perspective that gives a nice, warm sense of space while minimizing the distractions of pluckings and finger slides too closely recorded.
The music is short pieces and suites, all by composers who were alive at the time of Segovia's triumphant Paris debut, in 1924. The musical styles range from modal to neo-Baroque to the kind of folksy Romanticism one associates with Granados and Albéniz, to a modernism informed by both Stravinsky and jazz.
Moronn Pérez creates a warm, liquid guitar sound that I found particularly plangent in Raymond Moulaert's demanding and rather somber Suite. Whether or not it was intended by the composer, I found the sonorities of the opening pages of the second movement rather "churchy," but in a good way—the way in which Shostakovich would (almost) quote Russian Orthodox music. Very impressive, and easily recommendable to guitar fans on the prowl for unknown or little-known composers and works.
Next up is the premiere recording of Alan Hovhaness's little-known Guitar Concerto, performed by guitarist David Leisner, with Gerard Schwarz leading the Berlin Radio Symphony Orchestra (CD, Naxos 8.559294). Hovhaness was as prolific as he was eclectic as he was mystical. His catalog includes more than 60 symphonies, and more than 400 works in all. His best-known work is almost doubtless his And God Created Great Whales (1970), for pre-recorded whale songs and orchestra, which showed Hovhaness to be a master of widescreen, Technicolor orchestration.
Hovhaness might have been aiming for intimations of eternity, but what usually resulted was the wide-open spaces. Indeed, apart from The Prayer of St. Gregory, for trumpet and orchestra, two of Hovhaness's finest works are his Symphony 2, Mysterious Mountain, and his Symphony 50, Mount St. Helens.
My daughter, Clare's, first mention in Stereophile was in 1996, when she asked whether our local church choir's first piece had been a sound check. When I shook my head no, she incredulously persisted: "That was for real???" She was six. Years later, Clare has not lost her critical edge. When I directed her to a YouTube link of Mysterious Mountain, she replied by e-mail, asking if Hovhaness was the love child of Ralph Vaughan Williams and Jean Sibelius.
Well, yes, there is some of the triumphalism of VW's Tallis Fantasia in much of Hovhaness's writing, as well as the bracing chill of Sibelian landscapes—but also audible is the wistful pensiveness of Delius, and even pre-echoes of Arvo Pärt's "tintinnabuli" style. (Pärt, no less a mystic than Hovhaness, defined this as when one plus one equals one, not two.)
---
Footnote 1: Dennis not only teaches at Newport's Salve Regina University and gives recitals; he also plays at private celebrations and corporate events. Imagine that: a party or event, with classy music quiet enough that people can converse without shouting. That, I highly recommend.
Footnote 2: Although Rosenkrantz's focus is on classical guitars, she has also built steel-stringed guitars (a parlor guitar model and a cigar-box blues guitar). If there is one of her instruments that will make her known to the wider world, it's the electric guitar she built, to designs by others, in the shape of a whale, and that incorporates iconography telling the story of Moby-Dick. The Whale Guitar will be auctioned off to benefit the Ocean Alliance, a group that "strives to increase public awareness of the importance of whale and ocean health through research and public education."