The Fifth Element #87 Page 2
Hovhaness's Guitar Concerto is a major work lasting nearly 32 minutes, and it's hard to do it justice in a few short paragraphs. The largely self-taught composer not so much solves the central problem of the genre—balancing one of the quietest instruments with an orchestra larger than a handful of players—as ignores it. The concerto begins with a thrillingly grandiose orchestral declamation reminiscent of the climax of Bloch's
Schelomo
, except with more chimes, glockenspiel, and so on—and, for that, is perhaps also indebted to Messiaen's
Turangalîla-Symphonie
. Great! What comes next?
The orchestra then, for the most part, disappears. The guitar's demanding first-movement part is inspired by the tapping of a stick on wooden bowls filled with different levels of water—there are bits of metallic percussion here and there. Eww-kay . . . at least you don't have to strain to hear the guitar. It works, in a weird, antiphonal sort of way. The orchestra must love being able to make great big sounds, and the guitarist must love not worrying about being covered.
The second movement is more conventional, starting with a lovely woodwind melody answered by the guitar. Then the cello has a lovely melody, and so on. The third movement begins boisterously, with some horn and trombone voicings not previously heard, and the guitar part is even more demanding.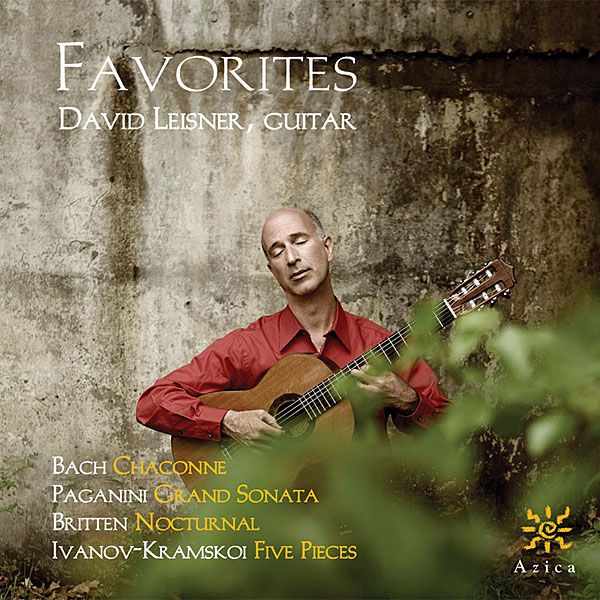 Leisner handles all the difficulties gracefully and all the melodies beautifully. The playing is beyond superb and the sound is exceptional—of audio-show demo quality, especially the Allegro movement of one of the two companion works, Symphony 60. The opener is Khrimian Hairig, for trumpet and orchestra—a bookend to The Prayer of St. Gregory and a typically accessible and lovely Hovhaness composition. Highly recommended, especially for its superb sound and bargain price.
David Leisner is not only an accomplished soloist; he is an important composer. Arturo Delmoni and David Burgess's premiere recording of Leisner's magnificently Brahmsian Sonata for Violin and Guitar was Stereophile's "Recording of the Month" for November 1993 (CD, Athena Productions ACSC-10006). Of the three classical-guitar CDs covered in this installment, I think that Leisner's Favorites—music of J.S. Bach, Britten, Ivanov-Kramskoi, and Paganini—is the most musically significant, and makes for the most compelling listening (CD, Azica ACD-71268). Leisner's program has as its center of gravity two of the most serious and technically and musically demanding pieces that guitarists play: Britten's Nocturnal (which was written for the guitar), and Leisner's own transcription of the Ciaccona from Bach's Violin Partita 2 in d.
Somewhat balancing out those two are Leisner's transcription for solo guitar of Paganini's frothy and gallant "Grande" Sonata in A (originally for guitar with violin accompaniment) and five pieces by a Russian composer new to me, Alexander Ivanov-Kramskoi (1912–1973). Ivanov-Kramskoi can remind one of a slightly updated Tchaikovsky who wrote idiomatically for the guitar.
Britten's Nocturnal is not so much a set of variations as an 18-minute reconstruction of a deconstructed "Come, Heavy Sleep," by John Dowland. Since that song is a tentpole of Joel Frederiksen and Ensemble Phoenix Munich's Requiem for a Pink Moon (CD, Harmonia Mundi HMC 902111), which I have raved about in previous columns, you can imagine how I feel about Nocturnal. Leisner's transcription of the Ciaccona is sublime, and he plays it with reverence for its structure and depth. Most highly recommended, and a candidate for a "Record to Die For."
ATC P1 power amplifier
The ATC P1 ($3999, footnote 3) is a dual-mono stereo power amplifier with balanced and unbalanced inputs. The XLR pin assignments are to the US standard, while the RCA inputs are mirrored by pass-through output jacks. ATC claims for the P1 a power output of 150Wpc into 8 ohms; a frequency response of 2Hz–400kHz, –3dB; total harmonic distortion, at 1kHz/8 ohms/1dB below full power, of less than 0.002% (–95dB); a signal/noise ratio of greater than 110dB (DIN); and a damping factor of 400. The P1 measures 17" wide by 5.3" high by 13.7" deep and weighs 50.6 lbs.
The P1 is manufactured in ATC's factory in Stroud, England. Its front panel, with matte brushed silver finish, is rather plain. Other than four decorative fastener heads and some vaguely art-deco accent ribs, it has only an infrared remote-control receiver, a very small red/green power-status LED, and a silkscreened ATC logo. The Power button is on the rear panel. The P1 is designed to be wakened from Standby by use of its provided remote control. However, that arrangement can be defeated by pressing the IR Disable button on the rear, in which case pressing the Power switch puts the P1 in Operate mode rather than Standby. Loudspeakers are connected to two pairs of ATC's proprietary terminals. Also on the rear panel is a standard IEC power-cord inlet.
That this maker of professional and consumer loudspeakers also makes a power amplifier is easily explained by ATC's history as one of the first companies to offer self-powered speakers. ATC began building plate amplifiers of its own design for its active speakers in 1984. That original design concept still informs the amp packs ATC makes for its active models, as well as its standalone power amps.
In an e-mail, ATC's manager of research and development, Ben Lilly, outlined for me ATC's amplifier philosophy. The company's design goals are, primarily: extremely wide bandwidth (in the interest of the least possible phase shift within the audioband), very low distortion and noise, and excellent reliability. These goals are accomplished by use of ATC's proprietary Grounded Source output-stage design, the use of MOSFETs as output devices, and a sidechain (parallel circuit) FET limiter, which has no effect on the audio circuit until the threshold voltage is exceeded. The FET limiter protects amplifier, speakers, and listeners from the effects of hard clipping.
As should be no surprise from a professional-audio company, ATC recommends that the P1 be driven via its balanced inputs. Lilly explained: "When balanced inputs are used for common-mode noise rejection, the speaker is perfectly balanced with respect to earth [ground], being connected to the common centre of the power supply. In practice, the improvement can be seen in the elimination of L.F. modulation, thanks to the superior power supply layout, a reduction in output device temperature cycling, and the clean signal ground."
After some weeks of listening to a well-traveled sample of the P1 that had seen service at the Consumer Electronics Show and elsewhere—and which arrived without its full complement of packing material, or its power cord, remote control, or manual—I began thinking of it as the strong, silent type. Not that it was literally silent, of course. Rather, the P1 did not editorialize on the music; it just delivered it. (Legendary cellist Gregor Piatigorsky once advised my friend the cellist Nathaniel Rosen, "Just be 'a good UPS man.' Just deliver the goods.") The P1's essential sound was very satisfyingly rich and full. That the P1 had gobs of power did not become apparent until its reserves were called for.
"Honeysuckle Rose," from Jane Monheit's Taking a Chance on Love (CD, Sony Classical SK 92495, footnote 4), made for an interesting comparison of the ATC P1 with another amplifier that passed through here within living memory: Lindell Audio's AMPX, a 20Wpc, class-A, solid-state design ($1599). Despite the huge difference in these amps' power outputs, I don't think the comparison was unfair—if your loudspeakers are biampable, you could buy two Lindell AMPXes and end up $800 of the P1, while making something of a dent in the power-output disparity.
I loved the Lindell AMPX, and I stand by what I wrote about it in my December 2013 column. However, playing "Honeysuckle Rose" at a satisfyingly loud volume suggested to me that perhaps the Lindell had been adding a tiny bit of pepperminty "zip," with a resultant emphasis of vocal sibilance—and that perhaps the ATC P1 was telling the story straight.
I used the P1 while listening to a wide variety of music, from 1950s jazz such as Louis Armstrong and Ella Fitzgerald's Porgy & Bess highlights (CD, Verve 827 475-2), to a spine-tingling SACD remastering of Dire Straits' Brothers in Arms (SACD/CD, Warner Bros./Mobile Fidelity Sound Lab UDSACD 2099), to lots of piano, baroque, and classical-guitar music. Sources were Grace Design's m905 monitor controller/DAC and Bricasti Design's M1 DAC, either usually fed by Parasound's Halo CD 1 used as a transport, and at times by high-resolution files from my iMac. The sound of this system through the P1 and ATC's own SCM19 speakers was unusually coherent and seamless from midrange to treble, and the bass had me thinking that this might be all the bass a normal person needs.
One of the things I love about the P1 is that its (to me, at least) surprisingly low price means that, for less than the price of the average Stereophile reader's system, you can put together a synergistic and hugely coherent-sounding setup that has little or nothing to apologize for in terms of dynamics, bass, or fit'n'finish. The ATC SCM19 loudspeakers ($3700/pair), P1 power amp ($3999), Grace m905 ($3495), and a TASCAM CD-200 used as a CD transport (street price ca $220) total roughly $11,000. By connecting a computer running some inexpensive software, you're good for DSD and DSD2 (but not DXD or 384kHz PCM, though the Bricasti M1, which costs $8595, is now DXD and 384kHz capable). If you don't already have them, speaker stands and cables will add to the cost. You also might want to add a turntable or an SACD player. Even as nicely tricked out as that, this is a system with an impressive ratio of sound quality to price. Its resolving power and fatigue-free musicality has knocked my socks off.
Is the ATC P1 the best power amp I've heard? No. It doesn't offer that degree of shock-of-recognition tactility that is the hallmark of a superstar amp. Were I to win a lot of money in a lottery, one of my first self-indulgences would be a darTZeel power amp. I have also been very smitten by Unison Research's tube amplifiers.
The P1 might not be the "best," but I am unaware of any other amplifier built from discrete components with this level of build quality, and from a firm with a record of accomplishment similar to ATC's, that offers so much excellent wattage at such a comparatively low price. ATC is beefing up its network of US dealers. If you're shopping for an amp, try to hear this one.
---
Footnote 3: ATC Loudspeaker Technology Ltd., Gypsy Lane, Aston Down, Stroud, Gloucestershire GL6 8HR, England, UK. Tel: (44) (0)1285-760561. Fax: (44) (0)1285-760683. Web: www.atcloudspeakers.co.uk. US distributor: Lone Mountain Audio, 7340 Smoke Ranch Road, Suite A, Las Vegas, NV 89128. Tel: (702) 307-2727. Fax: (702) 365-5145. Web: www.lonemountainaudio.com.
Footnote 4: I should have acknowledged long ago what has made this track something of an underground test and demo sensation: a phenomenal double-bass workout by Christian McBride. By all means, buy the CD; if you want a quick idea of what I'm talking about, click here.