The Fifth Element #66
Getting on two years ago, in an effort to identify the best bargains for music lovers on a budget, I wrote a series of columns exploring the field of affordable loudspeakers and CD receivers (footnote1). I hadn't planned to revisiting that topic so soon, but two developments have convinced me to: first, my encounter with one of the most idiosyncratic budget loudspeakers ever to grace my listening space, and in some ways is a new benchmark for performance
vs
price, especially for classical-music fans; and second, the advent of a new product category: Affordable Internet-Radio-Capable CD Receivers with Built-in WiFi and USB Connectivity.
But now that I have your attention, I'll first tell you about some great recordings you should check out. Then come the loudspeakers and, in my next column, the new CD receivers.
CDs Old and New
I've been having a ball with Vivid Audio's B-1 loudspeakers, which I wrote about in my February column, both listening for my own pleasure and showing them off for music and audio friends. The B-1 now tops the short list of the most addictively enjoyable speakers I have spent time with, a list that the passage of time and ongoing reconsideration have rendered very short indeed: Wilson Benesch's A.C.T., Chimera, and A.C.T. One; ESP's Concert Grand; Quad's ESL-2805; and the Vivid B-1.
One of the treats of borrowing new gear that rocks your world is hearing new things in recordings you thought you knew well. I'll start with one such example, then move on to recordings I have recently received and think are worth your audition. Space limitations impose brevity, but sound bites from all of these are available on the Web, at ArkivMusic.com or Amazon.com.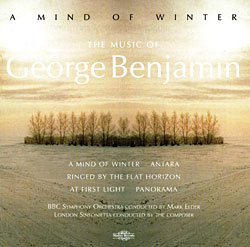 A Mind of Winter: The Music of George Benjamin (CD, Nimbus NI 5643). Benjamin paints landscapes with beautifully stark sounds—not so much in melodies but as sounds. A former wunderkind who recently turned 50, Benjamin is the youngest living composer to have had a work performed at the Proms: Ringed by the Flat Horizon, written while he was still a student. At the risk of a colossal oversimplification, Benjamin writes a little bit in the tradition of Shostakovich, Britten, and Walton, but primarily uses musical materials in ways similar to those of his teacher Olivier Messiaen.
This retrospective reissue combines Benjamin's three great "landscape" works for orchestra—Ringed by the Flat Horizon, At First Light, and A Mind of Winter (with soprano)—with two synthesizer pieces: one a solo study, the other an orchestrated work. A Mind of Winter is a setting of Wallace Stevens's "The Snowman," so I am biased. An unlikely but, perhaps for that reason, tremendously effective demo disc.
Gabriel Fauré: Cantique de Jean Racine, Op.11 (CD, Naïve V 5137). One of the tracks John Atkinson really enjoyed when he visited me to hear the Vivid B-1s was Accentus's version for orchestra and mixed chorus of this French rarity, which nicely fills out the group's release of Fauré's Requiem. The Cantique melds Gregorian Chant with French musical Impressionism and Racine's (1639–1699) graceful French rendering of medieval Latin. My peak experience of Cantique was hearing a live, all-male performance with organ by the Choir of King's College, Cambridge, though I found their recording of it (2 CDs, Deutsche Grammophon 289 469 268-2) ever so slightly a letdown. I believe that's because I heard them in a midsize or even smallish American church, which allowed a faster pace than did the cavernous acoustic of the recording venue, as beautiful as the recording is. And I was sitting closer to the performers than the perspective recorded here.
The reason you should still grab this budget twofer is that it presents a rewarding variety of Fauré's works, including a 1987 recording by Seiji Ozawa and the Boston Symphony of Fauré's incidental music for the stage play of Pelléas et Mélisande (not to be confused with Debussy's opera), which includes the English-language "Chanson de Mélisande," sung by the young Lorraine Hunt (pre-Lieberson).
There is also a version from Downside Abbey, sung by monks and choirboys with organ accompaniment, on the laughably priced (laugh as you weep, if you're in the CD business) EMI Best Classics 50, which includes 50 warhorse works or excerpts: 225 minutes of classical music on three CDs for $9.99 from ArkivMusic.com (with whom my record label has a contract, and for whose lifestyle magazine, Listen, I write).
The Downside recording is at least as cavernous as the King's College one, but has a closer perspective and so is a bit more vivid. Unless you absolutely must have an all-male-with-organ version, the Accentus CD is hard to beat for its gorgeous full ensemble, great phrasing, and excellent recording quality with convincing hall-sound balance. That said, the DG twofer has lots of other great things on it; and the EMI set, with tracks from Barbirolli, Beecham, Previn, Menuhin, and Muti, at three CDs for the price of a single album download, is an unbeatable bargain and a great gift for a classical newbie.
J.S. Bach: Goldberg Variations—Glenn Gould, 1954 (Sony Esprit 88697292082). This last recommendation I am of two minds about because it presents an epochal performance in lamentable sound. In my listening notes, I jotted: "Signal to noise ratio: Equal." At times, it's that bad. However, many music lovers will not want to be without it, and if you care about the recorded legacy of piano music, it will be a must-have.
---
Footnote 1: CD receivers and, in December 2009, one SACD receiver, Denon's nifty RCD-CX1, which has been discontinued—a shame, as it was one of my favorites. The maker of another of my favorites, France's Carat, has ceased operations.