The Fifth Element #40 Page 2
Oistrakh not only played music beautifully on the violin, his playing was beautiful to behold. He evinced a nearly balletic grace and economy of movement—the amount of sound he was able to achieve from the smallest motion of the bow, even at its tip, was amazing. In Oistrakh's playing there was no posturing, no showing off, and, most of all, no pandering to the peanut gallery (footnote 2). Even in a live and unedited performance such as this one, his pitch security and the richness of his tonal palette are wonders to hear. Richter was no slouch, either, of course!
The director of this program did not fall into the usual trap of letting the camera operators exclusively focus on one or the other of a string player's hands, a flaw that makes much of the Jimi Hendrix Woodstock footage so frustrating to watch. Seeing a close-up of what the fingers of the left hand (or, in Hendrix's case, the right) are doing tells you less than half the story—it is the coordination of the two hands that produces the music. While there are one-hand shots in the Oistrakh-Richter DVD, they don't predominate. There are some wonderful overhead boom shots that give you a bird's-eye view of Oistrakh's entire physical approach to playing, as well as clear definition of Richter's fingerwork.
Oistrakh recorded all 10 Beethoven sonatas with Lev Oborin, released by Philips as an integral LP set. Although that set was reissued on CD, it, like nearly all Western-label Oistrakh audio material, is now out of print. Oistrakh's on-record live collaborations with Richter include a magisterial Franck Sonata from 1968, an epochal Shostakovich Sonata Op.134 from 1969, and a Brahms Sonata 3 from Moscow in 1968 that is, if anything, even more intense than this one. All are well worth seeking out on the used market or on obscure import labels.
The Oistrakh-Richter DVD is a great gift for an amateur or student violinist or pianist, or anyone who appreciates great playing from the great days. The only two shortcomings are minor: the soundtrack is monophonic (though the instrumental balances are excellent), and for an encore, I would have far preferred a violinistic treat rather than another sonata movement.
Oistrakh is, in my view, terribly underestimated as an interpreter of encore pieces—bonbons and sizzlers alike. Oistrakh's "La Gitana" is the top of the heap, in my humble opinion. However, it's possible that Mr. Starchypants Richter was unwilling to subordinate himself to an accompanying role in crowd-pleasing music. Or perhaps Oistrakh, who was the most generous of colleagues, just wanted to play another sonata movement.
From the English label Avie comes a pleasant surprise: a CD of Phillippe Graffin, a violinist new to me, playing the world-premiere recording of the Violin Concerto of British composer Samuel Coleridge-Taylor (1875–1912), along with an unusually fine, sensitive performance of Dvorák's Violin Concerto. Michael Hankinson conducts the Johannesburg Philharmonic.
Coleridge-Taylor's Violin Concerto was written for the American violinist Maud Powell, who praised the mixed-race composer as "a colored Dvorák." The world premiere, in 1912, almost didn't come off—Coleridge-Taylor sent the orchestral parts to America on the RMS Titanic. (Another set was copied out and dispatched to arrive in time.)
The concerto is an amiable work—earnest and workmanlike, a bit meandering, with some sweetly lyrical passages that no amount of conviction on the part of the soloist can imbue with the sense of inevitability we get from a true work of genius. It was smart programming on the part of this recording's producer to put the Coleridge-Taylor work first—had the Dvorák been first, the letdown would have been inevitable.
In the event, Graffin's Dvorák is a real treasure, with beautiful tone, wonderful pitch security, and thoughtful phrasing throughout—and the quality of the orchestral accompaniment is above reproach. The sound is quite fine.
Don't let my unsentimental assessment of the Coleridge-Taylor concerto's ultimate place in the canon deter you from getting this fine release. After all, how often do you get to hear a first recording of a Romantic violin concerto? It's just too bad that this wasn't one of Avie's excellent SACD releases, such as Lorraine Hunt Lieberson's program of Handel arias.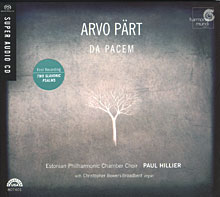 A Feast of Singing
Three vocal recordings of superior quality have recently come to my attention. Arvo Pärt is represented on the very fine Da Pacem (SACD, Harmonia Mundi USA HMU 807401). Paul Hillier conducts the Estonian Philharmonic Chamber Choir, joined by organist Christopher Bowers-Broadbent on three tracks. This is the first discing of Pärt's Two Slavonic Psalms; the other works apparently have been recorded before.
What recommend this collection are its magnificent singing (though I can't recall any Pärt disc that did not have at least first-rate singing), an interesting selection and sequence of works (the Littlemore Tractus alone is worth the price of admission), excellent sound, classy packaging, and erudite, thought-provoking liner notes. (Erudite, except for whatever led Hillier to claim that John Henry Cardinal Newman's Apologia Pro Vita Sua provided the text for Elgar's The Dream of Gerontius. I guess people don't fact-check liner notes any more.) Pärt completists will already have most of the music on this disc but will buy it anyway. SACD boosters should vote with their wallets and encourage Harmonia Mundi to stay in it for the long haul. Highly recommended.
Eric Whitacre's surname is pronounced WITT-uh-kurr, and not as is the imaginary plot of ground beloved of teachers of law-school Property courses. Whitacre was born in Nevada in 1970. Despite not being able to read music, he was admitted to the University of Nevada, Las Vegas, as a music-education major. He then joined the choir, for no other reason than that there were lots of cute girls in the soprano section.
Once the choir's coursework started, however, Whitacre found his true calling. He published his first music, the choral piece "Go, lovely Rose," at age 21. He followed that in relatively short order with a piece for symphonic band, Ghost Train, that, despite its composer's characterization of it as "just a giant half-educated guess," quickly racked up more than 1,000 performances and 40 recordings.
If you have any interest in choral music, you absolutely must buy Cloudburst, a new CD of Whitacre's choral music, sung with otherworldly purity of tone and security of pitch by the vocal group Polyphony, conducted by Stephen Layton (Hyperion CDA67543). It is stunning. All of it is at least very, very good. But if someone sat you down, played Whitacre's When David Heard, and told you it was a new piece by Arvo Pärt, you'd just think it was another in a very long line of works of unalloyed genius from Pärt, never suspecting a young American composer you probably hadn't heard of. When David Heard is that good. Hair-raising. Electrifying.
Whitacre has developed a remarkably distinct style. You can parse antecedents all you wish (though that task usually strikes me as an exercise in projection)—the bottom line is that, whether you end up positing synthesizer prog-rock or Benjamin Britten as "the more important influence," Whitacre is the genuine article. I expect we will hear a lot more of his work.
Whitacre's choral-writing style favors wide-open chords, often in parallel motion, that are very tough to sing. He sometimes ends a melodic phrase with a parallel lowering of degree, which from now on I will refer to as "Whitacre's Dopplerization." The title track's first phrase is one example, and the only composition here that is not a cappella. Cloudburst is scored for not only piano but thunder sheet, wind chimes, handbells, suspended cymbal, and sound effects by the singers. Recorded in London's Temple Church (AD 1185), the sound is up to Hyperion's usual standard. Most highly recommended.
From a quieter and less radical corner of the cosmos comes a deeply affecting CD of American, English, and European poetry set for tenor and piano: Michael Slattery's Secret and Divine Signs: The Music of Craig Urquhart, with Urquhart on piano (Avie AV2088). Urquhart is a simple, clear, less-is-more composer on the order of Fauré, or Leonard Bernstein at his all-too-rare best. This CD grafts Urquhart's solo-piano music onto certain of the songs as introductions, or inserts piano pieces between songs as commentaries or meditations.
I was totally taken in by at least three of Urquhart's heart-on-sleeve Walt Whitman settings: "Here the Frailest Leaves of Me," "O You to Whom I Often and Silently Come," and the title track, "Secret and Divine Signs." Whether you are similarly swept away will depend on a lot of factors, perhaps primarily how much cynicism (or emotional constipation) there is in your soul. If you want to be a snob about it, you could point out that at times Urquhart's piano writing calls to mind George Winston's (of Decemberfame), or that there is very little on this disc that Amy Beach would have found at all adventurous, more than 100 years ago. I prefer to think that there still remains a lot of beautiful music to be written in traditional forms.
Michael Slattery has a very beautiful voice, his singing is supple and clear, and it is obvious that he has completely internalized these settings. I can't imagine more committed interpretations. Another easy high recommendation.
---
Footnote 2: Yes, classical performances have peanut galleries; they contain the people who mistake a performer's studiously soulful facial expressions for soulful playing.