Dynaudio plus T+A plus Octave
Across the hallway from the Xeo dem, on the fourth floor of the Marriott Atrium, Dynaudio and T+A featured two systems. The one I heard delivered solid, satisfying sound from Dynaudio's Focus 260 floorstanders ($4900/pair) driven by T+A's Power Plant balanced Vollverstärker integrated amplifier ($3100) and Music Player balanced multi-source CD player/DAC/streaming client ($4400). The latter can be controlled with T+A's recently released Control App.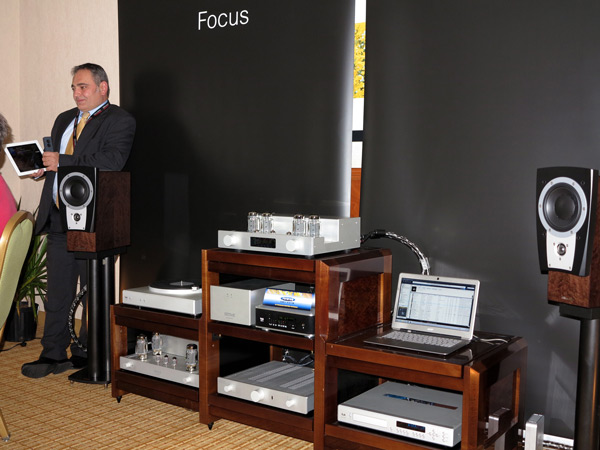 A second system, which was not running when I visited the room, paired Dynaudio's Confidence C1 Signature loudspeakers ($8500/pair) with the world debut of Octave's forthcoming KT120-based V90 Tube Integrated Amplifier ($8000) and T+A 24-bit, 384kHz asynchronous DAC 8 ($2900). Also waiting to be heard was the world premier of Octave's forthcoming HP 300 SE tube preamp ($7750, or $8400 with MC phono). Straight Wire did the cable honors in both systems.