Don Was: What Was Will Be Page 2
The records that I have up on the wall in my office—
Speak No Evil
,
Maiden Voyage
[Herbie Hancock, 1965],
Mode for Joe
—those guys were in their 20s and on the fringe of music. We have a lot of artists now—Robert Glasper is a great example, who may quote J Dilla when he plays a Monk tune, because that's who he is. You have to reflect your times, but at the same time you've got to respect what came before.
Matson: When you listen to new artists, perhaps ones you aren't familiar with, what are you listening for?
Was: I'm listening on an emotional level. As a musician, I respect technique. But technique that doesn't move you is of a lesser value. I'd rather have a John Lee Hooker on the label. You can tell when music gets under your skin—there are physical manifestations. I'm looking for the dopamine rush. [laughs]
Matson: How would you rate the overall health of jazz these days, both for live performance and for recordings?
Was: I think there's great stuff going on, there's great music out there. I wish we could sign all the people that I like. It's never been easy, and I sympathize with people who master their art form and they're at it for 20 years, and they have to figure out how to get a band to Cincinnati for $2500 a week. I had a band called Was (Not Was) in the late '80s, and we had hit singles, but we couldn't afford to tour because we had 12 people in the band. We never made a penny!
Matson: Producing records . . . ?
Was: I think respect is the most important component. If you understand how an artist's mind works, and you treat them with respect, you can generally create a situation where they are comfortable being creative. It's not magic—it's just common sense. Where the ideas come from, that's the magic part. I know what it's like, I've been produced. When you hit something that you know is the truth, that comes from deep inside, and you finish the take and there's silence in your headphones for 30 seconds, and then someone pushes a button and says, "Uhh, let's try another one"—you know they weren't listening, maybe they were ordering sandwiches. That can be soul crushing—you lose respect for the situation.
Matson: How do you listen to music these days?
Was: I'm in the studios a lot of the time, so a lot of critical listening I do in there. It's got to sound good coming out of 'phones, as a lot of people listen like that. It reminds me of listening to little one-inch transistor-radio speakers when we were young—and the Beatles sounded pretty damn good coming out of there!
Matson: My dad bought me my first little stereo—a Panasonic all-in-one with two cube speakers that I put on each side of my bed, so they were essentially headphones.
Was: Yup. I had the same thing, and it blew my mind. I'm right with you. I try to listen the way people are going to listen.
Matson: Berry Gordy having Motown test records cut to play in a car, to check if it was happening for him . . . ?
Was: The Stones have told me stories of cutting records in the old days at the RCA studios in Hollywood, and then they would take the acetate and drive to a radio station so they could listen to it back.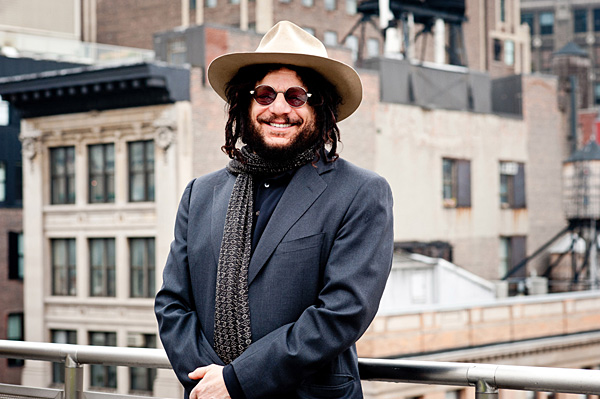 Matson: Given all your current duties at Blue Note, are you able to continue producing as much as you would like?
Was: I was hired with that in mind. They want me to produce, they want me to be in the studio. They want the president of the company to be a performing musician. They think it's a virtue—if I didn't do it, they would be pissed off.
Matson: That may be kind of unique.
Was: I don't know of anyone right now that's like that, and I find it really helpful. I have really great relationships with artists on the label, and can talk about that kind of stuff.
Matson: So you can have a valid emotional experience from a recording, as well as from a live performance . . . ?
Was: Absolutely. It's an art form. Recording is like painting. It's poetry. That's why we call Joe Harley the "Tone Poet." [laughs] It's sonic poetry. Even if it's distortion, even if it's stuff we consider to be impure, used as a texture, it's got emotional value.
Matson: Pick a few recordings—they don't have to be Blue Notes—that you think are the absolute greatest.
Was: I think of stuff I was listening to when I was learning to make records. I always thought "Good Times" by Chic, from Risqué [1979, Atlantic 3584], was an amazing-sounding record. Bob Clearmountain cut it. I chased that bass sound—I'm still chasing it. I always loved "I.G.Y." by Donald Fagen, from The Nightfly [1982, Warner Bros. 23696]. That was the record they used to show off CDs when they first came out, in the hi-fi stores.
I would also go with some dirt. I think Kick Out the Jams by the MC5 [1969, Elektra 60894], is a great-sounding record. I don't even know if the MC5 agree, by the way—Wayne [Kramer] is a good buddy of mine and he's not partial to it, but I like the din and the energy of that. I also like Free for All by Art Blakey [1964, Blue Note BST 84170], which is all distortion. You can feel the intensity of his playing—he overpowered every one of Rudy Van Gelder's mikes. It's almost like a punk-rock record, because the drums distort—but it's glorious!
Matson: One of my faves that has never been on vinyl is Shirley Horn's Here's to Life [1992, Verve 314 511 879].
Was: That's one of my favorite albums of all time. I'm with you 100%—that's a genius record. She was magnificent.
Matson: What about Bob Dylan?
Was: Bob's been making records for a long time, and he's quite astute in the studio. When we were making Under the Red Sky [1990, Columbia 46794], he said: "It sounds too mixed." He wanted it to sound like Chess Records. He wanted some grit in it—so we had to go back and find that grit. Which usually means room mikes. If you get a good recording where you can hear his voice properly—he doesn't throw a line away, ever. I think that what keeps it fun and interesting for him is that he's totally present. He's inhabiting the songs, and entering through a new door every night. He finds a new way into the songs every single night. The performances hold water, and they have real integrity.
Matson: You and Donald Fagen almost have the same name. Wussup with that?
Was: Well, we've probably got some relatives back in the old country. [laughs]
Matson: When Ahmet Ertegun heard something in the studio that he liked, he would say, "That's the shit." What do you say?
Was: I've been known to say, "That sounds fucking awesome!" [laughs]