Does music help you get to sleep? Bedphones will work just fine!
This story originally appeared at InnerFidelity.com
One of the things that, it seems to me, separates headphone enthusiasts from traditional audiophiles is an interest in good inexpensive stuff, or devices with unusual utility. Think Koss Porta Pros or the Riva Turbo X. The Porta Pro has been delivering excellent sound quality for its very low $49 price for decades and for decades headphone enthusiasts have been praising their worth. And when the Riva Turbo X Bluetooth speaker showed up at CanJam a year or so ago, headphone hobbyists embraced it immediately as a great sounding portable speaker. These are cool little gadgets, and it seems to me headphone enthusiasts are more than willing to have a good hard look at them....no matter the cost.
And so, I found myself attracted and curious when confronted with Bedphones last CES. Not long ago I dropped them a note expressing my interest, and shortly thereafter received a pair for review consideration.
Bedphones ($59.95)
Bedphones are a...ummm...very small on-ear headphone? Not really sure how to classify these, they're half way between an on-ear and ear-bud earphone. Using small dynamic drivers (0.9" dia, 0.25" thick) with a foam cover and attached to memory wire ear loops, they hang over your ears with the driver positioned in or in front of the concha. It does have a cable slider to snug up the wires and more firmly keep them in place.
I found, for me, there were two ways the wear the Bedphones: Gently resting up against the side of my ears, and tucked into the concha bowl of my ears.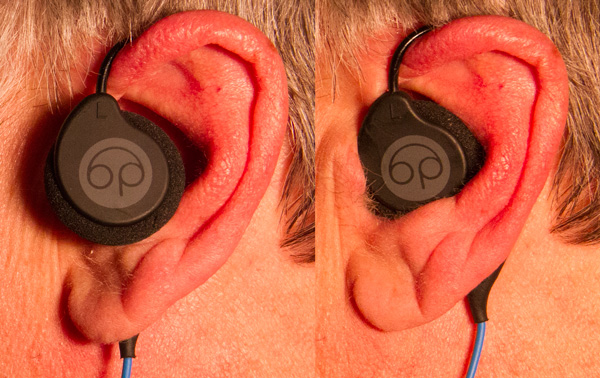 Both cases were quite comfortable initially, but after many hours (asleep) with them tucked into my concha I awoke to feel a hot spot of localized discomfort where it touched the rear of my concha. Wearing them just touching my ears was very comfortable for any length of time. The sound, however, was quite different in both cases—more on this later.
In either case, they remained securely hooked to my ears—remember to cinch up that cable slider or they may not—through the two nights I wore them to bed. Moreover, I sleep on my side, and the Bedphones were remarkably comfortable in that position. I quite literally felt like nothing was in my ear most of the time. Very nice as a bedtime can.
Build quality seemed acceptable at this price. The Bedphones do have a one-button remote/mic at the cable join. The cheery blue cable is nicely slender and pliable, and its 4 1/2 foot length seemed appropriate for the application. Cable is terminated at the headphone end with a nicely formed rubber molding at the end of the memory wire loops, and into a strain relieved metal housing at the 3.5mm plug end.
The only concern I had with build quality was the driver front screen.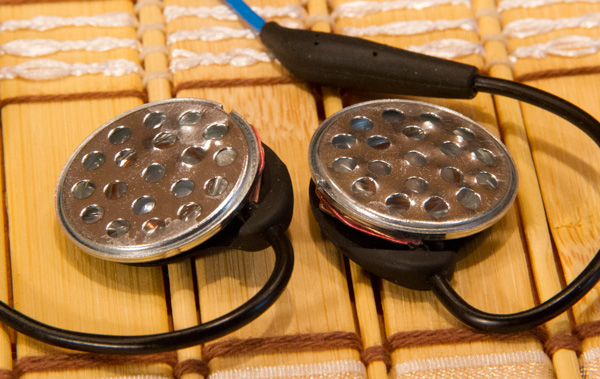 Looking closely at the photo above you can see that the holes in the front screen are somewhat dimpled and deformed. These are very thin drivers with close tollerances, and after assembly some drivers might have problems touching the screen creating some "rub and buzz". It may be hard to tell from the picture, but it appeared to me that after assembly, a worker manually plucks the screen outward by putting a tool into the holes and pulling to deform the screen so it doesn't buzz anymore. After discovering this I did communicate with Eric Dubs, inventor, founder, and owner of Bedphones, and he confirmed that this is exactly what is happening. I applaud his candor. He informed me they are working towards the next revision of the product that will not only solve this manufacturing problem, but will also address improved bass response by lowering the primary driver resonance, and will increase increase driver efficiency—though I felt they were quite efficient already. This is the third generation of this product, and after communicating with Eric I see no reason not to believe that Bedphones will be undergoing continuous improvement over time.
Accessorization was very nice for a headphone at this price. Included with the Bedphones was an nice hard-side clam-shell case with zipper closure, two spare pairs of foam earpiece covers, and, believe it or not, an eye mask to block out light when napping in brightly lit spaces. Bedphones also has a downloadable app that will slowly turn off the music after you've gone to sleep. I did not try the app.