Dave Douglas: Sound Prints & High Risk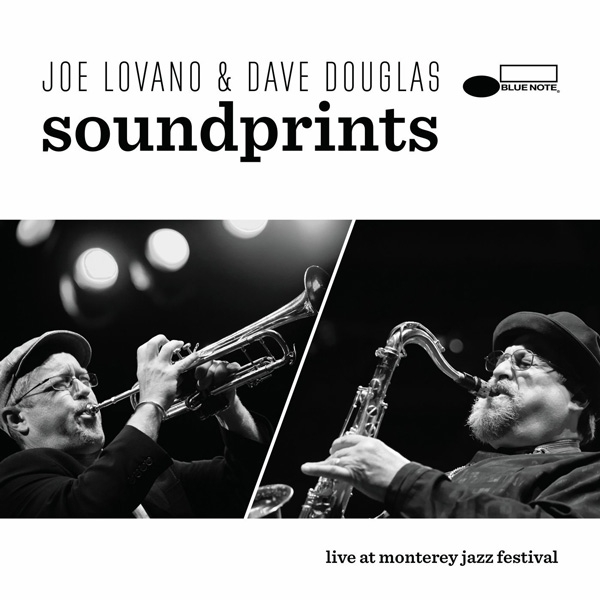 Trumpeter Dave Douglas has two very different new albums out:
Sound Prints: Live at Monterey Jazz Festival
(Blue Note), featuring a Wayne Shorter tribute-band co-led by tenor saxophonist Joe Lovano; and
High Risk
, a collaborative excursion into electronica.
Sound Prints is also the name of the tribute band (a riff on Shorter's classic Footprints album), and, judging from the two times I've seen them play at the Village Vanguard, they're among the most vibrant, dizzying jazz bands around. Douglas and Lovano bounce off each other with an energy and virtuosity I've rarely seen either sustain in other settings (and that's saying a lot); Joey Baron, Douglas' longtime bandmate in John Zorn's Masada, arouses the drumkit with more gusto and subtlety than usual (that's saying even more); Linda Oh reveals herself as one of the most precise and agile bass players on the block (she reminds me of Scott LaFaro); and pianist Lawrence Fields, a new name to me, holds down the fort with aplomb (which is all you want with a group like this).
The music bears the sign of the Wayne: the mix of hot, cool, melodic hooks, and high-flying harmonies—some tunes written by Douglas, some by Lovano, and, on the album, two new ones contributed by Shorter himself, who, though he's been known in recent years to noodle in performance, displays the longstanding keen, lively discipline with a pencil and a score-sheet.
My problem with the CD, which was recorded in 2013, is that the sound is too compressed, perhaps the result of gluing unbalanced tracks from a live concert feed or maybe a deliberate choice, to give it more of a "pop" feel, I don't know. The band is wrapping up a tour, playing New York's Jazz At Lincoln Center this weekend. Catch them if you can. The album's very much worth hearing, but it doesn't quite capture their fire.
High Risk, which Douglas produced for his own label (and will be available for orders on May 19), isn't the first time he's fused his trademark trumpet sound with electronic instruments—earlier ventures included Freak In (2003) and Spark of Being (2010), the latter with his band Keystone, whose music he originally wrote as a Steampunk soundtrack to silent Fatty Arbuckle films—but this is, by far, his most ambitious. The earlier albums wove keyboards and special effects into an acoustic soundscape; on High Risk, there's just Douglas, playing over, around, and, above all, with, electro-percussion: Jonathan Maron on electric and synth basses; Mark Guiliana, on electric (and sometimes acoustic) drums; and Shigeto, on (as the album credit puts it) "electronics."
There are unavoidable references to Miles Davis' In a Silent Way, but Douglas leaps well beyond the New Age plaster of most who have come up that route. This is music thoroughly composed and thoroughly improvised—which is to say it was improvised in the studio (the whole album in the course of one day), after months of preparation, exchanges of notes and fragments and tapes. It is a high-wire act, a "high risk," to be out there, so starkly exposed, but the band pulls it off: there's a serrated groove to this music, even a lyricism and the blues.
And the sonics—engineered by Geoffrey Countryman, mixed by Steve Wall, and mastered by Mark Wilder—are extraordinary: sounds popping up all over, all sounding natural, bursting forth in real time and space, with a wide dynamic range.