Dave Douglas, Brazen Heart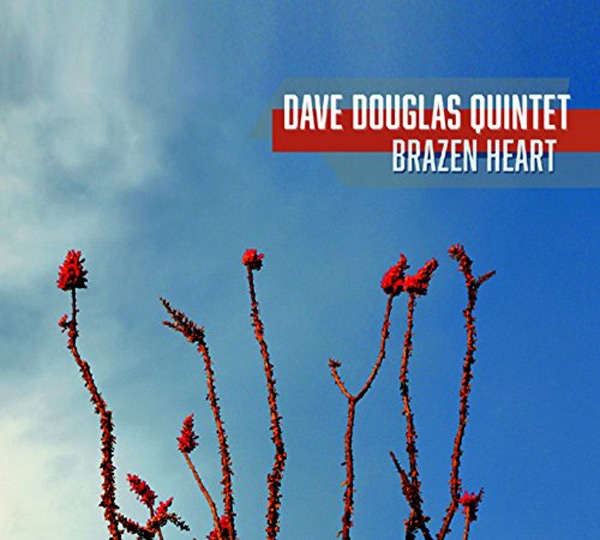 Trumpeter-composer Dave Douglas seems to release an album every few months (it helps that he has his own label, Greenleaf Music), and his latest,
Brazen Heart
, ranks among his best in several years.
The album is dedicated to his older brother, Damon, who recently died of cancer; and among its 11 tracks are two of the most beautiful hymns in the book, "Deep River" and "A Balm in Gilead," both played with passion, grace, and horn harmonies reminiscent of "Abide with Me" on Monk's Music. (When Douglas' mother died a few years ago, he recorded an entire album of hymns, Be Still, including vocals.) Otherwise, Brazen Heart contains a familiar, but increasingly sophisticated mix of post-bop reveries, virtuosic dazzlers, and lilting ballads. And, as with most Douglas albums, the sound quality is superb.
The living spirit of Wayne Shorter has been seeping into Douglas's music for a while now, most explicitly in the quintet called SoundPrints (a play on one of Shorter's classic compositions, "Footprints"), which he co-leads with Joe Lovano, but the influence hums here too, and it resonates with what's been distinctive about Douglas from his beginnings: the plangent tone, the minor-key melancholy, the exuberant restlessness, as reflected in the shifting keys, tempos, and moods and in his formation of dozens of bands over the years, several of them working simultaneously. (His most recent recordings, before this and a SoundPrints album on Blue Note, have included High Risk, an experiment in electronica; Present Joys, a duet with pianist Uri Caine; and Riverside, a tribute album to the music of Jimmy Giuffre.)
Brazen Heart features the quintet that played on Time Travel, the 2013 album made right before the Giuffre tribute, and it's grown into one of Douglas's most fluent and lively bands in his 21 years as a leader. Jon Irabagon on tenor saxophone, who's made a mark in his own groups (especially Mostly Other People Do the Killing) and as a sideman on guitarist Mary Halvorson's best album, plays with a deft and limber inventiveness; Matt Mitchell invokes something of Herbie Hancock's harmonic colors on piano; Rudy Royston is a marvel of polyrhythms on drums; and Linda Oh is a bassist of dazzling agility and precision. And they all play together in balanced synchronicity (the group superseding the temptation of star-turns by any soloist, though the solos are impressive).
Douglas, who takes an active role in producing his albums, likes a fat, dark sound in his horns, and Aaron Nevezie, the engineer on this one (like the now-retired Joe Ferla on previous albums), abides. Nevezie, who works at Bunker Studios in Brooklyn, recorded live-to-2-track on ProTools at 24/88.2k, with minimal EQ, using Neve and tube preamps, an RCA 44 ribbon on the trumpet, a U-67 on the sax, a Neumann stereo mike on the bass (no dread direct), and a pair of Neumann U-87s on the piano. The piano, bass, and drums were each isolated, but the mix makes them seem together. It sounds terrific.
Douglas thought about making an LP (as he did with Be Still, Ferla's last project with him, though it should be noted that was recorded in analog), but this album is too long to fit on one slab of vinyl and he doesn't want to delete any tracks. I suggested a double-LP. He was skeptical anyone would want to buy it. If you disagree, let him know.
Correction, Oct. 14: Dave Douglas informs me that Brazen Heart was not recorded live-to-2-track (a fact that engineer Aaron Nevezie, who'd told me it was, now acknowledges) and that the multitrack tape was superbly mixed by Tyler McDiarmid (it sounds like live-to-2-track). Dave also reminds me that Be Still was not recorded in analog. I'd confused it with another album that its engineer, Joe Ferla, made around the same time. (Be Still is available on CD and LP, though.) Sorry for the errors.—Fred Kaplan