Daniel Hertz and Mark Levinson's Major Statement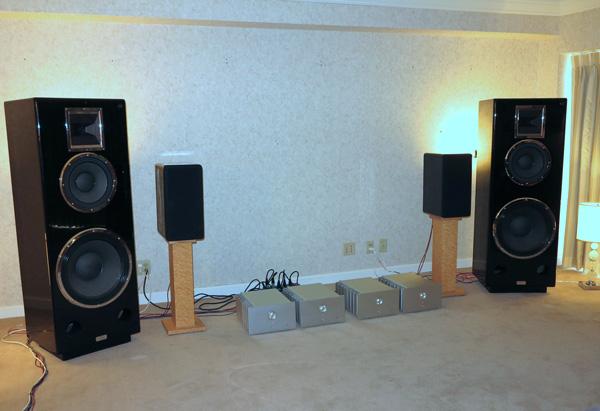 When I entered the Daniel Hertz room, close to a full house was sitting at attention as someone was giving a spiel about room correction. As I wrote in my notes, "I don't know what's going on, but the choir is overloading and the sound is too warm."
Said person, whom I only later learned, after I left the room, was Mark Levinson, then announced that he wanted to show off the system's dynamic range. "Any sound known to man this system can reproduce," or something very close to that, he declared as he proceeded to play sounds created by Norah Jones. My notes: "Norah Jones is smearing with too much midrange."
At that point, not wishing to be held captive at the expense of so many other exhibitors, and taking my cue from the warning that some people could not handle the volume levels we were about to hear, I left the room. Followed into the hallway by Mark's PR representative Barry Willis, I learned from Barry that I had heard the M8 loudspeakers ($4499/pair) and M9 integrated amp ($2499). Together, they comprise the "Baby Daniel Reference System." Offering direct USB DAC and Apple AirPlay for wireless music-making, it will be available in Apple stores this spring, a major coup for the brand.
Shaking the wall behind me were the big M1 loudspeakers ($120,000/pair) powered by four monoblock M5 L power amps, a Daniel Hertz M6 L preamp with inboard USB DAC, and all needed cabling ($190,000 total). Daniel Hertz loudspeakers are made in the Petrof piano factory near Prague, and the electronics are made in Switzerland.
It seems I may also have heard the Daniel Hertz "Master Class" app ($660), which the PR touts as "the ultimate music player software for Apple computers... [a] revolutionary development in quality audio [that] lets any music lover take average sounding CDs or downloads and turn them into audiophile recordings." "Master Class," I was told "combines the EQ of the legendary Cello Audio Palette with 'A+,' a new technology for enhancing the transparency of PCM digital audio. With 'Master Class,' most music CDs and downloads can be made to sound and feel like analog or pure Direct Stream Digital (DSD)." 100 sets were available for purchase at T.H.E. Show.