Dance, Don't Swing: the New Jazz Scene in London and the UK Page 2
This visionary approach also influenced the music of Emma-Jean Thackray, whose full-length debut
Yellow
(Movement/Warp) combines funk and spiritual jazz. Thackray's main instruments are cornet and trumpet, but she plays everything and produces, records, edits, and arranges performances with her band and vocalists on a computer, crafting the music alone in her home studio like a modern-day Brian Wilson. She also has her own radio show at Worldwide FM, the radio station founded by Peterson in 2016, which makes her something of a tastemaker, too.
"I don't know anyone here that plays swing-based jazz," Thackray told me over Zoom from her home/studio in south London. "What we're doing is a different approach to groove that is easier for people to hear. We're mixing producer culture and the music we grew up listening to, like UK garage or grime, whatever it is that people are loving. We don't feel any problem about whether we should or shouldn't incorporate that into what we're doing. Why should we? There aren't as many rules here. We're really encouraged to do our own thing. At the Royal Welsh College of Music and Drama, Keith Tippett encouraged me to be myself, whatever that might mean. Whereas maybe other places in the world, it's probably stricter about the way they want you to play."
Yellow opener "Mercury" evokes darkness via atmospheric Rhodes piano, then buzzing synths lead to a space-is-the-place jazz pulse. Yellow dances between funk ("Green Funk" and the title track), Incognito ("Third Eye"), layered vocals ("Golden Green"), and culminates with the album's powerful centerpiece, "Spectre." Like a ghostly visitation, Thackray unfurls the song with gloomy strings, gleaming Rhodes piano, soothing guitars, all supporting a lost, cyclic chant: "There's a spectre in my house, but he doesn't see me." It's at once spooky, spiritual, and calming. It has a fateful feel.
Dance, don't swing
"The British scene has become more varied, and there are more world music influences and a heavy dose of spiritual, more chants and rap timings," Sheinman told me. "The big thread in it all, though, is beats. There is a rhythm which had been lost in a lot of later modern jazz. It had become overly intellectual, and whilst great in its own way, did not connect with a wider audience, and certainly there was no dancing. Just like in the days of swing and hard bop, where people let loose and danced, a side effect of this new scene is people again dancing."
Within UK jazz, one can hear strains of Donald Byrd's Blue Note albums, Blackbyrd, Street Lady, and Places and Spaces, '90s era jazz fusion, and the ambient atmospheres of mid-'90s New York drum-and-bass bands like Nerve and Boomish. There's no denying the UK cats are doing something fresh and unique that appeals to jazz and non-jazz fans alike.
Led by 36-year-old saxophonist/clarinetist Shabaka Hutchings, in 2018 Sons of Kemet released Your Queen Is a Reptile, on Impulse! All the songs start with "My Queen Is ..."—"My Queen is Harriet Tubman"; "My Queen is Angela Davis," and so on—paying tribute to influential black women. In terms of instrumentation, Sons of Kemet is one of the more unusual bands you'll ever see: reeds (Hutchings plus Garcia as guest-artist), tuba (Cross), and two or more drummers (here, permanent members Tom Skinner and Seb Rochfort and guest-artist Boyd), plus reggae-influenced vocals by Congo Natty and spoken-word from poet Josh Idehen. Many of the songs are laid over a propulsive, percussion-banging, four-to-the-bar beat; Hutchings and Cross's plaintive, staccato lines hit like bombers diving at your forehead, like a New Orleans Street parade set on fire at midnight. Weirdly, this music seems all at once made for moshing, meditation, and subtle revolution.
Hutchings, by the way, leads two other groups: the Comet is Coming and Shabaka and The Ancestors.
Nérija's Blume (Domino), also from 2019, is an album with a vibe, expressing the cooperation and unity stressed while all were studying at Gary Crosby's Tomorrow's Warriors. Consisting of Kinoshi on alto sax, Garcia on tenor, Sheila Maurice-Grey on trumpet, Rosie Turton on trombone, Shirley Tetteh on guitar, Rio Kai on bass, and Lizy Exell on drums, Nérija is more traditional and musically consonant than many of the London-based groups. There is no "swing" or straight-ahead rhythm on Blume, but the band's esthetic wouldn't have been out of place at a '90s New York jazz-fusion club. Blume's songs swell and jell and everyone takes long solos. The music is sweaty, simmering, torrid, with a mutable, elastic groove. And it's funky.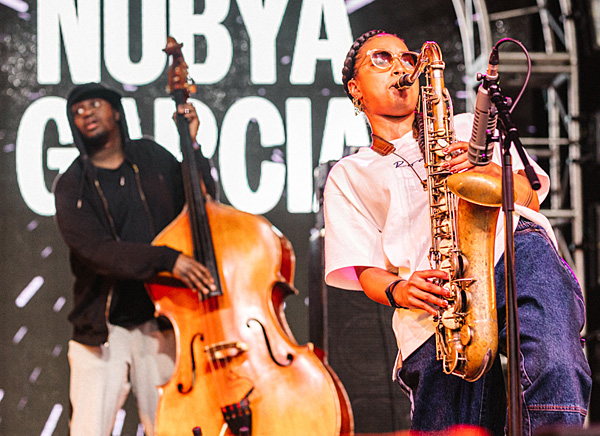 Twenty-nine-year-old saxophonist Nubya Garcia is an undeniable star of the London jazz scene, and her recent album, Source (Concord Jazz), makes it clear why. Source is expansive and thoughtful with solid compositions, dense arrangements, engrossing solos, and a unified vision. "The focus of this record is about personal power, collective power, collectivism," Garcia said in a New York Times article. "It's about my heritage, my ancestry, exploring those places and those stories from my parents and my grandparents."
Source is irresistible, primarily due to Garcia's open, melodic, soulful tenor. She's never in a hurry, and her band—Sam Jones on drums, Daniel Casimir on bass, and Armon-Jones on keyboards—provides equally relaxed support. The grooves float between funk, dub, cumbia, and samba, flowing and swinging effortlessly, recalling Gato Barbieri's Impulse!-label recordings or some 1970s recordings on the Mainstream label. Source goes from strength to strength until before you know it, it's over.
Gilles Peterson calls Yussef Kamaal—the duo of drummer Yussef Dayes and keyboardist Kamaal Williams—London's version of Herbie Hancock's Headhunters. 2017's Black Focus (Brownswood Recordings) makes his case well. Black Focus is all slippery, Harvey Mason–meets–Mike Clark beats, sly, dark-toned keyboards, woozy horns, and slinky rhythms that dart and spin, barely touching the ground. Dreamlike and subterranean, the rhythm-heavy Black Focus slinks from the drum-and-bass charge of "Strings of Light" into the electric bass swells, glistening Rhodes, and popping rim clicks of "Remembrance," and beyond to the jagged house-funk of "Lowrider," the squishy keys and electric bass of "Mansour's Message," and the syncopated electricity of "Joint 17." Fans of Jamiroquai, Eddie Harris's Layers album, and Tower of Power's In the Slot will appreciate Black Focus.
The late set
Here's a list of other important members of the scene that I so far haven't managed to mention in this piece: Nat Birchall, Yazmin Lacey, Matthew Halsall, the Portico Quartet, Maisha, TriForce, Sheila Maurice-Grey/Kokoroko, Blue Lab Beats, Poppy Ajud-ha, Mammal Heads, Soweto Kinch, Myele Manzanza, Xhosa Cole, Seed Ensemble, Zara McFarlane, Nathaniel Cross, Tom Misch, Ego Ella May, Ruby Rushton, Xvngo, Maliki.
UK jazz is "about communities, not just good musicians," Gilles Peterson added. "This generation of musicians have learned how to use social media to grow their scene. They've learned how to put on events, do parties. They haven't been controlled by the old-fashioned status quo, which has always controlled the jazz world. And this generation, one of their strengths is that people can identify with them as young people rather than just identify them as good musicians. 'Cause there's a million great musicians."
Sons of Kemet recently released a new album, Black to the Future, with Edward Wakili-Hick replacing Rochfort on drums and percussion plus a half-dozen grime and experimental poet-vocalists including Moor Mother and Angel Bat Dawid, each of whom also wrote lyrics. With songs like "Pick Up Your Burning Cross" and "Envision Yourself Levitating," in some ways it's more radical than its predecessor. In Pitchfork, Hubert Adjei-Kontoh wrote that "When the fusion works, the music seems like it's about to combust."
Peterson's Brownswood label recently signed Sons of Kemet drummer Tom Skinner, who is also the drummer for The Smile, the trio formed by Radiohead stars Thom Yorke and Jonny Greenwood. Gearbox recently released Second Lives, a terrific album by Strata, led by Scottish drummer/composer Graham Costello.
"The context here is strong because there's this understanding of rave or dance music but without being controlled by a tempo," Peterson noted, speaking about the whole UK scene. "There's still enough freedom and depth in terms of understanding the roots of the music. It's like the magic days of classic jazz in the '60s and '70s: Those musicians were playing all the time. So, they were brilliant. And while I'm waiting for one of these artists to produce a true classic album, this lot now, it's more than just a good idea and a bunch of people on a vibe. There are some great musicians coming out of here."