Classé Goes Declassé?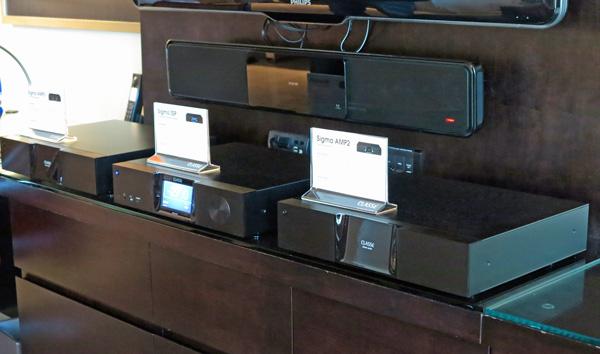 "The High End needs products that can demonstrate to customers why they should spend more money for the high-end," Dave Nauber, President of Classé, told me. "Thus we've introduced the Sigma Series, a new range of products with prices half those of our other products."
Nauber pointed to the new Sigma SSP ($5000), which is "really designed as a stereo preamp for someone who has a TV between their speakers. It's also perfect for a family room customer, and for those whose number of speakers is limited to 7.1." Among its features: asynchronous USB, and phono and streaming options.
Next up, the Sigma AMP2 200Wpc stereo amp ($3500) and AMP5 200Wpc 5-channel amp ($5000). Boasting Classé's own class-D modules, which took three years to develop, the amps are over 90% efficient, small relative to the amount of power they generate, and run pretty cool. Check out the white paper on the Classé website.
"We've solved the problem of deadband time," said Nauber. "As class-D switches from plus to minus transistors, there's a time when they're both off. (If they're both on simultaneously, the amp will explode.) Even small amounts of deadband time result in high distortion. Not only have we addressed that, but we've also taken advantage of new parts, including exclusive use for two years of new driver transistors from International Rectifier, that make class-D sound better."
Better sound. Very Classé after all.