Chord Electronics Mojo D/A headphone amplifier Measurements
Sidebar 3: Measurements
I measured the Chord Mojo with my Audio Precision SYS2722 system (see www.ap.com and the January 2008 "As We See It"). The Mojo's battery was fully charged at the start of the measurements. The data sources were USB from my 2012 MacBook Pro running on battery power, using Pure Music 2.0 to play the files, and S/PDIF on TosLink from the SYS2722. Macintosh's USB Prober utility reported the Mojo's product string as "Mojo" from "Chord Electronics Ltd," and confirmed that its USB port operated in the optimal isochronous asynchronous mode. Apple's AudioMIDI utility confirmed that the Mojo operated at all sample rates from 44.1 through 768kHz with 32-bit integer data. The TosLink input operated reliably up to a sample rate of 96kHz; above that rate, whether the Mojo locked to a datastream sampled at 176.4 or 192kHz depended on the quality of the optical interlink used.
When I first turned on the Mojo in headphone mode, its output level was set to 774.5mV. With both volume buttons illuminated dark blue, the output level was the CD standard's 2V. When I turned on the Mojo in Line mode, the output was fixed at 3.08V. With digital data at 0dBFS, the Mojo's output was 7.425V with the volume control set to its maximum, which is much higher than I expected. However, the waveform was well into clipping. The maximum output level before waveform clipping was 4.887V; except where noted in the text, all measurements were performed with the volume control set so that this output voltage was the reference level.
The Mojo preserved absolute polarity (ie, was non-inverting). The output impedance at low and middle frequencies was extremely low, at 0.7 ohm including the interconnect cable, and though it had increased at the top of the audioband, this was to just 1.8 ohms. The Mojo will have no problem driving even the lowest-impedance headphones.
Tested with a "digital black" 44.1kHz WAV file that included one sample raised to 0dBFS, the Mojo's impulse response (fig.1) revealed the reconstruction filter to be a time-symmetrical FIR type—although, as with Chord's Rob Watts–designed Hugo TT, with more coefficients than I usually find. The ultrasonic rolloff associated with this filter is indicated by the red and magenta traces in fig.2, taken with 44.1kHz-sampled white noise at –4dBFS (footnote 1). The output drops sharply just before the Nyquist frequency (half the sample rate: vertical green line), and other than low-level spurious tones at 31, 62, and 93kHz, the filter's stop-band behavior is very clean. The rolloff is very fast, so with a full-scale tone at 19.1kHz (fig.2, blue and cyan traces), the aliasing product at 25kHz (44,100–19,100) is suppressed by >120dB. The harmonics of this tone can also be seen to be very low in level.
Fig.3 shows a more conventional frequency-response graph, taken with data sampled at 44.1, 96, and 192kHz. The overall response conforms to the same basic shape at all three sample rates, with a sharp rolloff just below half the rate at 44.1 and 96kHz. I haven't shown the frequency response with data sampled at 384kHz, as it overlaid the 192kHz response up to 96kHz. Above that frequency, the response followed the same gentle rolloff, reaching –20dB at 165kHz. Channel separation below 1kHz was superb, at >114dB in both directions, and was still >100dB at 20kHz (fig.4). The Mojo's low-frequency noise floor was also superbly clean and free from spurious tones (fig.5).
Fed dithered TosLink data representing a 1kHz tone at –90dBFS with first 16-bit data (fig.6, cyan and magenta traces), then 24-bit data (blue, red), the increase in bit depth dropped the noise floor by more than 20dB, suggesting resolution of better than 19 bits. However, repeating this test with 24-bit USB data produced a large number of spurious tones and a random noise floor 3–4dB higher in level (fig.7). While these tones are well below the threshold of hearing, it is still behavior that I don't like to see. By contrast, 24-bit data sourced from an iPad showed a cleaner spectrum and a lower noise floor (fig.8). And with its high resolution and overall low level of noise, the Chord DAC's reproduction of undithered 16-bit data describing a sinewave at exactly –90.31dBFS was exemplary (fig.9), with zero DC offset and the three DC voltage levels well differentiated. With undithered 24-bit data, the Mojo output a well-formed sinewave despite the very low signal level (fig.10).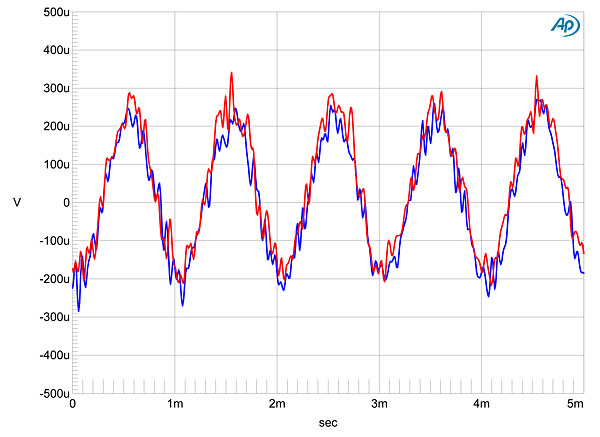 Harmonic distortion at 2V into 300 ohms was very low (fig.11), with the second harmonic the highest in level and lying at –110dB (0.0003%). Even with the volume control set to its highest level before clipping into this load, the second harmonic had risen by only 7dB. Intermodulation was also extremely low (fig.12), with the 1kHz difference tone produced by an equal mix of 19 and 20kHz tones lying at –120dB (0.0001%). However, this graph shows some modulation of the Mojo's noise floor. This is very similar to what I found last month with the Apogee Groove, which, like the Mojo, has a much higher maximum output voltage than what would be expected from something powered by or compatible with 5V USB power.
Perhaps this modulation is a function of a DC-to-DC converter in the power-supply circuitry, but the effect can also be seen in the narrowband spectral analysis of the Mojo's output while it decoded 16-bit J-Test data (fig.13). The high-order odd harmonics of the low-frequency LSB-level squarewave are all very close to their correct levels (green line). This graph was taken with TosLink data; when I repeated the analysis with USB data (not shown), the noise-floor modulation could still be seen—but, as anticipated from fig.6, the noise floor was a few dB higher than in fig.10. I very much doubt that this behavior will have audible consequences.
Overall, the Chord Mojo offers measured performance that is superb for a portable device, and would not be out of place in a high-priced conventional D/A processor.—John Atkinson
---
Footnote 1: This test was suggested to me by Jürgen Reis, chief engineer of MBL.