Channel D and Joseph Audio Make Great Music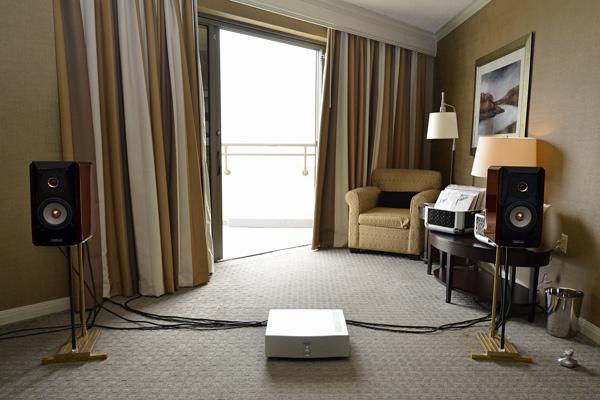 Read to the end, folks, because this one has a happy ending. In their extremely popular room—I couldn't get in the door the first time I tried—Rob Robinson of Channel D and Jeff Joseph of Joseph Audio were attempting to dem computer audio done right. I say, "attempting" because, despite the unquestionable excellence of Joseph Audio Pulsar loudspeakers ($7500/pair, to be reviewed in the June issue of
Stereophile
), which I have enjoyed at multiple audio shows, and Channel D's Pure Vinyl high-res digital transcription/editing/playback software ($299) and Pure Music Digital Music Player ($129), the 24/192 files I heard when I first entered had a most unpleasant hard edge to them.
Disconcerted, especially because these folks were my friends, and we had agreed to eat dinner together, I left the room quickly, disturbed by the fact that journalistic integrity left me no choice but to trash the system. Eventually, on the last day of the Show, I returned to discover a DAC switch to the brand-new Lynx Hilo 192kHz FireWire ADC/DAC ($2500). Switching to this baby, one of long-respected "Pro Audio" company's first forays into the audiophile market, removed all trace of edginess and incoherence from the system.
Playing RedBook, CD-sourced files, the system sounded great. In fact, given the amount of believable air, soundstage coherence, and three-dimensionality it brought to 16/44.1 files, I urged Rob (shown in the photo above) to ditch his hi-res demos, and just focus on 16/44.1 for the remainder of the show.
This was a major system that took up three sides of the room. Other components included, from Channel D, the Seta RCM analog RIAA correction module ($1200), Seta Nano 2 MHz phono stage ($1600), Mac the Scope audio analyzer ($449), and Waavebox signal generator ($199); Artemis SA-1 turntable ($7800) with Graham Phantom II Supreme tonearm ($5750), Ortofon A 90 MC cartridge ($4600), and Haniwa HCTR 01 MC cartridge ($5000); lots of Apple products with extra Synolgy storage; a Hegel H20 amplifier ($6500); and Audioquest Niagara XLR interconnects ($1800) and Diamond USB cable ($700). But the two ends of the chain—Channel D software and Joseph Audio speakers—made it all come to life.