CAS3: Can It Get Better?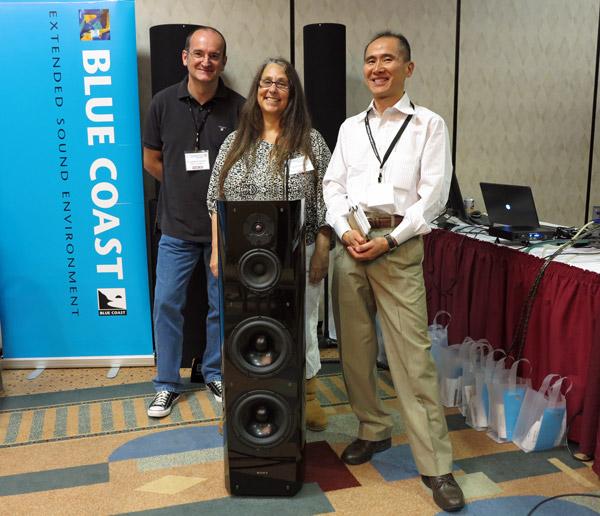 Can it get better than the mbl and Magico/VAC/Audio Research/Auraliti etc. etc. rooms? Skipping until Saturday the Wilson Alexandria/VTL/etc. room, which took an enormous amount of self-control, believe me, I headed to the large suite shared by Cookie Marenco's Blue Coast Records/OTR Studios and Sony. Blue Coast Records was preparing for their 2pm panel, "DSD: Join the Cutting Edge." Pictured, left to right, are Dr. Andrew Demery, Super Audio Center DSD consultant; Marenco; and Sugiara. (Andres Koch of Playback Designs, also on the panel, arrived too late for inclusion in the photo.)
In the rear portion of this suite (which sounded anything but), in the same acoustically impossible, hollow air-walled and heavily curtained space that sank an extremely expensive Magico/Constellation set-up last year, Yuki Sugiara, Sony Senior Production Manager, had thrown all caution to the winds in a valiant attempt to debut the new SonySS-AR2 loudspeaker ($20,000/pair). This is the same loudspeaker that he recently set up for review in John Atkinson's house.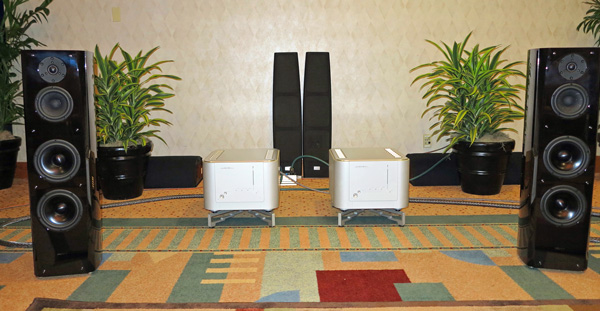 Paired with Luxman's D-08 SACD player ($17,000), B-1000f monoblocks ($55,000/pair), C-1000f preamp ($33,000), and E-1 phono preamp ($4000); a MyTek Stereo 192 DSD DAC ($1600); Kimber Kable (including the KS-3033 speaker cable $6895/pair); Monaco Grand Prix Rack ($3625); and a ton of room treatment, the system threw a low-perspective soundstage that sounded best in the midrange. The top was quite rolled off and flat sounding, and the bottom less than immaculately controlled. Given the room, it's amazing that anything succeeded at all. I have no idea what these speakers and this system are actually capable of creating.
The space also hosted the only live performances of the show, which were recorded live to DSD by Marenco and her crew and made available for downloading after August 10 from bluecoastrecords.com. Damn, how I wish I could have heard Valerie Joyce on Sunday. I've been a fan ever since she released her CD for Chesky. Bless Marenco's heart for providing the live reference that every show organizer should provide as part of the admission price.
Down the hall, Steve Holt, MIT's International Sales Manager, was hosting a static display of the company's new 2012 cable line, including the Matrix series. To paraphrase as best I can: "We have redesigned MT's multi-pole technology to offer networks that employ F.A.T. (fractional articulation technology). Our new networks work with the harmonics and the fractional articulation between them to preserve the timbre of music." All I can tell you is that it sure sounded good in the Music Lovers Audio room with the Wilson Alexandria XLFs and VTL electronics (among other gargantuan goodies).
In the second room from Music Lovers Audio of Berkeley and San Francisco, in lighting far dimmer than this photo reveals, Synergistic's Ted Denney and On a Higher Note's dapper Philip O'Hanlon were demming the benefits of the same Synergistic Research Tranquility Bases that yanked John Atkinson's chain at T.H.E. Show Newport Beach.
The demo of LPs started with Blood, Sweat & Tears, then moved on to de Falla's Three Cornered Hat (Ansermet from 1959, I believe). In all cases, the presentation sounded noisy with the Tranquility Bases switched off, and the bass was flatter and less controlled. Most apparent of all, the air and acoustic space were far less convincing—they were nothing short of startling with the bases turned on. Ted explained that the bases include an active Electromagnetic Cell that controls EM fields inside an active component, and also shunts noise to ground.
Because this was one of the truly damned Crowne Plaza ballrooms that sucked up treble as though it were a bee drinking up pollen, I returned on Sunday after adjustments had been made to the shielding in Synergistic Research's active cabling. The sound, I discovered, was much more alive than before. This is where I spied the system's true tuning device, which everyone had attempted to hide with the dim lighting—the trademark O'Hanlon chapeau. Rumors that his ever-present bow-tie is also actively shielded could not be confirmed at press time.
Noting my bedraggled "last room at the show" look, the Devil that is O'Hanlon seized upon Doris Day singing "Somewhere Over the Rainbow" from her LP, Hooray for Hollywood. It was all I could do to resist splitting in two with laughter. I wish I could say that the switch to the Aesthetix Romulus tube USB–S/PDIF DAC and CD player ($7000) sounded halfway as alive as the Brinkmann Bardo turntable w/9.6 tonearm ($11,990), Benz Micro LP-S cartridge ($5000), and Synergistic Research's new Element Ref phono cable ($2995 for 1.25 M), but it didn't.
My Sunday return gave Ted an opportunity to dem the difference between solid-state and vacuum tube shielding on the Enigma Power Supply. I preferred solid-state in this particular system, but BAAS member Jim Forte's very little grandson preferred tubes. There is hope is for the future, boys and girls!
Other components included Aesthetix's Janus Signature preamp ($10,000) and Atlas monoblocks ($16,000/pair), the excellent Vivid Giya G3 loudspeakers ($40,000/pair), and Grand Prix Audio Monaco racks (approx. $12,000 total). Synergistic Research supplied Element Series audio cables in copper, tungsten, and silver (approx. $15,000), PowerCell power conditioning and power cables ($15,000), Tranquility Base XL equipment shelves ($2995 each, or $25,000 total), MiG footers under each component ($150/set of three), and ART room tuning/treatment ($10,000, and visible in the photo).
Moving right along, the next room, the Peninsula II ballroom showcased four systems, three built around Legacy loudspeakers. James Thompson, Legacy's West Coast installer, played the Whisper XD ($20,500/pair) paired with AVM's MA3.2 amplifier ($5390) and PA3.2 preamplifier ($3230), and the Ayon CD Player 5S ($11,380). Not even the fact that the Legacy's active subwoofers can be tuned to a user's room was able to conquer the room's horrible acoustics. Nor was it possible to tune the room for a single system, given that there were four of them facing different directions, with chairs turned in sequence as the focus shifted from system to system.
The middle system paired LumenWhite loudspeakers with Ayon electronics. Earlier in the day, I passed the room just as this set-up was playing a wonderful early music soprano at high volume. Initially attracted, like a moth to a flame, I moved closer to the entrance, and discovered that the ring around the voice would have seared my ears had I gotten any closer. Given the horrible acoustics, who knows what that was about.
I regret that I didn't have an opportunity to audition the other two systems in the room One consisted of Legacy Focus SE loudspeakers ($9200/pair) coupled with Raysonics' SP500 amplifier ($3150) and CD 228 ($4,100). The other, initially passive, consisted of the Legacy Signature SE loudspeakers ($6,150/pair). Later in the show, it was demmed with AVM amplification.
The next day, I ran into Brian Ackerman of AAudio Imports in the hallway. Brian took me back to the room with four exhibits to show me a fifth passive exhibit I would have otherwise missed. Tucked into one corner, under a LumenWhite poster, were HB Cable Design's reference PowerSlave Marble ($8995), PowerSlave Acrylic ($6995), and smaller PowerStar Horizon ($3995) power distributors. All are purely passive devices, 100% hand-built in Germany. Details are available on the Aaudio website.
Blue Moon Audio of Pacifica, CA hosted an atmospherically-lit display dominated by Tannoy Westminster Royal SE horn-loaded loudspeakers ($35,000/pair) driven by the Cary CD 3037 CD/SACD player ($6495), SA-500.1 monoblock power amplifiers ($4995/each), SLP-05 balanced tube preamp ($7995); Linn Klimax DS music player ($20,700); and a host of Kimber Kable Kimber Select 6000 series cable (the Select 6063 speaker cable is approximately $4800/8' pair). I loved the sound of a similar set-up with larger Tannoy loudspeakers when I blogged it at T.H.E Show Newport Beach. Because this was another room that tended to kill the top end, the system sounded either flat or, when overdriven in a futile attempt to produce life, edgy.
Composer/arranger, recording engineer, speaker designer, and Cary Audio Regional Sales Manager Tony Weber, who participated in two panels hosted by MIT, did his best, but he could tame neither the room nor the constant talkers. In East Oakland, where we reside, we have more direct, shall we say ultimate solutions, for dealing with such annoyances.
Audio High of Mountain View and Los Angeles hosted the final display in the row of four sonically impossible Peninsula Ballrooms. This gave me yet another opportunity to hear the KEF Blade loudspeakers ($30,000/pair). Doing the remaining honors were Chord Electronics' SPM14000 monoblocks ($86,000/pair), CPA8000 preamp ($45,000), and Red Reference Mk III CD/DAC ($25,000); Kubala-Sosna Elation cables ($4000/meter + $900/additional meter); Clearaudio's Master Innovation Wood turntable ($25,000) with Everest Wood Stand - Master Innovation Edition ($9000) and Universal 9" tonearm ($5500); Benz Micro Ruby Z phono cartridge ($4,000); Aesthetix Io Eclipse vacuum phono stage ($18,500); Meridian Sooloos Control 15 media server with integrated touch panel ($7500); and PS Audio P10 power center ($5000).
Michael Silver of Audio High played Herbie Hancock's Possibilities, which was mastered in part on Audio High's Chord Electronics. After another delicious cut, "Hush, hush, hush" (or something to that effect) by Annie Lenox, Michael psychically divined that I was going to pick a CD of my own with a track by Stephen Sondheim. Correct! Send that man to summer camp. On Sarah Vaughan's incomparably divine rendition of "Send in the Clowns," accompanied by the Count Basie Orchestra, I was especially impressed with the fullness of the midrange.