Synergistic Research & Scott Walker Audio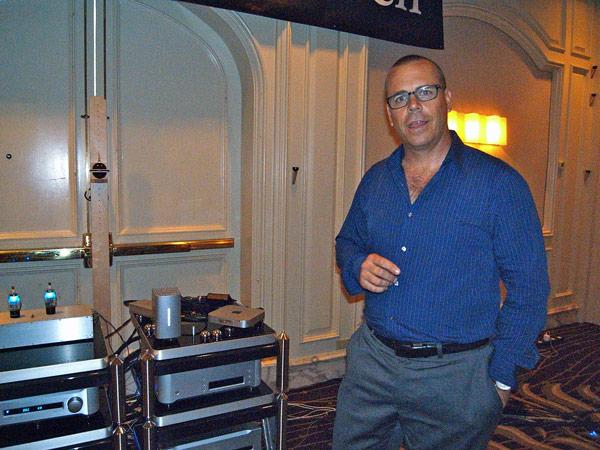 "Let me turn off the Tranquility Bases and you'll hear what I am talking about," said Synergistic Research's Ted Denney.
I sighed inside. Ted had been subjecting me to the improvement on room acoustics wrought by his ART Acoustic bowls for the past few years and despite my skepticism, I kept hearing that improvement. Now he was talking about his series of Tranquility Bases. Ranging in price from $995 to $2995, these powered platforms have a ground plane and generate beneficial electromagnetic fields that are said to condition the signals passing through the components sitting on them and drain away the bad fields to ground. Yeah, right!
The system in this air-walled ballroom, with inherently unfriendly acoustics, included YG Anat III Signature speakers driven by Esoteric amplification, with source a Mac mini feeding USB data to Synergistic's D/A converter. All the active components sat on Tranquility Bases.
Ted turned off the Bases. Both on a Bach Cello Suite and Bela Fleck's "Flight of the Cosmic Hippo," the sound became muddled and the relationship between the direct sounds of instruments and the surrounding ambience became less clear. To be honest, this was what I was expecting from these terrific speakers set-up in this poor room.
Ted turned the Bases back on. The sub-optimal room acoustics seemed to recede, the soundstage acquired better focus, the music flowed more easily.
At my request, Ted repeated the comparison. With the same effect every time. I have no explanation for what I was hearing. I left this room shaking my head.