Capital Audiofest—Day Two Morning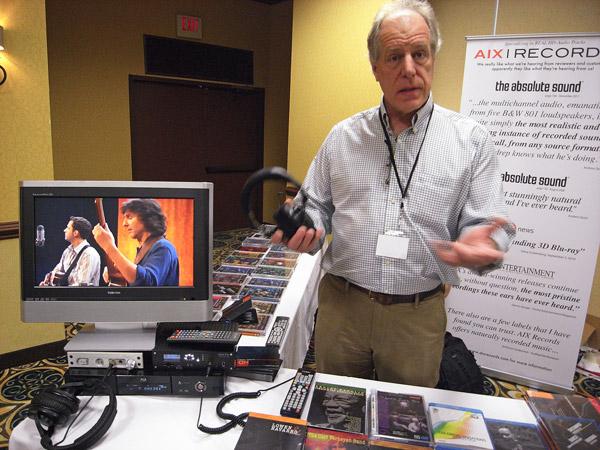 I started off Saturday morning at the Capital Audiofest by revisiting Salon II in the Crowne Plaza's atrium, where I chatted with AIX Records' Mark Waldrep. Recently the subject of a fascinating interview on
AudioStream.com
, Mark has been a voluble and ubiquitous advocate of high-resolution surround-sound recordings. At CAF, however, he was using headphones to demonstrate his AIX recordings. But with a difference—to the left of my photo you can see a Smyth Realiser, which allows full surround-sound to be experienced on headphones (see "Music in the Round,"
November 2010
). On the DVD-R versions of AIX releases, Mark has included full-resolution 2-channel FLAC files prepared with the Smyth Realiser from playback of the original multichannel recordings on his reference system. I tried one of these files, called "Headphones [xi]," and was impressed. The soundfield extended well outside my head, with good localization of the rear-channel information. In effect, I was transported via headphones to Mark's listening room.
In the Atrium, The Cable Company's Ethan Wood was doing a brisk trade in LP cleaners, and all the other essential accessories required by the well-tempered audiophile.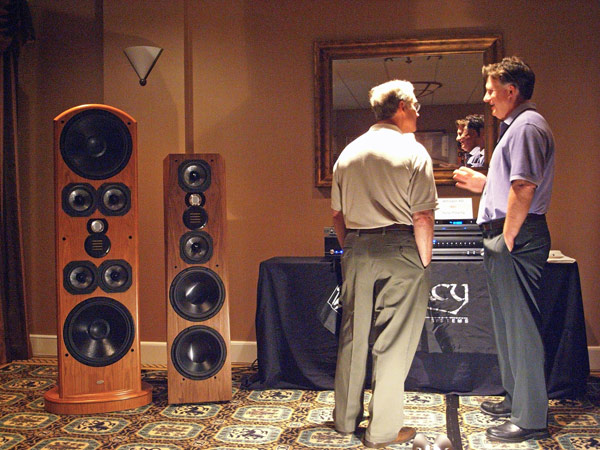 Moving into the corridor behind the atrium, I went into the room shared by speaker manufacturer Legacy and electronics manufacturer Sherbourn. Although Legacy has exhibited at every show we have reported on in the past three years, their sophisticated Whisper XD speaker system ($20,000/pair including 24-bit digital crossover/room equalizer) has been demmed in rooms that were generally too big or too small. Despite the digital room correction, the result was generally sound that failed to impress me. But as told Legacy's Bill Dudleston (right in photo), it was different at CAF. On an unidentified acapella arrangement of Paul Simon's "The Boxer," the mids and highs were well-balanced, the stereo imaging stable and precise, and the close-miked bass voices clean and weighty.
The electronics in this room were by Sherbourn, a name new to me, but one that has been in business for 14 years, serving the custom-install market. Driving the Whispers were the PA-2 solid-state 250Wpc power amplifier ($1299), the Pre-1 preamp ($699), and the CD-1 CD player ($799).
I was impressed by what I heard of the Philharmonic Model 3 speakers at the 2011 CAF, which offer a lot of performance for $3500/pair. The Model 3 (left in picture) marries a transmission-line–loaded Scanspeak Revelator 8" woofer to a BG Neo 8 planar midrange unit and a Raal 70-10D ribbon tweeter to give a response that is within ±2dB limits from 25Hz to 20kHz. Driven by Van Alstine solid-state amplification (a 225Wpc Synergy 450), that classic Show dem track, Nils Lofgren's "Keith Don't Go" reproduced with sparkling highs and good dynamics, and the brass on Copland's Fanfare for the Common Man sounded sweet. While weighty, the lows were a little slow-sounding, however, something I often hear from transmission lines.
As they had at the 2011 CAF, Polk was showing off their flagship LSiM707 speaker ($4000/pair), the 40 year-old company's first 4-way design, now in production. This adds twin port-loaded woofers to the midrange unit and mid/HF module used in the bookshelf LSiM703 ($1499.90/pair), which gets a very very favorable review in the September issue of Stereophile. Driven by a Bel Canto CD3T player ($1500), e.One DAC2.5 ($2500), and e.One Ref1000M class-D monoblocks ($3000/pair) via MIT cable, with an Audience AdeptResponse AC conditioner also in the system, the '707s treated me to some impressive guitar shredding from Frank Zappa's Transfusion album that a Showgoer had wanted hear. The speakers managed this task with aplomb.
At the other dynamic extreme to Zappa on the big Polks in the next room I visited was a delicate M•A recording of a guanzi, a Chinese wind instrument that sounds somewhat like a clarinet, accompanied by a piano, on these cute desktop speakers from Danish company Davone Audio. The Mojo costs $2300/pair and features a downward-firing woofer and upward-firing mids and highs, diffused by the conical top piece. Driven by a tube amp from Woo Audio, best-known for their headphone amplifiers, and Woo's new WTP-1 CD transport ($1200) and WDS-1 24/192-capable D/A processor ($1200), the Mojos sounded better than I expected from my own experiments more than 40 years ago with reflectors and upward-firing drivers.
The three-way Daedalus Athena speakers ($9950/pair) use North American hardwood enclosures and claim a sensitivity of 95.5dB/W/m. Driven by the new Black Beauty VTA305M tube amps from Bob Carver LLC ($12,500/pair), which use three pairs of push-pull KT-120s to produce a minimum of 305 watts into 8 ohms, the Athenas proved to be capable of playing very loud without strain. The speakers were set-up on the room's diagonal to side-step room mode problems, and the source was a Squeezebox Touch feeding digital data to an AMR D/A processor that in turn fed a Purity Audio Design preamp ($16,500).
Continuing my circuit of the first-floor dem rooms, I came across a name new to me, Sophia Electric, from Vienna, VA. The Princess speakers ($18,000/pair) combine a horn-loaded compression driver with a 15" paper-cone woofer, and driven by a single-ended Sophia amplifier fitted with the Royal Princess 300B tubes, reproduced female vocals with a magic that was missing at higher and lower frequencies. And no, I didn't find out why there were wires coming from one of the Princess's reflex ports.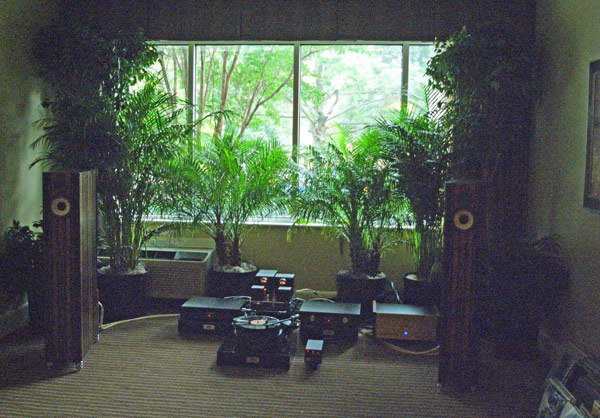 My final stop on the first floor was the room featuring a system put together by Highwater Sound's Jeffrey Catalano. On Horning Hybrid Eufrodite Zigma Ultimate speakers ($24,000/pair), driven by Tron amplification (Telstar 211 SE amps at $40,000, Seven Line GT preamp at $18,000, and Seven Phono GT at $18,000), with a TW-Acustic Raven turntable ($10,000 ) fitted with two TW 10.5 arms ($5500 each) and Miyajima Shilabe ($2600) and Premium BE Mono ($250) cartridges, a Silver Circle Pure Power One 5.0se conditioner, and Zen Sati speaker cables, Jeffrey played me a flamenco arrangement of "Stairway to Heaven." I made a polite face, so next on the Raven went guitarist Wes Montgomery playing "'Round Midnight," backed by Hammond organ and drums. This, Jeffrey told me, was the album he used to fine-tune the set-up. And indeed, the sound was rich, full, and musically appropriate. And while you can't see it in my photo, the sound attracted a blue jay who sat outside for the entire track.
I was getting peckish but first I paid a visit to the Zu Audio room, opposite my sleeping room on the second floor. Zu's Sean Casey has great taste in music and with a system featuring the Zu Ovation Definition IV speakers ($12,500/pair) I heard first some great Sufjan Stevens (a track from Illinoise that combined a naively simple melody with dark lyrics), then the LP from the headlining act at CAF, Janel and Anthony, who were scheduled to perform in the atrium bar in a matter of minutes. It was time for lunch!