California Audio Show 2015: Day One Continued
The California Audio Show may be for consumers, and the Consumer Electronics Show for members of the industry, but they have one thing in common: the venues in which they display high-end gear, the Westin SFO and Venetian Las Vegas, share a similar upper floor layout where corridors fan out from a central area near the elevators. But there, the similarities end. Because at CES, where displays are identified by identically sized signs in long corridors that seem to stretch down three very long roads, only to terminate at some unholy confluence between Infinite Bliss and the dreaded Black Hole, at CAS, corridors are shorter, signs are individuated and far more distinctive, and there is always the sense of light at the end of the tunnel.
One of those tunnels led me to one of the highlights of Day One at CAS, the room put together by Bricasti. The opening track in Brian Zolner of Bricasti's sensational salvo may have been drawn from, God help us, the soundtrack to Alien 3, but the midrange was gorgeous, and the dynamic range immense. Simply immense. This Bricasti and friends system exhibited the largest dynamic range sweeps of any system I recall hearing in a standard-size hotel room.
Equally impressive was some of the finest and best-controlled low bass I've ever encountered at an exhibit that didn't use a subwoofer. Combined with the system's beautiful warmth, the set-up delivered an all-encompassing musical experience.
In a very happy act of synchronicity, Zolner and Damon Gramont had in their music library DSD files of the same Channel Classics DSD-native recordings of Mahler's Symphonies 2 and 9 that I bring to shows and use to fine-tune my systems at home. I marveled at how well Zolner and Gramont's system conveyed the bass foundation of both symphonies with impressive weight and solidity. Perhaps the upper bass/lower midrange was a bit over-emphasized, and the highs just a bit toned down for listenability in such a small environment, but the overall experience was world class. I loved it.
At the end of our shared listening session, Zolner allowed me to compare the edited, DSD to PCM to DSD mix of Mahler Symphony 9 that is available on SACD and via download, to the unedited, pure DSD master file that Channel Classics Jared Sacks gave him. The difference in you-are-there realism was enormous. On the master, instead of the slightly zingy edge I always associate with the violins of the Budapest Festival Orchestra, I heard beautifully silky and much fuller strings. The entire presentation, from double bass and timpani on up, was far more open, airy, weighty, and truer-to-life. The master DSD experience was a bit like listening to one of the Direct-to-Disc Sheffield recordings of old. Pure DSD, boys and girls, is something else.
Doing the honors were Bricasti's M1 digital-to-analog convertor, gold-plated edition ($15,000—the handsome black price is $8995) and M28 monoblock amplifiers ($30,000/pair), Tidal Piano Diacera speakers ($35,000/pair), Silver Circle Audio Tchaik6 power conditioner ($10,000), Reference Laboratory cables, Oyaida Tunami V2 power cables, 8x Stillpoints Ultra 5 on the Piano Diacera speakers, 3x Stillpoints Ultra SS on the laptop, and 8x ASC TubeTraps. It's a system that I hope every visitor to CAS gets to hear.
On to Voss Audio. While I must acknowledge that the notes scribbled into my notebook by John Dormandy, owner of Voss Audio, have left me wishing that coherence consistently extended beyond the realm of the sonic, what I have managed to piece together, hopefully correctly, is that Voss Audio's 170Wpc solid-state amplifier employs a "new technology" that achieves "ultra high-linearity" with "unmeasurable" (less than 0.0002%) distortion, as well as a perfect squarewave response past 500kHz. Boards are aerospace-grade ceramic-impregnated Teflon, which reportedly evens out losses, and contain pure copper traces.
While a prototype of the amp was shown at Newport 2014, CAS marks its first official showing. Production units should be ready in two or so months, with dealers projected for Northern and Southern California. The price will be in the $30,000 range.
Paired with Audio Note AN/E copper speakers, Music First Step-up and Baby Reference preamp, and a Triangle ART Symphony turntable with Osiris tonearm and Triangle Art Apollo cartridge, the system sounded exceptionally liquid and smooth on a rendition of the ballet music from Gounod's Faust. Similarly, Mel Tormé's voice sounded maximally lovely and smooth. There wasn't much depth to be heard, but that may have been due to the set-up. "Simply lovely" appears over and over again in my notes. I believe a supertweeter has since been appended to the speakers.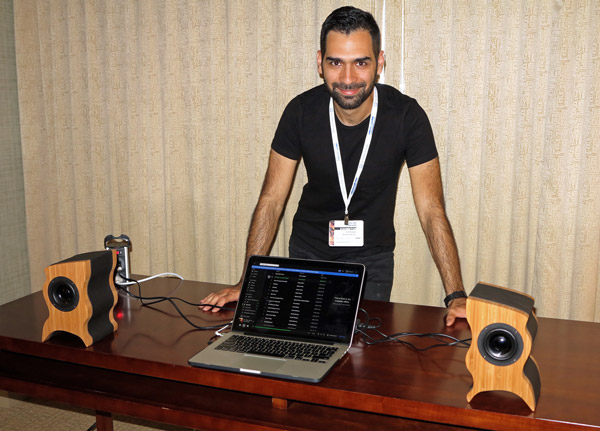 Serene Audio of Vancouver, whose email address begins with "HappyToHelp," displayed its intriguingly shaped Talisman self-powered desktop loudspeakers ($395/pair including shipping). Engineer/designer Sia Rezari reports that he began his company in 2010, and launched the speaker in 2011. As someone who has been designing speakers since he was 13, he has continually improved his little babies while retaining the original look.
At their first audio show showing anywhere on Planet Earth, the speakers streamed the highest quality Spotify can offer in a most seductive manner. The Talisman's unique and expensive drivers, manufactured in China, include a "really big" magnet with under-hung (short) voice coil. This is said to increase linearity and "drastically" reduce distortion. The brochure claims a frequency response of 65Hz–20kHz ±3dB, and includes a 3.5mm input and 3.5mm headphone output, plus an RCA subwoofer output with internal crossover at 120Hz. Headphone amplification is via a 130mW, class-A/B amplifier. Sales are via the Web.
The day after Richard Schram of Parasound told me that he will include Bybee Rails in his next product from designer John Curl, I ate lunch with Jack Bybee (right) and his nephew Marc Stambuk (left), as well as Curl and two other renegades not included in the photo. Bybee, now 85, was eager to discuss his latest product, the Room Neutralizer.
When Jack said, "This concept is so outside the box that it's hard to understand," he wasn't kidding. While a pending patent prevented him from spilling the beans, he likened the technology to Spintronics and what the Neutralizers do to the effect MRI has on your body. "We do essentially the same thing but in the atmosphere in your listening room," he said. "Air molecules are a barrier to sound waves, and inhibit their free travel from speaker to your ears. The Room Neutralizers, which are activated by the electromagnetic waves of your amplifier, allow sound waves to travel without impedance or attenuation. They keep sound in phase as it travels far from the speakers, and prevent high frequency roll off. Stein Harmonizers essentially do the same thing but on a much smaller scale. They activate crystals. My technology does not use crystals, and affects primarily nitrogen, which accounts for 78% of the atmosphere. The Neutralizers also affect oxygen via hydrogen."
What can I say? Well, this much. Jack sent me some Neutralizers a few weeks back to play with. While they're hardly a fashion statement, when I taped them up in our purpose-built music room using blue painter's tape, they did seem to create an even more boundary-less presentation than I had already achieved via devices from Holger Stein and Kerem Ku&231;ukaslan. I didn't get to spend a whole lot of time with them, in part because the tape would hold them up only so long before they'd fall to the floor. Once I find the optimal position for each of the eight devices you hang in the room, I'm going to paint them before affixing them to the walls to avoid a major Spouse Acceptance Factor (SAF) issue.
Lone Mountain Audio and AcousticFrontiers exhibited a mid-price system that included the Aurender N100H 2TB music server w/Tidal integration ($2699), DEQX PreMate speaker/room corrector and digital preamp ($4999), ATC P1 dual-mono 150Wpc power amp ($3599), ATC SCM40v2 loudspeakers ($6999/pair), JL Audio E112 subwoofer ($1899), Torus Power RM15 isolation transformer/power conditioner ($2199), and Wireworld cabling ($1599 total). Listening to Terry Evans singing "Down in Mississippi," streamed via Tidal, I heard very clear and clean sound with most impressive, absolutely tight bass. Low frequencies especially excelled, but the overall presentation lacked the expansive, warm, and naturally unbloated midrange that invariably floats my boat.
Regardless, the system's clarity and enviable control left me eager to explore what a Torus Power unit would sound like in my own system. The incentive that I could plug it into the wall via a stock power cord (of the same gauge as the Nordost Odin 2 power cords I'm now using) without loss of sound quality left me especially enthused.
When I entered the room co-sponsored by Stockton-based dealer Syncopation and Profundo imports, Count Basie, Oscar Peterson, and their equally exemplary cohorts were holding forth on a track from their 1978 LP Yessir, That's My Baby. I don't have any other way to readily describe what I heard other than strange, old-fashioned sound. Ditto to the sound of violinist Nathan Milstein playing I forget what on an LP conducted by William Steinberg.
Switching to digital, the midrange of the CD layer on Channel Classics' superb SACD of Ivan Fischer conducting Mahler Symphony 9 was quite beautiful, but the sound seemed rolled-off on top, with a somewhat gauzy quality and slight buzz/edge to the truncated highs. It's essential to note that there was an infernal electronic hum coming from beneath us that I heard in no other room, and that may have been interfering with the electronics. Here's hoping the hotel was notified and the hum addressed, because it really was awful.
Playing were Viva Audio's Numerico DAC/transport ($12,800), Basis Audio 2200 table/SA9 Superarm (price not supplied) and Transfiguration Proteus cartridge ($6000), Viva Audio's Fono phonostage ($17,000) and Solista Mk.3 integrated amplifier ($18,500), Trenner & Friedl Pharoah 2-way loudspeaker ($13,000/pair), Cardas Clear cabling, and Genesis power cords.
The same exhibitors also showed a much smaller system with loudspeaker and headphone components. Despite the fact that the Trenner & Friedl Sun micro-monitor loudspeakers (Edit: $2995/pair) were brand new, and the Heed Audio Elixir integrated amplifier ($1195) had only been unpacked the day before, the system had a most lovely midrange that made me wish that I could have lingered longer. But that would have meant more time with that hum.
How great to reconnect with the entire Audioengine crew, including the ever-refreshing David Solomon (formerly of Tidal and Peachtree). Quite impressive, especially for a system whose Audioengine A5+ self-powered loudspeakers cost $399/pair, was the engaging sound of full CD quality sent over Bluetooth using an Android tablet with aptX. Even the sound through the considerably smaller Audioengine A2+ loudspeakers ($189/pair), which I once used at a potluck to replace a DJ's ear-burning portable loudspeaker setup, was enticingly warm.
"We have something new coming in October for the Rocky Mountain Audio Fest," the forever understated, normally sedate Solomon declared. "It's the greatest things Audioengine has ever done!!!" Chimed in Brett Bargenquast, who even managed a half smile, "It's gonna be awesome!" Add several more exclamation points, and you begin to get the drift.