CAF2016: Do Go Back to Rockville
If you must know, I do in fact maintain on my desktop computer a file-folder labeled
Vintage
, which is where I put all my audio porn, much of it gathered at audio shows such as CAF2016. Janet has seen it, and she agrees that things could be a lot worse.
Because I love Garrard 301 and 401 turntables, I photograph every one that I can find. And at CAF2016—notwithstanding the fact that VPI was the predominant brand of turntables, by a huge margin—I found three of them. The first was this beautiful hammertone, grease-bearing, ca-1955 301, owned by Vu Hoang of Deja Vu Audio. Aldo D'Urso, who ran the Deja Vu demonstration room in question, allowed me to remove the platter so I could have a glimpse of a 60-year-old idler wheel in virtually perfect condition. ‹Sigh.›
The next 301 I saw was this beauty in the DC-DIY room. Owned by Joe Roberts, this cream-colored, oil-bearing Garrard has been fitted with a Thomas Schick tonearm and Ortofon SPU pickup head. A couple of alterations have apparently been fitted; I would guess that the red button on the right is a 007-style ejector.
The third and final idler-drive Garrard I saw was not a 301 but a 401 (think: a 301 with a slightly improved motor and Emma Peel-esque chassis styling). And this 401, owned by Dave Slagle, had been modified to such an extent that it was virtually unrecognizable—yet the torquey two-pole induction motor still beat within.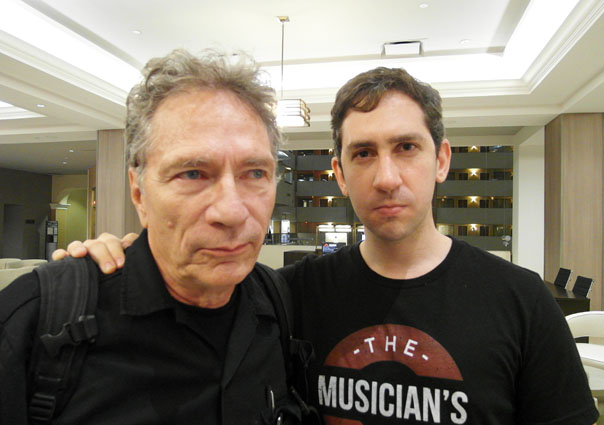 And there you have it: a show so good, it came dangerously close to eliciting smiles from two of the most difficult-to-please men in audio, Stereophile's Herb Reichert and VPI's Mat Weisfeld. Both of them suggest they are anxious to go back to Rockville—sooner than usual, if possible.
Every good show deserves a sequel, and CAF2016 was a very good show. Congratulations and thanks to Gary Gill and his team of tireless volunteers!